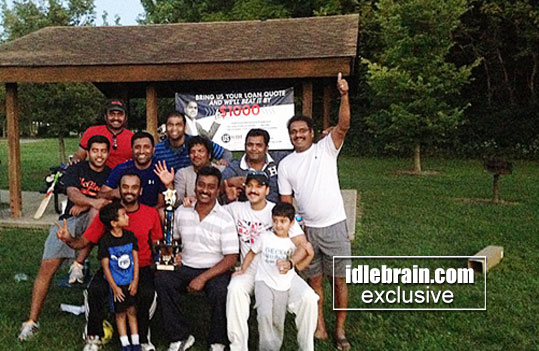 To feature your NRI communty news in idlebrain.com, please mail us at [email protected]
9 Septemmber 2014
Hyderabad
OFCL (O'Fallon Cricket league) is a non-profit organization that is established in 2009 working towards the true spirit of sportsman ship for the cricket loving community of city of O'Fallon & rest of Missouri.
Outside of the regular tournaments, OFCL from last year has started conducting a charity tournament during India's Independence Day weekend, this year the league has identified 3 organizations to support from the funds that they generate through the event. In addition to the 3 organizations the league has also decided to support the family of the local NRI Sai Dondapati who recently died due to liver failure.
The event took place in the RSC sports park, O'Fallon with 10 enthusiastic teams participating in the event. The winners of the event are Glenn 18 and the runners are O'Fallon Blues. The league also has presented trophy to the team which raised the highest amount of money, O'Fallon Blues has won in this category.
Lead IT corporation (www.leaditgroup.com) & US Wide financials (http://www.uswidefinancial.com) have sponsored this event along with several other individuals contributing generously to the cause. There also have been some exciting offers from various teams such as donating $100 if a Batsman hit 3 sixes in an over or if a Bowler takes a hat-trick.
Overall the league has raised over $7600 to support the noble cause for the very needy individuals and families.