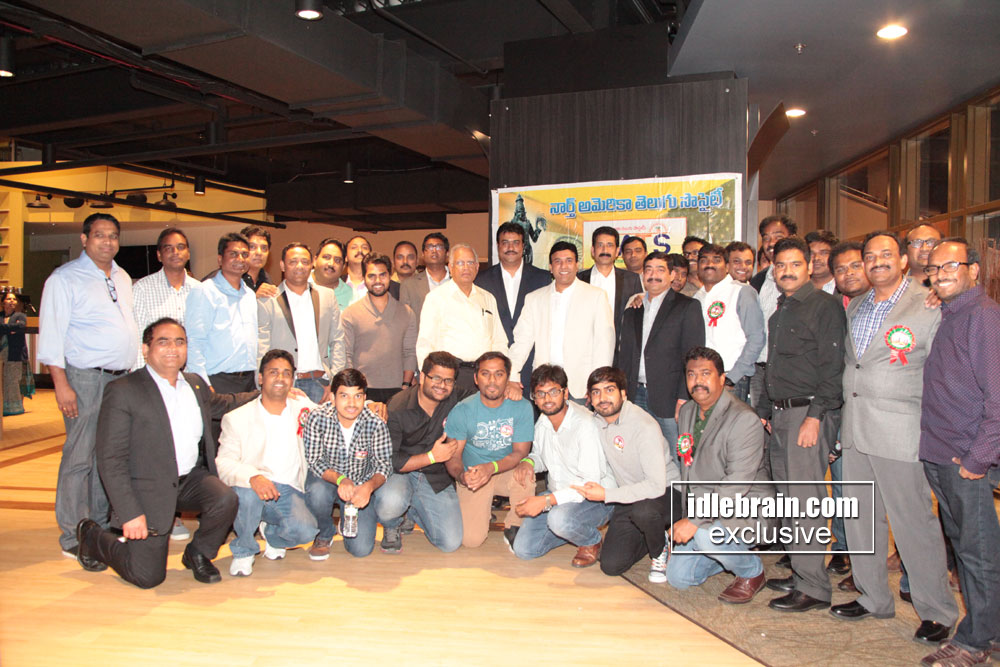 To feature your NRI communty news in idlebrain.com, please mail us at [email protected]
12 October 2016
Hyderabad
Telugu Festival conducted by Chicago Telugu Association on October 08, 2016, brought the Telugu people in and around Chicago together on one avenue demonstrating unity, celebrating culture and success of the organization's service activities.
Telugu Festival 2016, annual conference of Chicago Telugu Association has started off with the Ganesha Song and followed by welcome address by conference coordinator Mr. Sridhar Mumgandi. Mrs. Sujana Achanta and Madan Pamulapti has presided the event.
The guest list includes legendary singer Mrs. Chitra, Tollywood Singer Mano, Vandematharam, Srinivas, NATS President Mohan Krishna Mannava, Mr. Srinivas Koneru, EVP NATS, and popular tollywood singers Suneetha, Hemachandra, Kalpana, Uma Neha Vijay Prakash and comedians Chalaki Chanti and Rocket Raghava and NATS Director Mr. Sridhar Kesani, and NATS Representative from Dallas Mr. Amar.
President Nagendra Vege has presented the annual update which outlined that the Chicago Telugu Association have conducted numerous events which reflect and represent the essence and eminence of our Telugu culture. Some of the key programs conducted last year were monthly immigration helpline, Feed My Hungry Children where 250,000 food packs were prepared, Mother's day, and spectacular sportsfest where 100s of players participated.
Speaking on this occasion, NATS President Mr. Mohan Krishna Mannava has lauded the efforts of CTA in its services to Chicago Telugu Community and expressed happiness of its working together with NATS. Mr. Mannava said that CTA and NATS were born at the same time with same basic principles of service. NATS is the first and only organization to have 24x7 helpline for Telugu people in USA.
5th NATS Conference in Chicago (Schaumburg, Illinois) during June 30th, July 1st and July 2nd.
NATS President announced that 5th NATS Sambaralu conference will be held under the leadership of Mr. Ravi Achanta in Schaumburg (Chicago suburb), Illinois during June 30th, July 1st and July 2nd in 2017. NATS Past President and CTA Founder Mr. Ravi Achanta thanked NATS for choosing Chicago as the host for 5th Samabaralu conference and promised that Chicago NATS and CTA with the help of Chicago Telugu community, will deliver a one of the best conference.

Large number of Telugu families gathered at this grand event. Telugu Festival was attended by about 1200 Telugu people for unmatched entertainment. This was a great event and huge success and great display of Telugu Youth.
CTA Board Lauds the services of Mr. Nagendra Vege and his team
CTA Board President Mr. Rao Achanta, lauded the efforts of current executive committee led by President Mr. Nagendra Vege during last year which strengthened the organization and also provided services to large number of people and expanded its services.
Mr. Rao Achanta announced that CTA board has extended the current executive committee for another year in order to keep the momentum going and build on progress made during last year and also plan for next year NATS conference. The team of executive committee led by President Mr. Nagendra Vege consists of Vice Presidents Mr. Madan Pamulapati, Ms. Sujana Achanta, Mr. Venkat Yalamanchili, Mr. Sridhar Mumgandi, Secretary Subba Rao Putreveu, Joint Secretary Mr. Rajesh Veedulamudi, Treasurer Mr. Venkat Gyajangi and Joint Treasurer Ms. Havila Devarapalli.

Founding of CTA, Mr. Praveen Moturu briefed about the CTA's objectives, vision and how CTA is setting an example to rest of the organizations as well as serving as a role model for service activities.
Past president Mr. Murthy Koppaka expressed happiness in successfully executing many programs during last years and thanked the sponsors and donors for their support.
CTA thanked the representatives of various local Telugu organizations who has attended the event.
Top Entertainment at Telugu Festival – SUPER MASTI MUSICAL NIGHT
Evening session started with grand welcome song ("Swagatham Palukotondi CTA Kovelaa.") performed by kids. Then SuperMasti program started off by singer Chitra and team, where thry performed a musical night for more than three hours and enthralled the audience with melodious songs. Many melodious songs were presented by Chitra and Suneetha. Singer Kalpana enthralled the audience with her energetic performance of many songs. Vandematharam Srinivas performed many folk songs from his hit movies. Singer Hemachandra and Ravi Prakash had presented many telugu hit songs. Noted jabardasth comedians, Chanti and Rocket Raghave presented several comedy skits.

At the end members of CTA remember and dedicated themselves for the objectives of Chicago Telugu Association. Organizing Committee of Telugu Festival was expressed their extreme happiness over the mega success of Telugu Festival.
Delicious dinner was served and food was provided by CoolMirchi restaurant.

CTA has thanked its volunteers, members and donors for their continuous support.