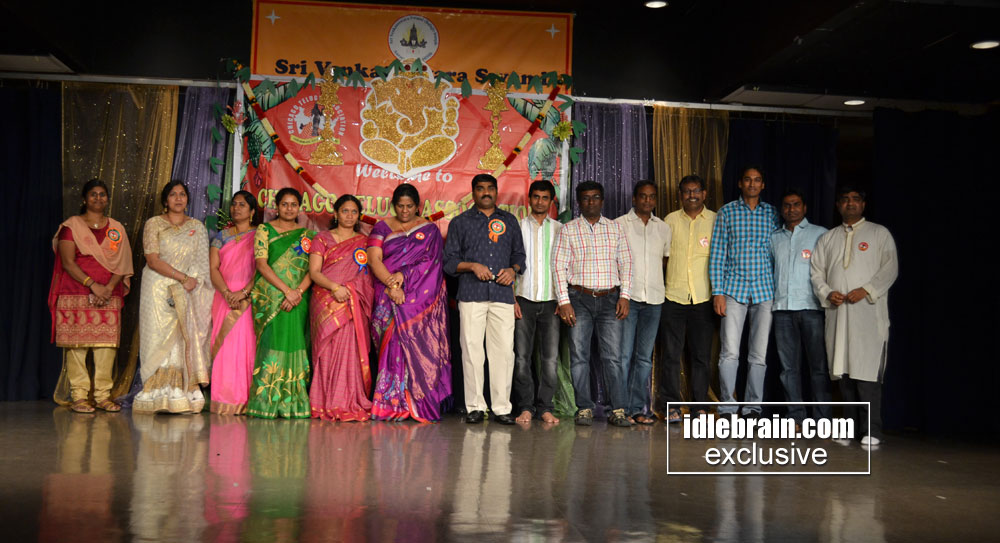 To feature your NRI communty news in idlebrain.com, please mail us at [email protected]
18 April 2016
Hyderabad
Chicago Telugu Association (CTA) Celebrates Ugadi and Sri Rama Navami Telugu in big way – A Celebration of culture and language.

Uagdi and Sri Rama Navami event conducted by Chicago Telugu Association on April 16, 2016 brought the Telugu people in and around Chicago together to celebrate Telugu Culture and Language during the event.
The Chicago Telugu Association (CTA) on a grand scale have celebrated Ugadi & Sri Rama Navami-2016 in Chicago from 4:00pm to 9:00pm on Saturday April 16th, 2016 at Balaji Temple Auditorium in Aurora. The event was conducted by CTA Mahila cultural team.
Large number of Telugu families gathered at this grand event. This event was attended by about 700 Telugu people to celebrate the Ugadi in a fun filled cultural programs. Large number of kids and youth participated in many cultural programs especially in traditional Kuchipudi dances, Telugu elocutions and singing.

The auditorium was filled with festive atmosphere and started off with Prayer song. CTA Mahila cultural team welcomed and wished everyone Ugadi and Sri Rama Navami wishes and hoped that the New Year will bring happiness and prosperity to all the families.
The evening was filled with various classical performances, classical songs and latest dhamaka songs along with colorful mix of folk songs. Telugu Elocution on Ugadi/Sri Rama Navami performed by group of kids speaking in Telugu was well received by the audience.
The event is anchored by Ms. Keerthana, Ms. Smaratha Enukonda and Mr. Raghu Chengalshetty.
Prayer song is performed by Magaranth Rajkumar, Sai Sravya Yetukuri coordinated by Valli Musty.
Classical dances and songs performed including Ugaadi Theme, Rama Rama Song, Suklam Bharadaram & Guru Brahma, Natesa kavutham, Rama Rama, Mukunda..Mukunda Krishna, Athma nivasi ram, gopikamma, Radha Samedha Krishna, Maithreem Bhajatha,on't stop, seeta kalam, "Narayanathe Namo Namo", Bhaamapravesham, Tillana, and Aalokaye sri balakrishnam were performed.
Several movie songs were presented by kids including Challagali vollanta gilli,aha allari allari chupulatho,Dolare dolare, something Something, Nadh nadh, follow follow, Hello,Hello,Violin song,Nannare, Game Game Ganesha, Ganapathi Bappa,Game Game Ganesha and Ganapathi Bappa.
Kuchipudi dance items Rama Shabdam and Jathi Swaram are composed noted Kuchipudi Teacher Mrs. Sobha Tammana and performed by kids and other programs are coordinated/composed by Valli Musty, Maruthi Satyavolu, Karishma, Asha, Sloka Group, Vidya Pandikaran, Malleeswari and Karishma, Rama Koppaka,Mayuri, Janaki, Asha Aacharya, Niharika, Bhavya Behata, Maruthi and Niharika.
CTA President Nagendra Vege praised the CTA Mahila team for conducting an outstanding event and thanked the Telugu families for making the event successful. Mr. Vege also thanked the Balaji Temple Management and volunteer for their support.
CTA Secretary Mr. Subba Rao Putrevu presented the vote of thanks to all members, attendees and sponsors for their support and participation. He thanked the entire team of CTA Mahila - Rani Vege, Lohitha Tunuguntla , Keerthana, Kousalya Gutta, Sujana Achanta, Bindu Balineni , Lakshmi Bojja, Rani Vege, Rama Koppaka, Bhavani Karampudi, Sailja Pulavarthi, and Karishma Pilla for organizing a wonderful event.
Volunteer team including Madan Pamulapati, Murali Koganti, Harshavardhan Reddy Munagala , RK Balineni, Rajesh Veedulamudi, Aravind Koganti, Manohar Pamulapati, Srinivas Pilla, Arul Babu, Murali Kalagara, Srinivas Boppana, Murthy Koppaka, Ramagopal Koganti, and Anil Kodidini.

Introduction of APNRT to Chicago Telugu Community
CTA has arranged a special information cell at the event to educate the community members about AP Government's new NRI division – APNRT. Members of APNRT explained about the activities of APNRT in bringing services to Telugu NRI.
CTA has thanked its volunteers, members and donors for their continuous support.