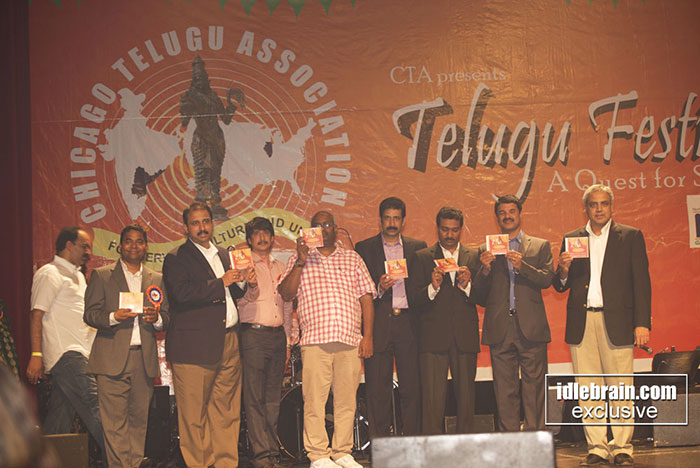 To feature your NRI communty news in idlebrain.com, please mail us at [email protected]
16 July 2013
Hyderabad
A day of cultural and entertainment for Telugu Families, to show unity, celebrate culture and deliver service.
Telugu Festival, 5th annual conference hosted by Chicago Telugu Association this weekend brought in 1500 Telugu people in and around Chicago together on one avenue demonstrating celebrating culture and unity, service activities. The event held at Copernicus Center, in Chicago from 2 PM to 12.30 AM.
The guest list includes Mr. Keeravani, Music Director, Mr. Ravi Madala, President, NATS, Mr. Karunakar Madhavaram, President, ATA, Dr. Ratnam Chitturi, Founder, North South Foundation, and Board of Directors Dr. Chundu Veraiah, Lavu Srinivas and Dr. Vasu Kodali, Tollywood artists Siya, Sathyam Rajesh and mimicry artist Jithendra.
Telugu Festival 2013 has started off with the "Brahmanjali" performed by kids and Adigo Alladigo Srihari Vasam,  Annamacharya Keertana, Song Oh Nama Sivaiah and others  directed by noted Dance Teachers from Chicago. Bhuvana Vijayam program presented by Sri Ram Chitti and team had received huge applause from audience.  Cultural Team including Pavan Vallabhaneni and Sujana Achanta and many other volunteers worked tirelessly to coordinate the programs. Event was anchored by Salila and Anvitha.
Evening program started with Jyothi Prajwalana and Telugu Festival welcome song "Swagatham Palukutondi CTA".  Later CTA Executive team was introduced by CTA Board Director, Rao Achanta. CTA's Executive Team led by Mr. Srinivas Boppana, President, Mr. Sridhar Mumgandi, Ramesh Maryala, Treasurer and all 15 directors were present on stage and thanking the audience for their support and Mr. Boppana Srinivas, President welcomed the guests and outlined the vision for the CTA's new team and seek the community support and ask the community to associated with appropriate Telugu association in order to serve and propagate Telugu culture.
Mr. Praveen Moturu introduced NATS President Ravi Madala outling the strong bond between CTA and NATS.  In his message, Ravi Madala spoke about the NATS and CTA's shared bond in serving Telugu community in case of emergency and other times and also how NATS has been supporting CTA since its existence. On this occasion, NATS announced $ 10,000 donation to CTA towards their service.
In his message ATA message Mr. Karunakar Madhavaram, congratulated and commended CTA's service activities and thanked the committee for their invitation and asked for more such collaborative events to promote among Telugu community. ATA board members, Satya Kandimella, Narendra Cheemalla and others also present at the event.
Ramesh Maryala, CTA Treasurer said that we tried to accommodate as many attendees as possible, except at the end we had to put no registration, because center was full to full capacity.
At the facility volunteer team led by Nagendra Vege and Laxman Kolli helped the attendees and exhibitors.
North South Foundation – Dr. Ratnam Chitturi honored
North Foundation founded by Dr. Ratnam Chitturi was honoured with CTA's Service Excellence Award 2013 for their outstanding service in providing educational scholarships and services in USA and India. So far NSF has delivered more than 10,000 scholarships in India for under privileged students. In his address Dr. Ratnam Chitturi outlined the vision and activities of NSF including spelling bee contests it conducts for Indian Kids across USA.  Dr. Chitturi requested parents to involve the kids in its activities like spelling bee, free math and SAT training  and help kids succeed.
Ravi Madala felicitated Dr. Ratnam Chitturi with Shawl and ATA President Karunkar Madhavaram presented a memento.
NATS Vollyball Competition (Chicago) winners and runners-up teams were presented with Trophies. NATS congratulated Madan Pamulapati and Subba Rao for successfully conducting the tournament in Chicago.
Spectacular Keeravani Concert.
Night program ended with excellent and energetic concert from Keeravani and Team including popular singers Geetha Madhuri, Revanth, Bhirava, Sahithi and Rahul. Keeravani concert mesmerized the audience with their spectacular show covering songs aimed at various genres for more than 3 hours. Keeravani thanked CTA and its organizers for such wonderful arrangements and hosting.
At the end Keeravani was felicitated and presented with Memento by NATS President.
Tollywood Artist Siya and Sathyam Rajesh gave sizzling performances with their dance items. Mimicry Artist Jithendra presented items with imitating many Tollywood actors receiving huge applause from audience.
Authentic food was served for attendees by food committee members including Varaprasad, Niranjan, Ram Gavvala, Vinay, Naveen Reddy, Vinay Bandikalla and Jyoteeshwara Reddy.
Colorful Souvenir was released on this occasion and made possible by Venkat Uppalapati, Ramesh Maryala and Navadeep Dopplapudi.
Sridhar Mugandi presented the Vote of thanks all members, attendees, volunteers, donors, sponsors, and fellow telugu organizations in Chicago for their support and participation. CTA thanked Subba Rao, Harshavardhan Reddy, Arvind Aitha and Emanuel and team for handling the transportation of guests without a glitch. At the end members of CTA remember and dedicated themselves for the objectives of Chicago Telugu Association.