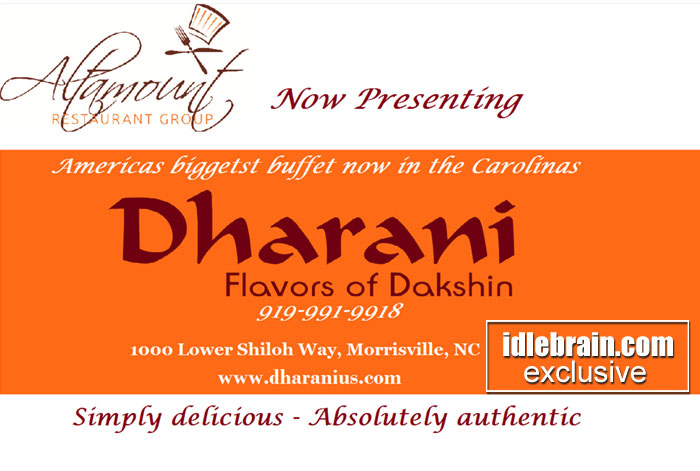 To feature your NRI communty news in idlebrain.com, please mail us at [email protected]
05 February 2016
Hyderabad
There are some recipes that take you back to your Mom's kitchen again and again.
No wonder, how much the restaurant fast food appeals to you or seems convenient, traditional recipes gives you a heavenly experience when made from fresh ingredients.
For millions of Indians or people of Indian origin, getting an opportunity to gorge on such dishes in a far away land is always a matter of sheer delight.
Although, in the United States of America, there is no dearth of restaurants offering quality Indian food, the new addition is the Dharani Restaurant. It is the fourth restaurant of the Altamount Restaurant Group whose other three restaurants offering traditional Indian dishes are already doing extremely good business.
Dharani restaurant is a typical South Indian restaurant where one can experience a celebration of Indian spices as South India itself is known as the 'land of spices'.
The electric mix of spices in the dishes offered at the restaurant simply blows the taste buds! The place thus gives the best dining experience and with its strategic location in North Carolina, it is bound to attract a huge footfall.
After all, what can be a better place of spending quality time with friends or loved ones other than the quaint atmosphere of Dharani where one can have some quality South Indian food at the most affordable rates.
Multitude of authentic dishes
At Dharani, fresh food is prepared each time for every single order with the choicest of ingredients to bring the platter of South Indian flavor in all dishes.
While for vegetarians, there is veg biryani, idli, upma, uttapam, vada, dosa, punugulu and much more, foodies who love the non-veg food are not left behind. For them, there are countless dishes like Chicken chettinad, Shrimp varutha curry, Mutton sukha, Chicken Hyderabadi Biryani, Thalapakattu Biryani, etc. There is, of course, a variety of drinks too such as the very popular aromatic filter coffee, tea and coconut milk and mouth watering desserts.
In short, the place offers everything that one needs to pride on the rich glory of the Indian cuisine and the variety of spices used in the same.
The Altamount Restaurant Group is highly optimistic about the success of their latest venture and has left no stone unturned to make it a grand success.
We are deeply looking forward for your patronage.
Location:
1000 Lower Shiloh Way,
# 106, Morrisville, NC.
Phone: 919-991-9918
Email: [email protected]
www.dharanius.com
For Details Contact:
Altamount Restaurant Group
Phone: 508-208-7983
Contact: Bhaskar Rednam