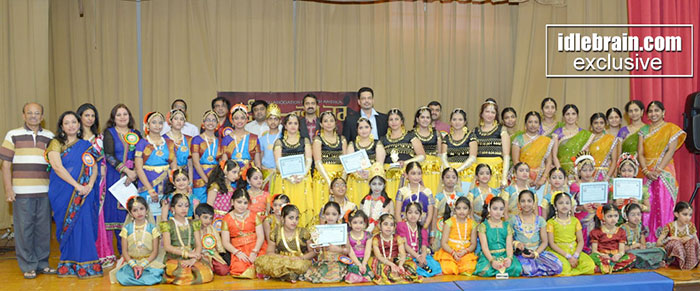 To feature your NRI communty news in idlebrain.com, please mail us at [email protected]
10 May 2013
Hyderabad
Dhim TANA Dance Competitions – North East Region
Edison, NJ – 10th May 2013
North East Dhim Tana cultural competitions were conducted very successfully on Saturday May 4, 2013 in New Jersey by TANA in association with TV9. Local support for the event was provided by the local New Jersey Telugu Organization TFAS.
12 groups consisting of more than 100 children and adults participated in various dance categories that included Classical, Folk and Movie Dances. The winners in each of the categories were announced at the end of the program.
TANA Joint secretary Chinna Vasudeva Reddy, TANA Foundation Secretary Jay Talluri, Dhim TANA North East coordinator Damu Gedala, TFAS President Manju Bhargava, TANA Regional Director Elect Ravi Potluri, TFAS Vice President Vasanth Tanna, TFAS Annual Events Trustee Bindu Madiraju have participated in the event and distributed prizes to the winners.
The winners are listed below:
Juniors - Folk 1st prize - Center for Kuchipudi- Raasa Kridala Ramanuni Ganchina
2nd prize - Nritya Madhavi School of Dance - Mokka Jonna Thotalo
Seniors - Classical dance - Center for Kuchipudi dance - Swagatham Krishna
Adults - Movie Dance 1st Prize - Bhulaxmi Addala Group- Seethamma Vakitlo
2nd Prize - Kavi School of dance- Movie Medley
All the first prize winners will be given a chance to participate in the Grand Finale at TANA Convention in Dallas, Texas to be held during the Memorial day weekend of May 24th-26th 2013. All First Prize Winners will be given a CASH AWARD of $300/- by Arun Guthikonda Endowment Fund.