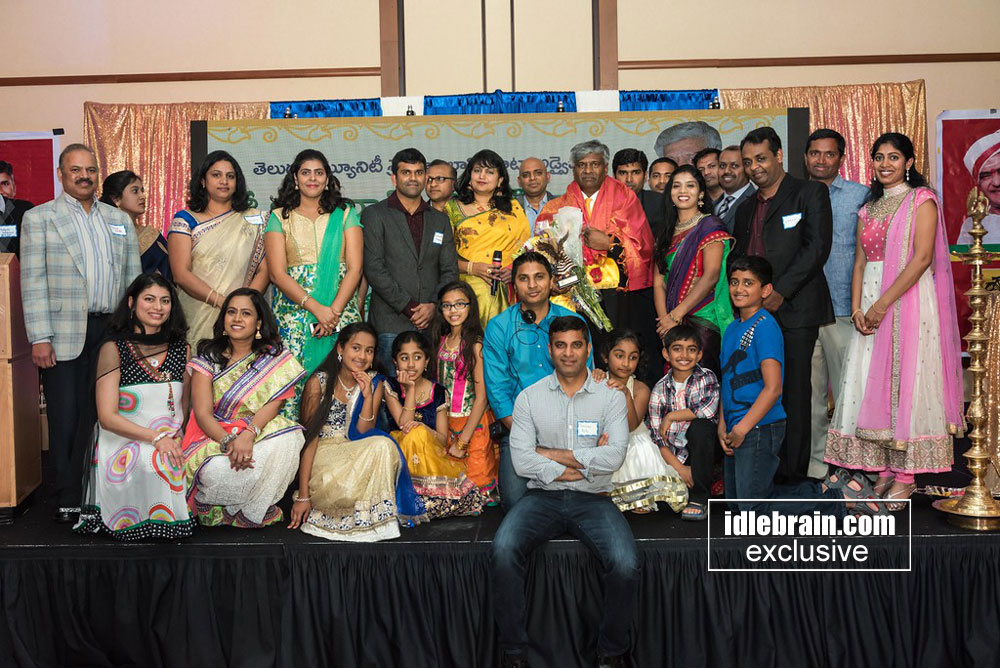 To feature your NRI communty news in idlebrain.com, please mail us at [email protected]
08 March 2016
Hyderabad
Bay Area Indian community organized a grand community reception to Jayaram Komati, who recently got appointed as Special Representative to North America by Govt of Andhra Pradesh. The program was organize at Lavish Marriot hotel Banquet hall in Fremont, CA. Many of the elected officials, close friends & Well Wishers attended the event to personally congratulate Mr.Jayaram.
The program started with Vijaya Aasuri (BATA Advisor) welcoming all the guests and dignitaries. She invited Jayaram Komati and other elected officials on to the stage.
Betty Yee (CA State Controller) , Ro Khanna (Deputy Secretary of Commerce) , Bill Quirk (CA Assembly), Bill Harrison (Fremont Mayor), Kansen Chu (CA Assembly), Jose Esteves (Milpitas Mayor), Rose Herrera (Sans Jose City Council), Ash Kalra (San Jose City Council) spoke and congratulated Jayaram Komati and wished him all the very best in his new role . All the elected officials has quoted, there is lot of synergies between California and Andhra Pradesh in fostering stronger relations.
Tulasi Gabbard (US Congress Women from Hawaii), pledged full support to Indian community and strengthening ties between US and India. She congratulated Mr. Jayaram and extended her solidarity.
Bandaru Satyanaraya (TDP MLA) attended the event as special guest & addressed the gathering. He also felicitated Mr.Jayaram on behalf of Govt of A.P.
Speaking on the occasion Jayaram thanked everyone for their unconditional love and support. He said, the position is not for him but it is for all the hard working Telugu NRI's who always support their mother land. Jayaram also thanked Chief Minister Sri Chandra Babu Naidu and Lokesh for their vision for NRI Telugu's and entrusting this important task to him. He also briefed the audience about the welfare schemes implemented by Sri Chandra Babu, in spite of deficit budget. He stressed Telugu NRI's to give importance to set up new companies and support our motherland. He also assured that the, CM will leave no stones unturned in building a world class capital for A.P. He requested all the organizations to collaborate and support in making Andhra Pradesh an even more vibrant place. He also stressed will be many opportunities that will allow NRI community to work on initiatives and projects.
TANA executive committee team consisting of Jampala Chowdary (President), Satish Vemana (Vice President), Jay Talluri (TANA Foundation) and others felicitated Mr. Jayaram.
BATA executive team, congratulated Jayaram on his new role and pledged their full support for his future initiates.
Various Indian organizations NRI TDP, Sankara Eye Foundation, Livermore Temple, Sunnyvale Temple, HSS, Silicon Andhra, Telangana Association, VEDA temple, Paatasala, Andhra Muslim Assoc, Punjab Assoc & Swagat Friends felicitated Jayaram.
Speaking at the end Sateesh Vemuri (TANA RVP – West Coast), thanked all the friends and Well Wishers for working very hard over the past 3 weeks in making the event a grand success. He said, Mr Jayaram has been a champion and at the forefront of uplifting all the Telugu's all over world.