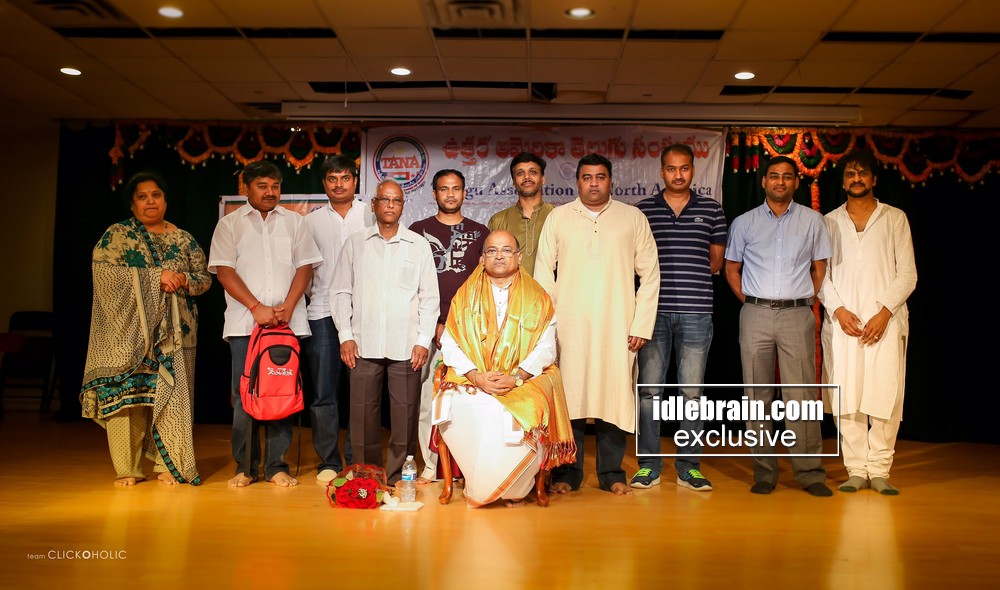 To feature your NRI communty news in idlebrain.com, please mail us at [email protected]
16 August 2016
USA
Telugu Association of North America) and Philadelphia Sai Satsang organized a discourse by Garikapati Narasimha Rao garu on Sunday August 14th at Bharatiya Temple, Philadelphia. Sri Garikapati garu dedicated his life to the cause of enlightening people with correct interpretation of our scriptures with the aim of protecting Veda Parampara and also sharing the knowledge he has on
Sri Garikapati garu was honoured and welcomed with a Purna Kalash (Rituals of the Pot of Abundance). Mallik Budhavarapu welcomed the audience and conveyed gratitude to Sri Garikapati garu for attending the event. More than 400 people attended to listen to Sri Garikapati garu and the topic for the discourse (Pravachanam) was "Guru Bhakti", where he described the importance of Gurudatta and the incarnations. Everyone was enthralled with the wonderful narration and Sri Garikapati garu enlightened people minds with his discourse. The program started with Ganesha prayer by Budhavarapu sisters followed by kuchipudi dance performance by Chinmayi Mungara. TANA Joint Secretary Ravi Potluri conveyed vote of thanks.
Mallik Budhavarapu & Satish Tummala coordinated the event with the support from Ravi Potluri, Saroja & Srinivas Sagaram, Murthy Nuthanapati, Raju Kalidindi, Nagaraju Nalajula, Sambaiah Kotapati, srinivas chinthapalli, suresh yalamarthy, Malli Chamarthi, Narasimha Reddy, Prakash Battineni, Harish Koya, Sai Jarugula, Madhav Reddy Mosarla, Rama Muddana, Gopi Vagvala, Krishna Nandamuri, Ujwal Kasthala, Krishna Konagalla, Vjay Polamreddy etc.
TANA Team felicitated Sri Garikapati Narasimha Rao gaaru at the end of the discourse.