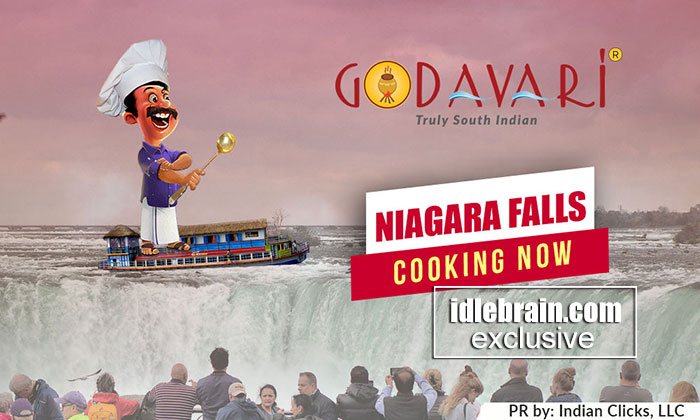 To feature your NRI communty news in idlebrain.com, please mail us at hijeevi@gmail.com
15 June 2018
USA

"Godavari", the south Indian food giant now started their operations in Niagara Falls on the USA side of the park. Niagara is one of the tourist places which is visited by a tremendous number of visitors every year especially in Summer and there are no good options for Indian food.
With Godavari opening in Niagara Falls area, it is a very good news for the visitors who had been missing our food since ages. The 100-seater restaurant which is located right across the Niagara Falls state park is in a walkable distance.
The concept of "Team" Godavari is to spread the aroma of our South Indian food across the world wherever there is an Indian foot print and we did not want to miss a spot like Niagara Falls.
We got an infinite number of requests to open a high-quality Indian restaurant in Niagara area as everyone is suffering when they visit the falls without good South Indian food especially our Dum Biryani and Dosa. So, we decided and worked hard to get into the Falls area says Jaswanth Reddy Mukka who manages the operations of Godavari.
Godavari Niagara Falls will be open from 11 AM till 10 PM everyday with an enticing Buffet all day along with the Ala Carte orders.
This will be the only restaurant in the Falls area which serves the authentic South Indian food with reasonable rates and we are open through November. We as a "Team" are creating history in this area as the first south Indian place said Raja Munaga from "Team" Godavari.
Godavari is also going to be the first International food chain incepted in USA and going global with their new location opening in Muscat, Oman in couple months. This is also a unique location which is located just a few minutes from Oman International airport with a Banquet facility.
"Godavari" is also looking for good and enthusiastic partners in Canada so that the aroma could be spread across Canada as well. Feel free to reach out to Franchise@godavarius.com to express interest.
Hope you come and enjoy the Niagara Falls with some nice Authentic Indian Food!!
Location:
GODAVARI NIAGARA
431 3RD ST
NIAGARA FALLS, NY 14301.
Phone: 716-299-0066
Email: Niagara@godavariUS.com
Contact:
Raja Munaga
361-222-4222
Thanks again…. Hope you all enjoy our cooking….
www.GodavariUS.com