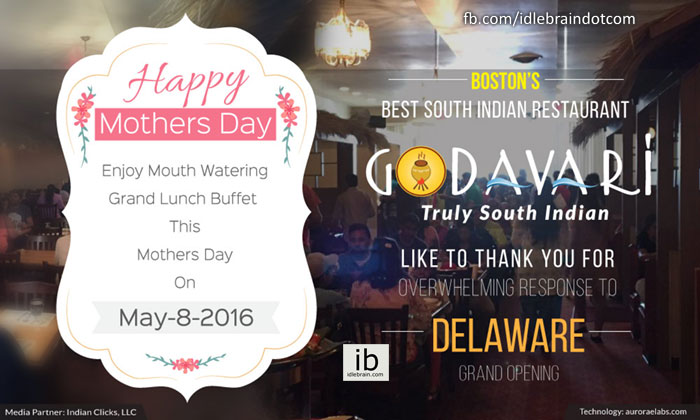 To feature your NRI communty news in idlebrain.com, please mail us at [email protected]
27 April 2016
Hyderabad
Delaware, USA, April 29th, 2016: The fastest growing South Indian restaurant in the world - Godavari, the authentic South Indian Cuisine was opened on April 16, 2016 to the public on a grand scale in the city of Wilmington in Delaware province.
The ostentatious inauguration was followed by a lavish buffet. The diversified menu infuses new laudable recipes and authentic flavors that includes Veg specialties like 'Vidya Balan' Vadalu, Gongura Idly, 'Paritala' Pineapple Rasam, Kunda Perugu along with many Non vegetarian specialties like 'KTR' Kodi Roast, 'Urmila' Uragai Mamsam Koora, 'Rathamma' Gari Royyalu Eguru, 'Pitapuram' Peethala Pulusu and many more.
Mohan Tummala and Gopi Chigurupati from Godavari Delaware franchise expressed their happiness in joining the Godavari family and extending Godavari to the state of Delaware which is lacking an authentic South-Indian restaurant.
The 150-seater Delaware restaurant's design will be a nod to the heritage and the authentic delights from the Southern India. Talking about this the franchise owners said, "Food lovers are going to have their authentic food under Hut like structures which you typically find in your Grandparents villages with a huge collection of Kondapalli Toys."
Elated with the expansion, Teja Chekuri & Koushik Koganti said, "With immense pleasure, we take pride to carry the legacy of Indian food, especially south Indian cuisine to various parts of United States through 'Godavari'. We as a "Team Godavari" are working very hard to innovate new recipes and serve different kinds of dishes to the community. We want every Indian food lover in the world to own a piece of Godavari."
Godavari Delaware will have close access to the Financial Office Hub and proximity to I-95. Taking the advantage of the location, Godavari, the restaurant would be serving and catering to the people in and around Philadelphia, King of Prussia, Exton and adjoining cities.
Godavari Group will soon set up their corporate offices in India at Amaravati (Andhra Pradesh) and Hyderabad (Telangana) to better serve their Global ventures.
Godavari also catered Ugadi events for more than 2000 guests for GMATA (Madison), TAGB (Boston) and many more with authentic dishes.
Godavari Group would like to Thank the people of Metro Washington area for making Godavari Maryland a huge success.
Godavari chain is actively promoting the Hashtags of #GoogleofIndianFood and #IncredibleIndianFood.
Godavari Delaware is happy to celebrate the Motherhood with a special Lunch Buffet on Mother's Day weekend. Please join us for Lunch to enjoy the Traditional Mother's Recipes during the Mother's Day Weekend @ Godavari Delaware.
We TRUST our Legacy Continues in the state of Delaware and would invite every food lover to taste our authentic recipes.
Looking forward to serve you at:
GODAVARI DELAWARE
3615 Kirkwood Hwy,
Wilmington, DE, 19808.
Ph: 302-999-0286
Thanks again…. Hope you all avail and enjoy our services.