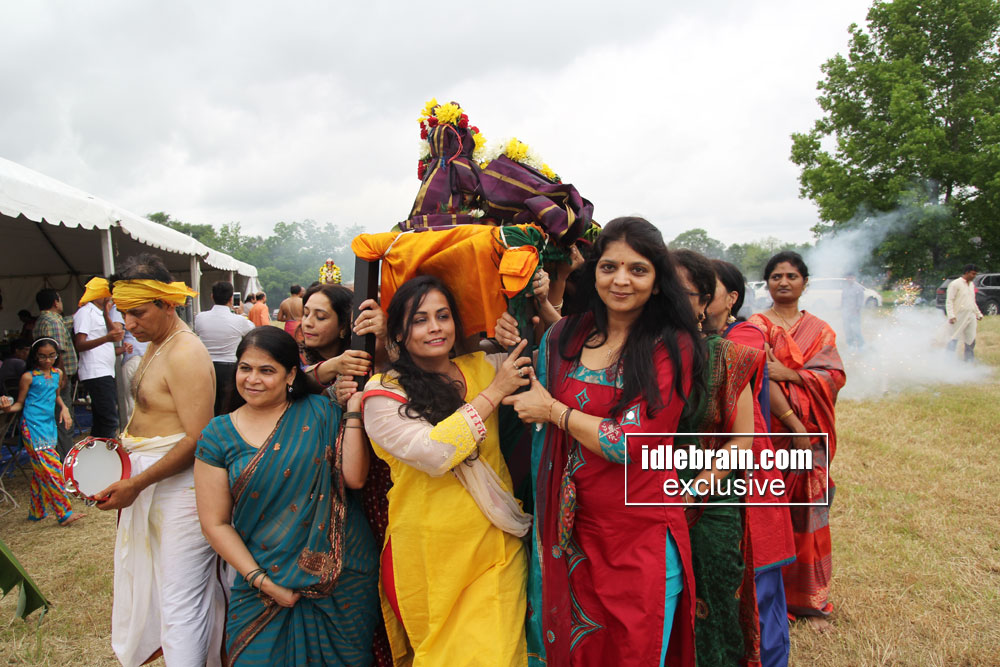 To feature your NRI communty news in idlebrain.com, please mail us at [email protected]
21 May 2016
Hyderabad

For the first time ever at the Southern Gulf Coast region of United States which is facing towards Gulf of Mexico, also known as Mobile Bay Area, Gulf Coast Hindu Society of Mobile, Alabama (GCHS) has performed Bhoomi Puja (Groundbreaking Ceremony) on April 30th 2016 for First Hindu Temple at the City of Mobile in the State of Alabama. The temple serves the devotees with closeness of proximity for the regions of Southern Mississippi, South Alabama and Florida Panhandle. This would be the first Hindu Temple close to Interstate I-10 after ISKCON temple societies in New Orleans and Carriere, MS.
Gulf Coast Hindu Society of Mobile, AL is formed by the enthusiastic Hindu Patrons and long-term permanent residents almost 20+ years in the City of Mobile. The City has approved whole 7 acres which Comprises 305,000 Sq.Ft of Agricultural land, only for Hindu temple recognizing the vast Indian Community in and around Mobile and Baldwin Counties and its rich Ritual, Cultural Vibrancy right In the middle of agricultural fields of Mobile County in a good peaceful Neighborhood. The temple would be close to 4 miles from Mobile Regional Airport, 7 miles close to Interstate I10 at Exit 15B. "It was a longstanding dream to witness a Hindu Temple in Mobile and today with Bhoomi Puja it's like a dream coming true for everybody to have a Hindu Temple here in South Alabama" said an Indian Business-owner from Daphne, AL living in Baldwin County Mobile Bay Area from past 35 years.
Most of the Indian Community comprising of Doctors, Software Professionals, Chartered Accountants, Business owners and Students has participated for Bhoomi Puja.
The Founding Committee of the Gulf Coast Hindu Society of Mobile, AL includes Saty Putcha (Satya Putcha), Madhu Chilukuri, Pawan Agrawal, Venkatesan Srinivasan, Koteswara Rao Kolluri, Rambabu Atmakuri, Hari Bhai Patel, Rashmi Dhawan, Samar Bhowmick, Krishna Nalluri, Shantha Kannan, V.Kothandapani Other members include Nutan Mishra, Jigar Patel, Divyesh Patel, Snehal Patel, Jayashankar.
Currently donations are accepted which would be Highly Appreciable. Gulf Coast Hindu Society whole heartedly request all Hindu Lovers, Patrons and Devotees from all over the World by being part of for fast construction of the temple there by and kindly helping Hindu Temple dream come true in Mobile, Alabama. For more Information, further details you can email [email protected] or can contact below Executive committee members at anytime.
Rambabu Atmakuri (251)391-0662
Madhu Chilukuri (706)888-2993
Rao Kolluri (251) 581-4377
Pawan Agrawal (251)402-1896,
Venkatesan Srinivasan (251)508-7273