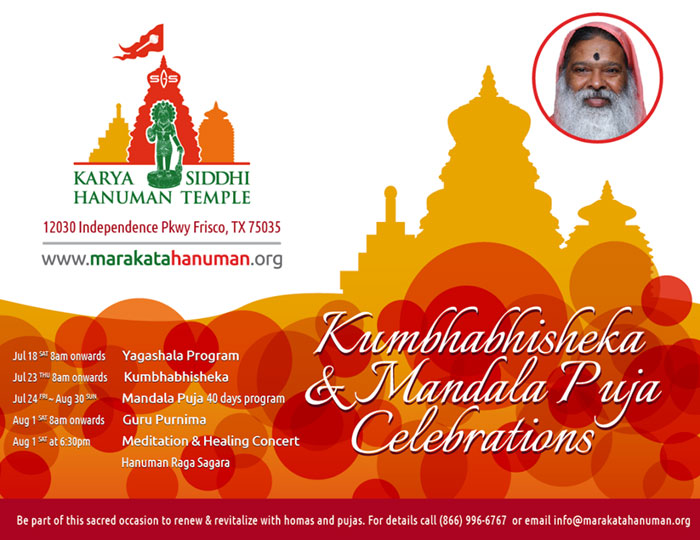 To feature your NRI communty news in idlebrain.com, please mail us at [email protected]
2 July 2015
Hyderabad
Kumbhabhisheka is the consecration ceremony for a Hindu Temple which involves ancient Vedic rites, homas and pujas. Kumbha, meaning the head, references the shikhara or spire above the Temple which is usually on top of the gopura, an ornate tower on top of most temples. Abhisheka is the pouring libations, such as water, milk or honey, during worship while chanting mantras.
During the Kumbhabhishe- ka, deities are invoked and propitiated through religious rites including homas and yagnas. After the moorthys or vigrahas of the deities are installed, the energy in the water in the kumbhas was transferred to the vigraha in the temple by pouring the water on the gopura and on the vigraha of the deity.
The divine energy is invoked by the appropriate religious rites and transferred into kumbhas containing the water of the holy rivers of India by chanting mantras derived from the Vedas and Samhitas. These mantras consist of prayers to different deities for the well-being of mankind, guidance in performing religious duties properly, and instruction in following the four-fold duties of Dharma, Artha, Kama and Moksha.
Through the 5 days of consecration, we beseech that the blessings of the Almighty Supreme to enter the sanctum and reside in the moorthys with the kumbhas atop the sanctum residing as repositories of that Divine Grace, so that worship can commence at the new temple.
The Mandala pujas performed subsequently for about a month following Kumbhabhisheka further help to enhance the spiritual power of the Temple. Steeped in spiritual and religious significance while invoking peace and harmony, the Kumbhabhisheka rites and incantations have an everlasting beneficial effect on society as a whole.
The sacred occasion also provides an opportunity for all devotees to renew and revitalize the connection and dedication to God, the Temple and the surrounding communities.
Please consider this your personal invitation to attend these grand celebrations. Lunch and dinner will be provided on all days.
During the Kumbhabhisheka and Mandala puja, dedicated volunteers will be chanting the sacred Hanuman Chalisa continuously in shifts for 24 hours a day until the end of August.
All are welcome to join the parayana chantings per their availability. The Temple will be hosting mass Hanuman Chalisa sessions on Friday, July 24th; Sunday, July 26th; and on the final day of the Mandala puja on Sunday, August 30th.
Please check the online schedule for the latest dates and times at MarakataHanuman.org.
Jul 18 SAT 8am onwards Yagashala Program
Jul 23 THU 8am onwards Kumbhabhisheka
Jul 24 FRI ~ Aug 30 SUN Mandala Puja 40 days program
Aug 1 SAT 8am onwards Guru Purnima
Aug 1 SAT at 6:30pm Meditation & Healing Concert Hanuman Raga Sagara
Aug 8 FRI ~ Aug 14 THU Hanuman Charitra Saptaham (Telugu)
Aug 17 MON ~ Aug 19 WED Kids Camp with Sri Swamiji
Aug20THU10amonwards SwamiNarahariTeerthaArandhana
Aug 21 FRI ~ Aug 27 THU Ananda Ramayana Saptaham (Telugu)
Aug 30 SUN at 6:30pm Hanuman Chalisa Group Chanting led by Sri Swamiji