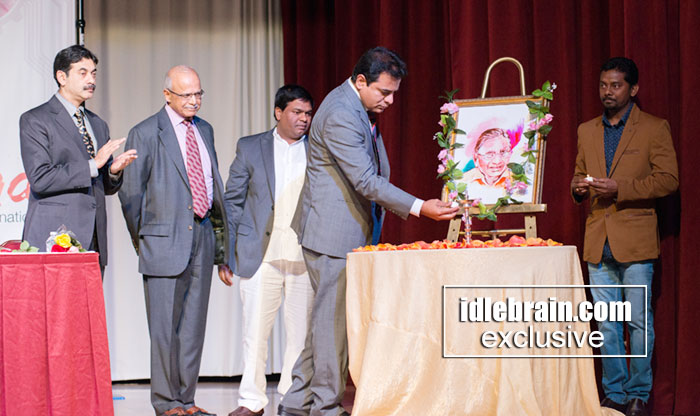 To feature your NRI communty news in idlebrain.com, please mail us at [email protected]
19 May 2015
Hyderabad
The honorable Minister of IT, Telangana , Mr. Kalvakuntla Rama Rao, currently on a tour of the United States to promote Brand Telangana was in Silicon Valley - Bay Area, California. The minister had meetings with industry giants such as Google, Facebook, Cisco, nVidia among others to invite them to invest in Telangana and make Telangana the hub for IT and manufacturing.
Out of his busy and very successful trip he took out some time to meet the NRIs living in Bay Area. Bay Area Telanganites organized a diaspora event called as
"Mulakat" at India Community Center, Milpitas, CA. More than 1000 NRIs attended to meet and greet the minister.
hear the minister speak about the initiatives and efforts taken by the Telangana Government to encourage Technology and Innovation on this Thursday evening.
The Evening started with a Presentation by Bay Area Telanganites regarding their activities in CA such as the Telangana 5K run, Million March, Telangana Float,Telangana Daawat and the various other programs followed by lighting of lamp at Prof. Jayashanker photo.
The minister, Mr.KT.Rama Rao, explained the new Industrial policy of the Telangana Government which is implemented to attract more industries to choose Telangana as their destination. Mr.KTR spoke at length about the TS-ipass in which applications received will be cleared within 15 days. Examples of this effective scheme are MRF and Amazon India which got clearances in less than 15 days. He also explained about the other flagship initiatives.
The audience listened keenly as the Minister explained the incentives being offered by the Telangana Government for industries which choose Telangana as their destination. Many NRI's were heartened by the efforts undertaken by the Telangana government to attract more industries to Telangana which would in turn generate jobs and fuel economic growth.