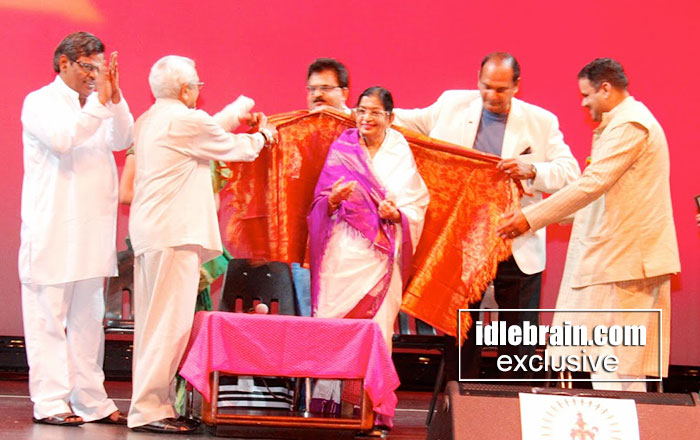 To feature your NRI communty news in idlebrain.com, please mail us at [email protected]
18 July 2014
Hyderabad
On Saturday, July 12th, 2014, for the first time in the Greater Los Angeles area, Los Angeles Telugu Association (LATA) organized a unique event "LATA Sangeetha Lahari Musical Nite" with famous lyricist Sri. 'Sirivennela' Sitarama Sastry and team of world class artists. The response from the Telugu community was amazing and packed auditorium of approximately 1200 people at Centinela Valley Center for the Arts auditorium in Inglewood, Los Angeles. The event turned out to be a grand success with great response from the literary and music connoisseurs.
The musical journey started with sensational flute performance by Sri. Nagaraju around 6:30 pm and the program was anchored by Sameer Nandan Bhavanibhatla and Sreekanth Kocharlakota. Followed by hilarious mimicry was performed by Sri. Ramesh Jallarapu about 25 minutes and nonstop laughs in the auditorium.
Folk singer Ravi of 'Rela-re-Rela' TV show fame, performed his famous songs while local kids performed folk dance. Ravi's booming voice mesmerized the crowds and his colorful outfits lit-up the stage. He also performed a duet with local young singer Sravani Kotha. His poetry and rhythmic songs set the crowd dancing and echoed the auditorium with whistles and claps.
Legendary playback singer, Padmabhushan awardee, Dr. P Suseela was honored with Lifetime Achievement award for her contribution to Telugu cinema as a playback singer. Speaking on the occasion, Dr Suseela shared her musical experiences and her penchant for playback singing in various Indian languages. The audience were pleasantly surprised to hear her sing live couple of her famous songs from yesteryear.
Much waited Sri. 'Sirivennela' Sitarama Sastry Antharangam started by sharing his inner feelings and an inspiration behind many of his songs. Picking some of the fascinating songs from various movies that he penned songs for, Sirivennala elaborated his philosophy of life. A session filled with amazing songs, he talked about cultural and spiritual heritage of our country, the need for everyone to understand how rich the culture of the country is and how important it is to treat the life span between the day one arrives into this world and day one departs. Singers Parthu and Saahiti sang famous songs written by Sri Sirivennela.
Highlights
One of the best Telugu event around LA area in recent years
Unbelievable performance by flute Nagaraju.
NON-Stop entertainment for 4hrs by seven world class Telugu artists.
About 1200 audience enjoyed the show
Unlimited delicious food, banana and water through out the event
50+ dedicated volunteers worked hard day and night.
One more jewel has been added in LATA's crown.
NATS BOD Dr. Veeraiah Chundu , NATS VP Kishore Kantamaneni and team disclosed few details about upcoming bi-annual NATS Sambaraalu event
which is going to happen on July 4th long weekend 2015 in greater LA area.
As the event ramped down, the crowd erupted and chanted for an encore of the performance. The audience was satisfied as the Executive Committee, which included President Ramesh Kotamurthy, Secretary Tilak Kadiyala, Treasurer Hari Maddala, Joint Secretary Lakshmi Chimata, Joint Treasurer - Srinivas Komirsetty, walked on to the stage the address them. LATA executive committee members thanked the audience for attending the event and being so encouraging. The members also expressed their gratitude to the participants for their exceptional display of performances. LATA also praised their volunteers for all of the hard work in bringing this historical event to a memorable success. The event concluded after the Indian and American national anthems were played respectively. LATA team also extended its gratitude to the all the donors, sponsors and media partners