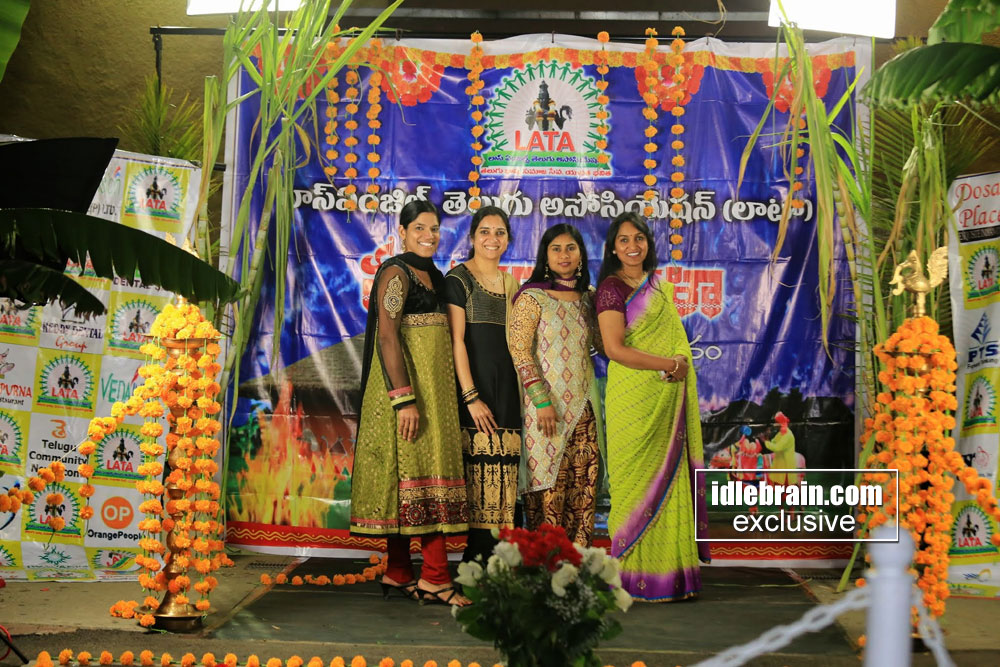 To feature your NRI communty news in idlebrain.com, please mail us at [email protected]
26 January 2015
Hyderabad
On Saturday, January 17th, 2015, for the second time in a row Los Angeles Telugu Association (LATA) has organized a one-of-a-kind signature event for Sankranthi celebrations.  It exceeded everyone's expectations and approximately 1900 members attended the event!  The tradition that got introduced in year 2014, continued with even more enthusiasm from the Telugu community around the Greater Los Angeles Area and engaged everyone in a traditional event that would instill a sense of importance for Sankranthi within our community.

The event turned out to be a super mega success with an amazing response from the Telugu community. Telugu people in and around Greater Los Angeles and Southern California participated in the celebration of Sankranthi by giving performances and showcasing their talent. 

Sankranti is also called "Harvest Festival" and at LATA Sankranti event, the importance of farmer and their plight had been talked about. An appeal was made to people to start thinking about a farmer in their daily prayers and also look around to see if there is anyway each one can help alleviate the distress and pain the farmer is undergoing! 
Highlights
* About 1900 people attended and enjoyed.
* 110+ dedicated volunteers worked hard past two months.
* Around 8 games to entertain the kids of all ages.
* Henna and Face painting booths were focus point in Mela
* Countless melodious and foot stepping old&new songs by local Rhythm & Melodious (R&M) Group.
*Sankranthi traditional media point and folk were special attraction.
* A jaw-dropping Kolattam and flashMob songs performance
* 150+ local talent entertained the audience.
* Jada Kolatam choreographed by Sameer Akella and performed by Telugu Thota Kids under Vidya Tadanki's supervision stunned audience to see a perfect Jada weaved and un-weaved with dance.
* Rangoli winners awarded with Uppada Silk Sarees (pattu cheeralu)
* Recording dance of great legends NTR, ANR, Kirshna, Sobhan babu, Rajini show was one of the highlights
* Telugu Authentic dinner feast including traditional rice-cakes (Ariselu), Putha rekulu etc. by DOSA PLACE.
    
This mage event's cultural programs were coordinated and anchored by Sameer Bhavanibhatla and Sreekanth Kocherlakota.
    
As committed local organization to support, promote and recognize local talented youth, Akhila Kethireddy and Advait Karthik were awarded with LATA Young Achievement Award for their achievements.  Ahkila won the best delegate award and first runner-up in Miss Asia USA Pageant 2014, whereas Advait won the National Racquetball Championship (U-8) 2014.

LATA president Ramesh Kotamurthy thanked all the volunteers who has put their effort to make this event so successful and he repeated mentioned that the mere existence of LATA is the ever growing dedicated volunteer base.  He also announced the new members Srihari Atluri, Suresh Ayinampudi, Vijay Nekkanti as part of board of directors of LATA.  

The last items made all the audience to stand on their feet dancing!  Naveen Kanth Bayi and his team of energetic youth gave an amazing performance followed by recording dance that has kept the audience whistling all the time!  

Finally LATA EC consisting of President Ramesh Kotamurthy, Vice-President Ravi Tiruvaipati, Secretary Tilak Kadiyala, Treasurer Hari Maddala, Joint Secretary Lakshmi Chimata, and Joint Treasurer - Srinivas Komirsetty thanked all the audience for their continued support to LATA.

LATA also praised their volunteers for all of the hard work in bringing this Mega Event to a Mega Success. 
The event concluded with the Indian and American national anthems.