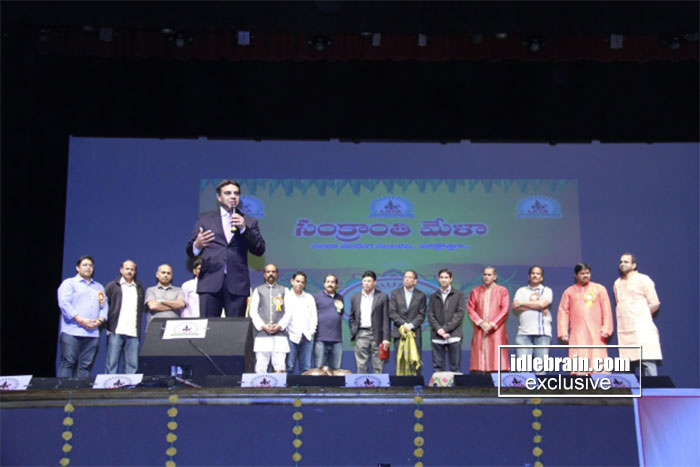 To feature your NRI communty news in idlebrain.com, please mail us at [email protected]
25 January 2017
Dallas
Los Angeles Telugu Association (LATA) brought all Telugu people of Great Los Angeles together to celebrate Sankranthi in a day convention style event for the fourth consecutive year.
About 3000 Telugu people in attendance, this is the one of the largest Sankranthi celebration event anywhere outside of India. Delicious lunch and dinner were served for the guests, but the real feast was for to the eyes, with so many electrifying performances by the local talent from 12 PM to 10:30 PM. The chief guest of the evening, City of Artesia Mayor Ali Sajjad Taj expressed astonishment, said this is "by far the largest Indian gathering" he has ever seen. Mr Sajjad explained his plans for Artesia to make it the city for everyone.
This signature event consistent of an outdoor stage filled with traditional Telugu performances, a carnival with many games and jumpers for kids play, and a lot of stalls for food, shopping and entertainment. And all this was just the beginning. The evening moved into an indoor auditorium, where local latent rocked the stage.
50 plus performances by 250 plus local talent entertained the guests throughout the day.
Highlights:
Anchoring by Telugu TV fame "adhire" Abhi and anchor-singer Parnika; Jyothi Prajwalana ceremony by Ravendranath Reddy and Ram Yalamanchili family
Presentation for Rangoli muggula competition winners Sridevi Gopisetti (Eastvale) and Bhagyasri Benna (Burbank) and runners-up Gowri Tattari (Eastvale) and Sivani Chintha (Burbank)
Dr Veeraiah Chundu and Kumar Koneru facilitated Artesia Mayor Ali Sajjad Taj, LATA EC facilitated popular Telugu movie star Laya, and former mayor of  Redondo Beach Mike Gin
Outdoor Highlights: Sankranthi themed Media point (AAA Decorations), Parent Guidance Forum, Carnival games, Saahithi Sadassu, Yoga by kids, Flash-Mob (Andaaz Dance Academy), Henna, Face-painting, Karra Samu (HSS), Chekka Bhajana, Yogchap, Folk dance (Samarthanam Trust for the Disabled) etc
LATA Board of Directors reminded that Sankranthi, "Harvest Festival" is all because of our farmers, and that we should be thankful to them. Given the plight of our farmers back in India, they pleaded to everyone to our part in whatever way possible to alleviate the situation. On this occasion LATA BoD and EC members pledged donation to for upliftment of farmers in India.
LATA Executive Committee, Tilak Kadiyala (President), Srinivas Komarisetti (Vice President), Sridhar Satuloori (Secretary), Chakra Kavuri (Treasurer), Sameer Bhavanibhatla (Joint Secretary), Suresh Ambati (Joint Treasurer)  expressed their gratitude to about 190 volunteers who relentlessly worked past two months to make the mega event bumper success, gratefulness for donors, sponsors, media partners and thanked Vijaya and Radhakrishna Vedula (Dosa Place, Tustin) for sponsoring food, and Lakshmi Chundu for three vans full of curry leaf.
The event concluded with the Indian and American national anthem.