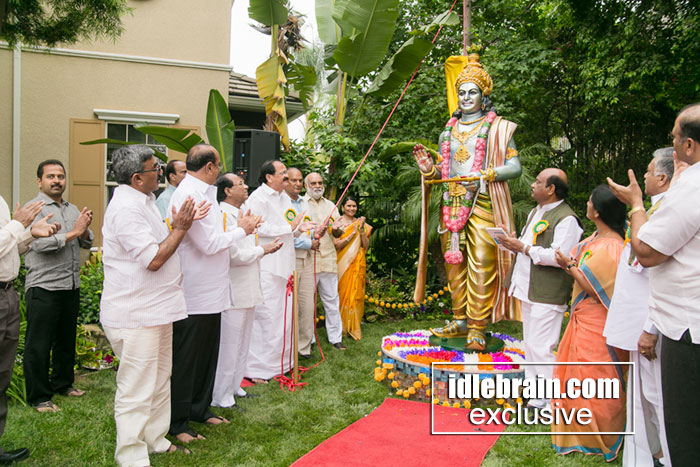 To feature your NRI communty news in idlebrain.com, please mail us at [email protected]
06 July 2015
Hyderabad
Los Angeles has witnessed a wonderful unveiling ceremony of Late Sri. Nandamuri Taraka Rama Rao at Smt & Sri. Kumari and Sarath Kamineni's residence. Late Sri. NTR idol is placed there in the form of Lord Sri Krishna (for which he is popularfor). Hon. Urban Development MinisterSri.M. Venkiah Naidu did the unveiling at10:30 AM. He recalled his association with Late Sri NTR and mentioned how much he respects NTR as an actor, as a politician and as a Telugu person. He recalled the days when NTR made his political entry where he saw an ocean of people attending his meetings and it was phenomenal to form a political party nine months before elections and form a government. He told that NTR was the first person to propose Third front at the National level and they both share the anti -congress ideology. He also applauded that Late Sri. NTR and his reforms are still being used in many states and his schemes particularly implemented forthe welfare of women has made a lot of impact.
Later Sri. Sarath Kamineni told that his love and respect for Late Sri. NTR has made him to take this initiation. He believes thatthis statue will protect him and his family just like Lord Krishna. He thanked the gathering, friends who helped organize this event, and key persons who contributed in makingthis idol specially including Sri Harshavardhan Muppavarapu and the scul ptorSri RajkumarVudayar. He also mentioned that anyone can visit his place anytime they wish and pay tributes to NTR.
Andhra Pradesh assembly Speaker Sri Kodela Siva Prasad Rao told that in 1980's NTR has brought him into politics even though he is a doctor by profession. Hon. Health Ministerfrom Andhra Pradesh, Sri. Srinivas Kamineni spoke about how he was inspired by NTR to enter politics. Hon. Panchayat Raj MinisterSri Ayyanapathrudu told that he was so honored to work with NTR Baru. Later S mt. Paritala Sunitha addressed the audience and told she is what she is because of him. Padma Sri Yarlagadda Lakshmi Prasad spoke and requested the honorable ministers to establish NTR museum at one of the placesthe great Leader owned and lived in Hyderabad. Sri. Palle Raghunatha Reddy, IT minister of Andhra Pradesh, have recalled how, NTR has created an equal political platform for people from all caste and creed.
K. Raghavendra Rao, popularly called as Darshakendra (who has directed twelvefilms with NTR), have addressed the audience with a poem on NTR and admired NTR. He thanked Sarath Kamineni fortaking up this huge task. South Indian musiccomposer and singerVandemataram Srinivas have sungthe popular NTR political campaign song onJanmabhoomi. South India actor and dubbing artist Sai Kumar has mesmerized the audience with a poem from Daana Veera Sura Karna and how NTR has inspired his career. Kiran Prabha, popularTelugu writertold that in earlier days, people who visited Tirupathi used to visit Chennai to see NTR, just like that people who visit Disney Land would visitthe NTR statue here and Sarath Kamineni's residence would become a tourist spot. SriJ.S.M Sarma garu along with Kiranprabha conducted this event to the best highlighting remembrances of NTR.
Nearly 500 people have attended this function and paid theirtribute until late afternoon. They spoke aboutthe inspiration that NTR has been in their lives.