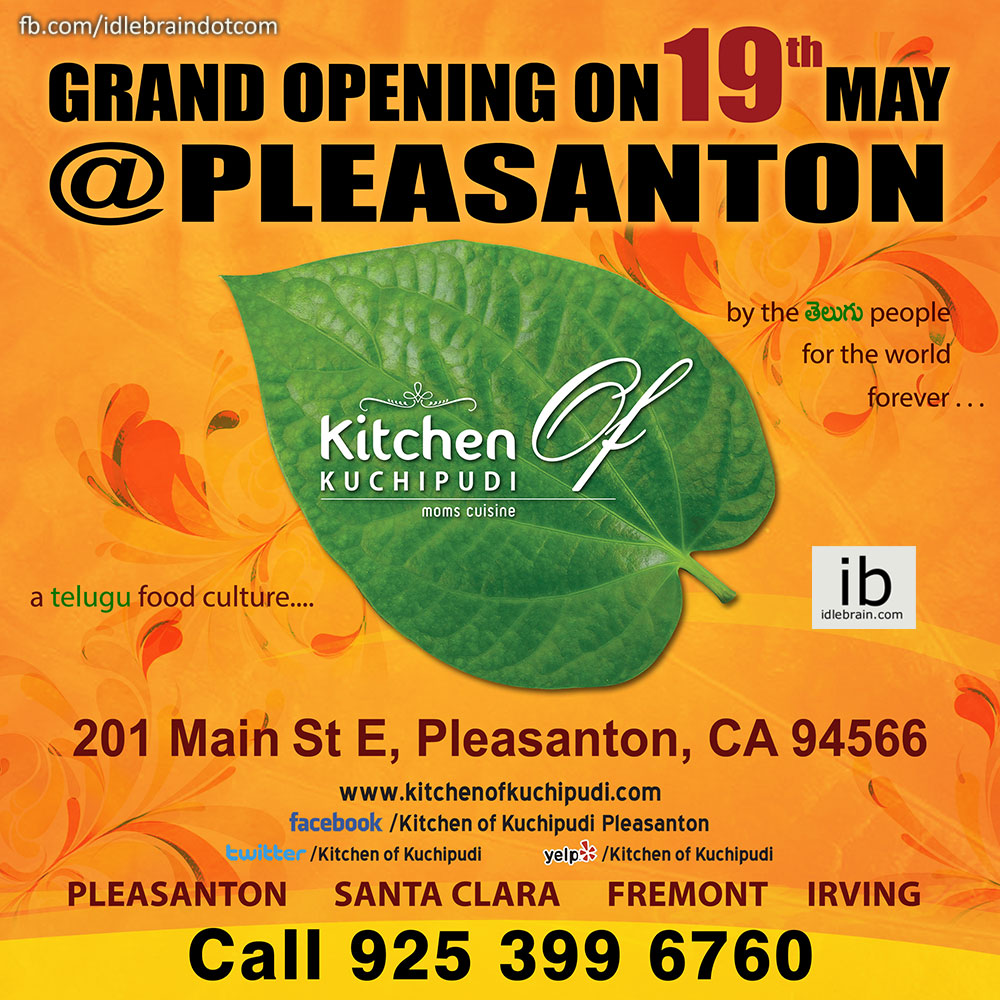 To feature your NRI communty news in idlebrain.com, please mail us at [email protected]
19 May 2017
Hyderaad

As many would have known Kitchen of Kuchipudi (KOK) was conceptualized and founded by self styled filmmaker and chef Kuchipudi Venkat who also founded the trend setting restaurants Ulavacharu, 7 Biryanis and Kitchen Of Kuchipudi.
He is the brain behind the now famous Raju Gari Kodi Palav which has become a household favorite among the Telugu community worldwide. The idea of naming dishes in Telugu and which stay true to the character of Telugu cooking is the innovative style of Venkat. These have been widely complimented and reproduced by many but have also resulted in sad imitations that are tasteless and named randomly by opportunistic players parading as passionate Telugu foodies.
Raju Gari Kodi Palav, Bangla Kodi, Kodi Chips, 3G Annam, Peddama Mamsam Palav, Raju Gari Bhojanam, Absolute Telugu Buffet (ATB) are some of the headline dishes and meal courses introduced by Venkat.
Traditional kebabs have been given a new look and flavor by fusion styled marinations and coming out with exotic innovations like gongura fish kebab, gongura kodi (chicken) kebab and Pandu mirchi and Pacchi mirchi kebabs.
Kitchen of Kuchipudi's first outlet was launched at Santa Clara, California in December 2015 - and has seen an overwhelming response from the Bay area community and is continuing its dream run with over 250,000 patrons visiting in the last 18 months. A second location has been launched in Fremont and with another one at Irving, TX.
At KOK, all conventions of the typical Indian Restaurants have been broken by introducing a unique approach to the menu, presentation, hospitality and service. KOK also proves a point the an Indian restaurant can be a success without serving a Buffet - one of the many golden rules to break. Every show needs a showstopper and every game needs a game changer. However, the buffet was never in our Telugu culture and it can never be. "For me, a Buffet feels like serving leftovers and tasteless food cooked in bulk that is waiting for guests to come and finish" opines Venkat.
Kitchen of Kuchipudi has a tag line "mom's cuisine" - and we really mean it. Food is prepared in homestyle process to give a distinctive flavor to each dish. This is in contrast to preparing bulk sauces which are stocked and added to any dish the customer orders by current restaurants making dishes taste very ordinary. Order a variety of curries from the regular restaurants and notice this yourself. This may be an accepted practice in some cuisines but it is sacrilegious in our cuisine. Team KOK feels it has a social responsibility to bring this to the notice of the trusting Indian food lovers all over the world.
Team KOK and Franchise owners - Hari Gakkani, Ratheen K Reddy, Murthy Garikiparthi, Sreedutt Kondapally are proud to announce the launch of KITCHEN OF KUCHIPUDI in Pleasanton, CA along with KOK GRILL - an ultimate grill indulgence on 19th May 2017.
Savor the best of our signature dishes with family and friends and spend less time cooking while indulging in shopping and hanging out with friends.
Timings:
11 AM to 11 PM Mon - Thur
11 AM to 01 AM Fri/Sat/Sun
Pleasanton location:
201 Main Street E, Pleasanton, CA 94566
Phone: (925) 523-3277, (925) 399-6760
Email: [email protected]
www.kokpleasanton.com