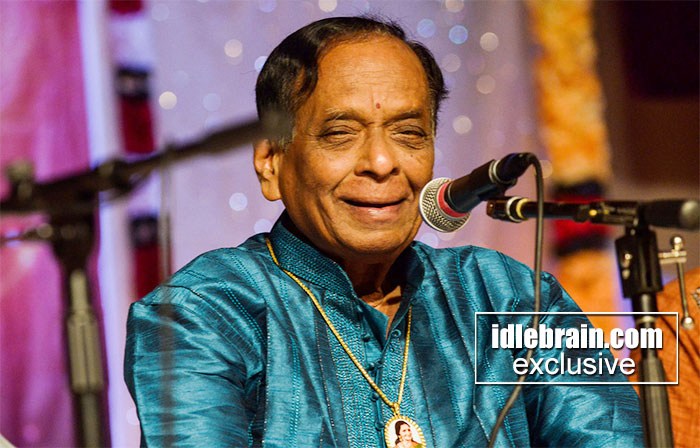 To feature your NRI communty news in idlebrain.com, please mail us at [email protected]
18 April 2014
Hyderabad
With the arrival of spring season in California, a breeze of fresh air filled with a fragrance of classical melodies enthralled Bay Area audience in Milpitas ICC Community Center. Bay Area Telugu Association (BATA) & Kalalaya USA organized Padma Vibhushan Dr. Mangalampalli BalaMurali Krishna Carnatic concert.
The program started at 5:30 pm. Vijaya Aasuri (BATA advisor & cultural chair) welcomed all the guests and thanked them for their continued support. Speaking on the occasion Kala Iyer (Kalalaya USA ) thanked all the music lovers for their patronage and support over the years. They invited Dr. BalaMurali Krishna on to the stage. The audience welcomed the legendary artist with standing ovation .
Defying his age, the melodious and powerful voice of an octogenarian Carnatic classical vocalist, Dr.M Balamurali Krishna, left the music lovers spell bounding with his beautiful performance. Age might have caught his body, not his voice, not his musical fervor either. Dr.Balamurali Krishna started the program with Vaatapi gaNapatim BhajEham, a Deekshitar kriti, with his own kalpana swarams, followed by his own composition in Suddha Dhanyasi, tana hitavE tana matamu". The musical entertainment continued with the next song, Devaadi Deva, in Sunada Vinodini mesmerized the audience completely. Later, of course, his famous and special signature kriti, NagOmumu ganalEni, Saint Tyagaraja's composition left the audience into a sublime feeling of a blessed musical experience. The highlight of this song is his own Kalpana swarams and the violinist raced with him with every phrase. The musical program is not complete without a Tillaana by Balamurali Krishna. The program was concluded with Bhadrachala Ramadasu keertanas along with his own compositions. It is truly a musical performance by a legend who entertained many generations keeping the classical music fabric colorful.
Dr. BalaMurali was accompanied by Sri R.K. Sriramkumar (Violin), Sri. K.S. Shivakumar (Mridangam) and Ravi Joshi (Vocal).
Towards the end of the program BATA President Kalyan Kattamuri thanked Dr. BalaMurali Krishna and his team & wished to see him in Bay Area very soon.
Kalyan Introduced the BATA committee consisting of Sireesha Battula (Vice president ), Yaswanth Kudaravalli (Secretary), Sumanth Pusuluri (Treasurer ) , Harinath Chikoti (Joint Secretary)
"Steering Committee" consisting of former BATA presidents Prasad Mangina , Ravi Thiruveedula, Ramesh Konda & Kamesh Malla.
"Cultural Committee" - Sridevi Pasupuleti, Kiran Vinnakota,Taraka Deepti & Rathna Pandian.
"Logistics" committee - Srikar Boddu (Video & Photos), Naresh Gajula & Hari Prasad Moyyi.
BATA "Advisory Board" Jayaram Komati, Vijaya Aasuri & Veeru Vuppala congratulated the team for making the program a grand success.
BATA Committee thanked all the volunteers Anantha, Sravanti, Deepika, Prashant, Nitya, Arun, Yugandhar, Vamsi, MadhavAnand and many others for their help.
BATA Committee presented plaques & shawl to all the artists and thanked them for a wonderful music journey.