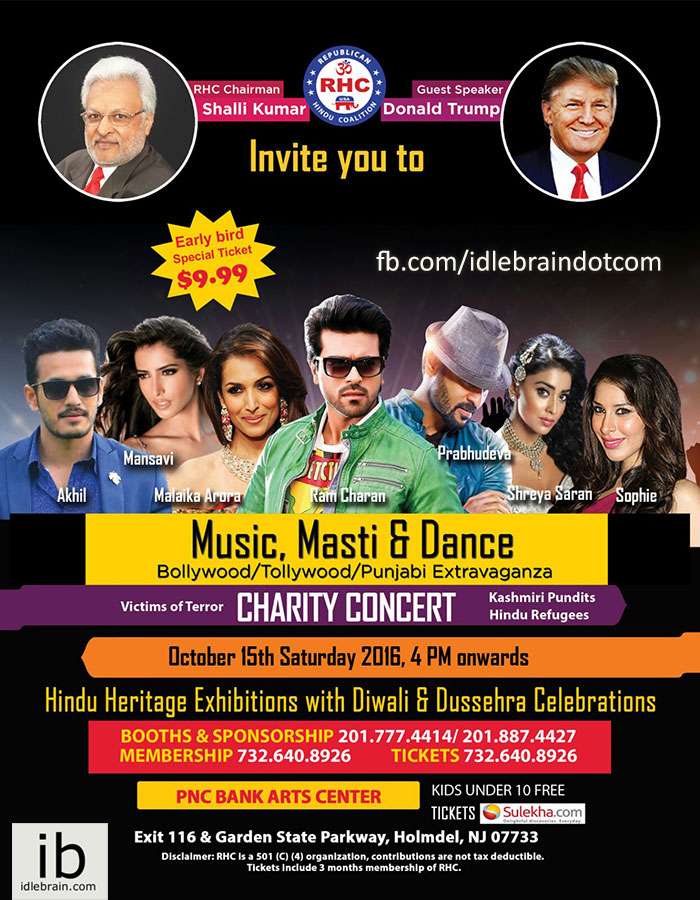 To feature your NRI communty news in idlebrain.com, please mail us at [email protected]
04 October 2016
Hyderabad

Shalli Kumar of Republican Hindu Coalition has invited the best of India's star cast on one stageto perform LIVE. Mega Power Start Ram Charan Tej, Dance ke Deva Prabhu Deva, Nava YuvaSamrat Akhil Akkineni along with other stars are set to put the stage on blaze with a breakdance-inspired spectacular at the PNC Art Center, Holmdel , New Jersey on OCT 15th.
The best part is when the celebrities come together on one stage and help charitable cause for Humanity Against Terror Charity Concert for the benefit of terror victims. The Mega Charity Concert is aiming at winning the hearts of Indian Americans to join hands with the activities of Republican Hindu Coalition to support the terror victims across the Globe.
Donald Trump will also be addressing Indians at the upcoming Republic Hindu Coalition event. RHC chairman, Shalli Kumar confirmed the news. "First time in the history of US and India, we have a presidential candidate for US, coming to a Hindu American event just 3 weeks prior to the elections. We are the only community that Trump is going to address. It highlights the importance of Hindu Americans and their contribution to US politics" he said. There are nearly 4.2 million Hindu Americans and they form a major percentage in United States and also have a strong bonding in the politics. Shalli, who has been very influential in bringing Hindu Americans to the forefront in US politics is elated to have the Republican Presidential Candidate, Donald Trump, address the occasion. "We want to have a unified platform to showcase the Hindu voice in policy making. We have to participate in the democracy and be part of the discussions. This is important for politicians to recognize the existence and contribution of Hindu
American community" voiced Shalli who is known for his generous contributions towards US politics.
The event that will be taking place on October 15 will have this broadcasted in 150 countries and will be watched by 1 billion people", said Shalli. "Until this time, US politicians have been addressing us as South Asians. But through this event, we want the Hindus to get a place and a dialogue in the society", said Shalli who strongly advices all the Hindu Americans to show the vitality and strength.