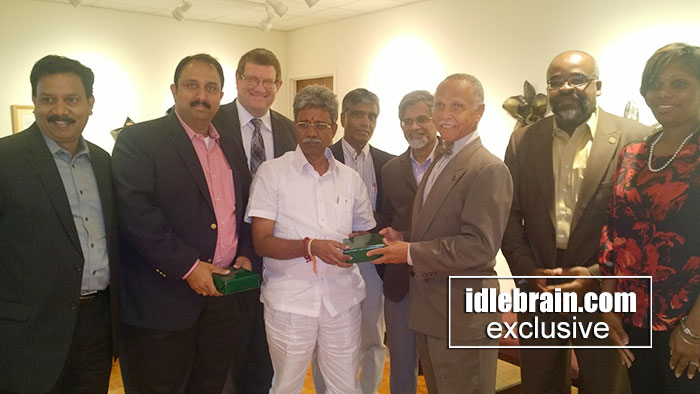 To feature your NRI communty news in idlebrain.com, please mail us at [email protected]
15 Septemmber 2014
Hyderaba
Minister of Andhra Pradesh Mr. Manikyala Rao visited Chicago State University on Friday, September 12, 2014. During visit he was welcomed by high powered team led by university Provost Ms. Angelo Anderson. During her welcome remarks Ms. Angelo thanked visiting minister and explained the collaboration between Chicago State University and JNTU Kakinada & Anathapur, where academic exchanges are happening in the areas of curriculum development, university-industry partnerships and join degree programs. Ms Angelo has informed the visiting minister about the recent award of prestigious Obama and Singh grant for this partnership. In the coming academic year joint degree is being inaugurated by CSU and JNTU. An objective of this partnerships is with JNTU-K and JNTU-A is to share our expertise in inclusive pedagogies. CSU will model its policy of University-Industry partnerships based on the JNTU's successful policy.
Speaking on the occasion Minister Mr. Manikyala Rao has said that new state of Andhra Pradesh is very much focused on growth and mentioned that focus is on education and skill development. He assured the CSU that all help in successful execution of this historic and prestigious project. He has promised the CSU team to facilitate a meeting with Hon. Chief Minister Mr. Chandrababu Naidu and other related ministers. Mr. Rao has also said that Godavari districts and Krishna together produce about 80% of aqua exports (shrimp) from India and water pollution is major issue in these areas and said this could be one of the area where CSU and AP government can collaborate. He expressed happiness to see this major educational collaboration happening.
Dr. Dave Kanis, Vice President of Sponsored Programs at CSU, has described the visit has another milestone in the South-South Dialogue of the great peoples of the South side of Chicago and South India. He further said this visit help to build mutual understanding, promote good will, and foster closer working relations between Indian Universities and Chicago State Univeristy. Dr. Kanis rememberd that black politics identification with Indian independence struggle and its adapatation of Gandhian non-violence had welded our communities together in the forgotten past. He promised that Chicago State Univeristy will lead efforts to revive our old firendships and bring awareness to our communities of the vast potentials of our collaborations.
Dr. Paula Carney, Assistant Provost has explained the minister that the joint degree programs are approved and starting soon, where students will be offered joint degrees from CSU and JNTU.
Dr. Rohan Attele, Chairman of Mathematics and Computer Science has expressed that majority of students from india are belongs to Telugu origin. Dr. Rohan said it's been more than three years of partnership between JNTU and CSU where objectives are, helping the students from coastal districts and rayalaseema of Andhra Pradesh in skills development and bringing the university-industry relationship expertize from Andhra Pradesh to CSU.
CSU Team recalled the great success of the Chief Minister of Andhra Pradesh Mr. N. Chandrababu Naidu in developing Hyderabad as IT powerhouse. Dr. Kanis said we wish to emulate that type of transformative changes here in Chicago South Side. We wish Mr, Naidu a success in transforming Tirupati, Vizag and Vijayawada as IT hubs.
The meeting was also attended professor Devi Potuluri, and Chicago Telugu Association representatives Mr. Murthy Koppaka, Boppana Srinivas, Varaprasad and NATS Coordinator Mr. Kota Prasanna and others.
Meeting was coordinated and facilitated by Dr. Rao Achanta, Professor and Advisor to CSU in Industry.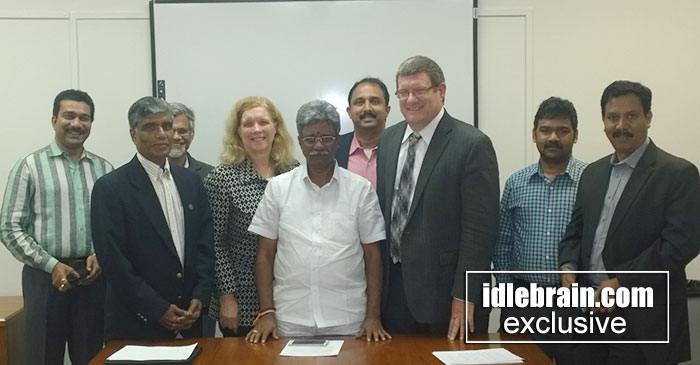 Minister Mr. Manikyala Rao visits Chicago
Minister Mr. Manikyala Rao assures cooperation to Chicago State University
Thank you representative Evans, President Watson, madam provost, Dr jones, Dr kanis, Dr. Rohan and friends...
I'm honored and glad to be here at Chicago State University...
As you all know I'm from state of Andhra Pradesh which is newly formed and we are on state building exercise by collaborating with best people, organizations and companies in re-establishing a great state of Andhra Pradesh.
Our hon chief minister Mr. Chandrababu Naidu with excellent track record of capable administration and transforming Hyderabad into a IT powerhouse, has been working on full speed to repeat the act once again for state of AP. Prime minster promised full support in developing Ap.
With that in mind, We highly value this partnership with CSU under Obama-Singh initiative as a very good opportunity in developing a right curriculum for all students. I look forward to see this program to generate great results which is beneficial for community and in Andhra Pradesh.
On behalf of AP I extend full cooperation and extend all help in achieving this goal.
Secondly, our chief minister is trying build it cities, corridors in state of AP. I understand that south side of Chicago has vast potential to develop as IT powerhouse. We should exchange all our ideas in this aspect. I will request CTA and CSU to act as catalyst in setting our IT team meet appropriate officials here to exchange ideas plans etc...
Once again my sincere thanks to president Watson and madam provost for providing an opportunity for Indian students.

Thank you.
Dear Madam Provost
Here are suggested Introductory Comments at the Minister of Endowments, Andhra Pradesh State.

The structure of your speech:
A. Make the minister feel warmly welcomed
B. Nostalgic remembrance of past ties of Black politic to India to fuel new ties.
C. Speek to the heart: mention Indian students and culture
D. Transition paragraph nostalgia + heart to business: We share common values of belief in inclusiveness and diversity…
E. Broad overview of partnership with Indian universities.
F. Bring awareness to the minister our intention to build partnerships with IT industry.

The details can be discussed, if needed, at the dean/chair level.

Attendees
Honorable Minister Manikyala Rao of the Andhra State Government Mr. Pranna Rao, Advisor to the Minister Dr. Prabakararao Achanta Mr. Ravi Achanta, VP North America Telugu Society Mr. Murthy Koppaka