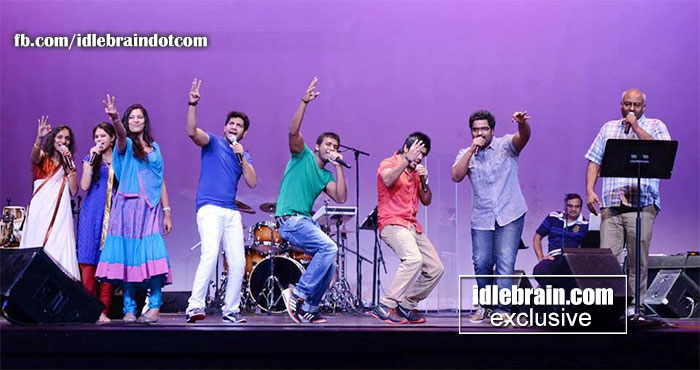 To feature your NRI communty news in idlebrain.com, please mail us at [email protected]
16 July 2013
Hyderabad
A very big Telugu Musical Thunder is going to rock New Jersey Telugu community on July 20th 2013. You can buy tickets Online at www.njtelugu.com
One of the brightest musicians of Telugu cinema, the legend of devotional and commercial mix M.M. Keeravani who provided great and soulful music for many years is here in USA to unleash a fountain of Telugu music. After a traverse of much hard work and dedication to his profession for the last two and half decades, one name has emerged from the ocean of Indian music. He is not an individual alone, but a representative of great power – the power of music. That is MM Keeravani with melody right touching the heart and influencing its beat across the world of Telugus. He is admired by all sections of the audiences; call it class, mass, family-oriented or any type of genre. vENuvai vacchaanu bhuvanaaniki..., bangaaru kODipeTTa...., adigO alladigO..., mannEla tinTiviraa kRshNaa..., antaa raamamayam..., poosindi poosindi punnaaga..., jaamuraatiri jaabilamma..., nallaanallani kaLLa pillaa..., telusaa manasaa... ... Each song is different from the other, a different mood, a different tune, and a different style. The only one common thing for all these numbers is the composer M.M. Keeravani. From "Seetharamayya Gari manavaralu" to "Eega", this ace composer continues to mesmerize Telugu music buffs needless to mention, along the way, mesmerizing tunes of Pellisandadi, Simhadri, Gangothri, Chatrapathi, Vikramarkudu, Yamadonga, Magadheera etc and the heavenly scores of Annamayya and Sri Ramadasu whose music stays in the minds of Telugu audience forever.
M.M.Keeravani live Musical Concert, is going to be a landmark entertainment program and it is a must watch program for all the Telugu families. This Music Extravaganza will be a great fun and it will have a fantastic party feel.
After conducting first ever live concerts in many cities of USA in 2009 organized by NATS, mesmerizing Keeravani's 16-member Orchestra team has returned to provide live entertainment in various cities of USA once again in summer of 2013. After highly Successful concerts in Maryland, Atlanta, Dallas NATS convention, Los Angeles, Chicago, Detroit, Keeravani is all set to enthrall audience in NJ accompanied by energetic Revanth, Rahul, Noel Melodious Beauties Geetha Madhuri, Sahiti brings young and dynamic energy to the podium by presenting some of the most applauded numbers of recent days while creating an inspired musical environment for huge summer Telugu music and entertainment extravaganza. Put on your dancing shoes and be there or be bummed about it the next day!
You can buy tickets online at www.njtelugu.com
Proceeds of this event would go to HELP FOUNDATION (http://www.helpfoundation.org), which
provides Health and Education for Less Privileged Children.

Address:
Raritan Valley Community College, 118 Lamington Rd, Branchburg, NJ
Date and Time:
July 20th (Saturday) Evening from 6:00PM.
Tickets are selling fast. Please reserve your seat before they sell out.
Online Tickets can be bought at www.njtelugu.com
For Sponsoring and ticketing, please send email to [email protected] OR please call 973-980-8079/732-910-6455/310-367-4712/973-715-8944/856-577-7112/732-319-8155.