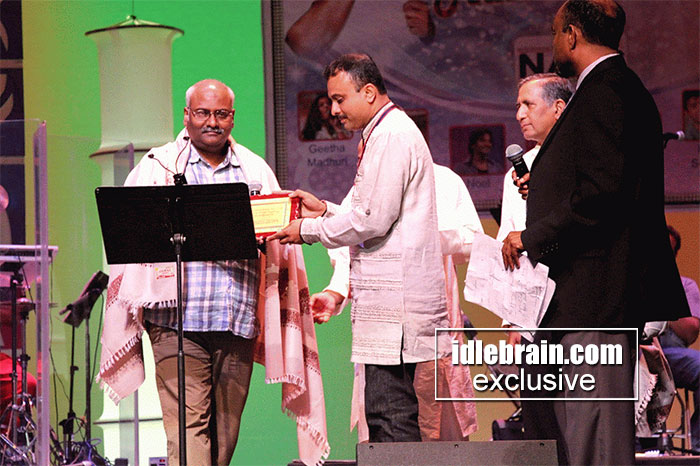 To feature your NRI communty news in idlebrain.com, please mail us at [email protected]
1 August 2013
Hyderabad
Bay Area/Sillicon Valley which is the technological capitol of the world has enjoyed a great evening on Saturday 27th July with MM Keeravani Musical Concert which was brought by People Media the entertainment redefining company with support of all local Telugu Organizations and NATS.
The very big musical concert which rocked Telugu community of Bay area with a mix of devotional, soulful music, fast beat and classical with bit of rap touch gave very wonderful experience to sit relaxed and watch for very busy valley people who have been looking for a great evening away from mechanized urban life.
The event which started from Seetharamayyagari Manavaralu to Eaga....mesmerized with the tunes... the young singers had great screen presence with their sensitivity....
Keeravani made a customized show which attracted huge applause. the event was attended by 2500 people to the jam packed capacity of Flint Center in the heart of Cupertino which is desi hub of Valley. As per audience feedback Bay Area never had any event with this thundering success in over a decade time
Rajamouli the very well-known star director along with Eega producer Sai were special attraction at the show and his surprise appearance gave heart full delight to the audience...
Keeravani's presence on the stage throughout the show was the highlight of the evening. Right from his entrance till the end, he packed the event with a right mixture of hilarious moments and wonderful music and he thoroughly engrossed the crowd. The roof came down in regular intervals as the entire auditorium was constantly echoing with whistles and claps and audience were dancing to the tunes.From "Annamaya" to "Eega", the ace composer enthralled the Telugu music buffs with mesmerizing tunes of Magadheera, Eega, Dhammu, Criminal, Allari Alludu, Dharmakhesthram, Simhadri, Yamadonga, Seethaiah, Chatrapathi, Vikramarkudu, Aapadbhaandavudu, Maryada Raamanna, Gharana Mogudu, Major Chandrakanth, Eega etc.and the heavenly scores of Annamayya, Pandurangadu, Pellisandadi, Kshanakshanam and Sri Ramadasu whose music stays in the minds of Telugu audience forever.
With his wide variety of devotional, melodies, romantic, patriotic, youth and mass songs spanning across his illustrious career of 23 years, he mesmerized New Jersey crowd. Each song is different from the other, a different mood, a different tune, and a different style.
Vijay Chavva along with Sam Jagarlamudi, (The local NATS Co-ordinator) the main organizers of the event have pulled out the event in a short amount of time with active participation of Telugu Associations Silliconandhra and BATA and media sponsors Virijallu, Desi 1170 and Namaste Andhra, Awaaz Productions.
The event was supported by Volunteers:
Raja Shekar Jakileti ; Suman Bhargava Sam Jagarlamudi,Vijay Chavva
Bhasker Maddi: Prashanth Banuru;Kamesh Malla - Prasad Mangina-
Shrinivas Kanaki: Venkat Kalluri: Ramesh Vanka: Kutumba Rao Meka
Prasad Ketireddy: Fasi Khurram; Vijay Gopineedu , Hari Reddy,
Veera Babu, Rama Satraboyina
The event was sponsored by People Media, Athidi Restaurants, Trinethra Grocery store chain and supported by other sposnsors including :Cal Homes, Ravi Tax Services, Shree Jewelers,Tech-Net, ITU(International Tech University),Arka Indian Restaurent, Business Shield Inc, Scopus Consulting Services, IT America Inc, Citrus Indian Restaurant, TeQTron Inc;Max Points and Distributors,
People Media President TG Vishwa Prasad honored all volunteers, sponsors in the presence of Keeravani, Rajamouli, NTAS President Madala Ravi, Chundru Veeraiah, Rajesh Chilukuri.
Deepika Parmar the Telugu Herione of Pappu Movie along with Chandu Siramdas, Haritha Komma did fabulous job as MCs apart from adding color to the stage.