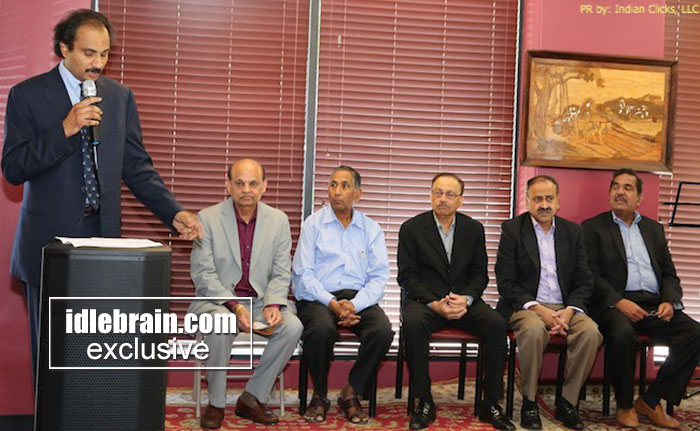 To feature your NRI communty news in idlebrain.com, please mail us at [email protected]
16 April 2016
Hyderabad
NATA Bay area FUND Raising event hosted at concord, CA was amazingly successful. Huge crowd of Bay area people attended the event and every family members thoroughly enjoyed the programs that NATA arranged.
NATA Advisory Council chair Dr. Prem Reddy explained about upcoming convention, various cultural activities and its importance to Telugu families. He also explained how best NATA Helping needy people in different sector back in India and America.
Sri A.V.N Reddy advisory council member also attended the event and explained the upcoming Dallas 2016 convention and his past experiences.
NATA President Mohan Mallam explained the community projects that are doing back in INDIA and US. Some of them are Solar street lights and Toilets installation for poor people in India.
Rajeswar Gangasani Reddy President-Elect explained about the activities throughout the year NATA is organizing. NATA is closely working and partnering with American Diabetics Association to conduct awareness programs to help the South Indian community. Also planning to organize Health camps in major hospitals across USA.
NATA is tie-up with ICC and spread the youth league cricket match across the USA. Currently NATA organizing North East cricket tournament that consists of 30 Cricket teams under the guidance of Nagesh Mukkamalla (Sports Committee-Chair).
100+ children from 15 Tri-Valley schools formed 8 teams, competed for "NATA - 2016 Spring Inter School Tournament Cup".
The awards were given by our Sponsors and North American Telugu Association (NATA) President Dr. Mohan Mallam, Prasuna Reddy (BOD), Rajeshwar Reddy (President-Elect), Sreedhar Reddy and Mayor of Dublin, David Haubert, Dublin City Council Member, Doreen Wehrenber and Mayor of San Ramon, Bill Clarkson who are big supporters of cricket in Tri Valley.