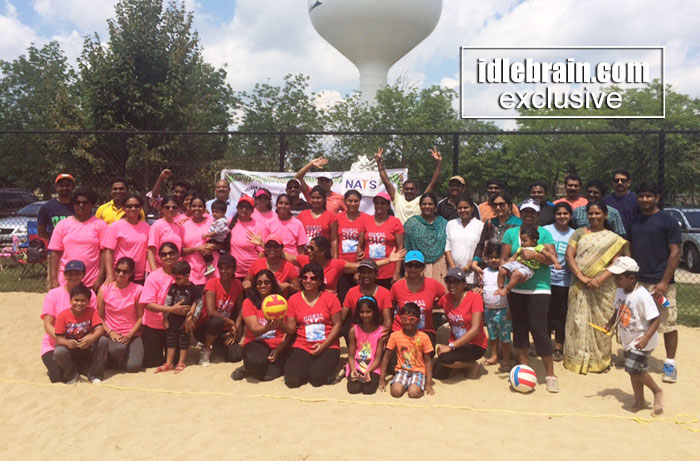 To feature your NRI communty news in idlebrain.com, please mail us at [email protected]
27 July 2015
Hyderabad
Chicago Sports Festival Ends with Message of Service
Month long Indian Sports Festival is successfully concluded on Sunday July 26th at Chicago, USA conducted by Chicago Telugu Association and North America Telugu Society (NATS). More than 300 players participated in a 4 week long tournaments held at many places in Chicago and finals were held Naperville and Downers Grove, IL in USA. The theme of sports festival is the message of service and unity. CTA Secretary welcomed the finalists on Saturday and Sunday and reiterated the message of service and unity propagated by CTA and NATS. NATS Chicago Lead Nagendra Vege outlined the major service intiatives undertaken and explained its vision.
NATS President commended the efforts of CTA and NATS Sports team at Chicago in successfully conducting this sports fest. Awards will be presented to the winners during Annual Telugu Festival to be held on August 01 at Chicago.
Final results are here:

Men's Tennis Tournament
Winners: Gagan Ekkurthi/ Teju Ekkurthi
Runners : Nishanth Bonda/Aravind Koganti
3rd Place: Rajesh Veedulamudi/ Kiran Ambati

Badminton
Mens Double
Winner : Sajal Shrivastava & Prabhu
Runners : Badri & Pandy
Third Place : Ashish & Raman

Women's Singles
Winner : Leena Vaidya
Runner : Simi
Third Place : Keertana

Throw ball
Winner: TEAM RUDRA
Runners: TEAM RISERS
Third Place: TEAM ROCKIN ROBINS
All the teams were dynamic, kudos to their enthusiasm and sportive spirit.
The event effectively organized by CTA Sercretary Madan Pamulapati, CTA's Sports Directror Rajesh Veedulamedi and team including Laxmi Bojja, Shailendra Gummadi, Udaya, Srikanth Bojja, Nishanth Bonda, Aravind Koganti, RK Balineni and Nagendra Vege.