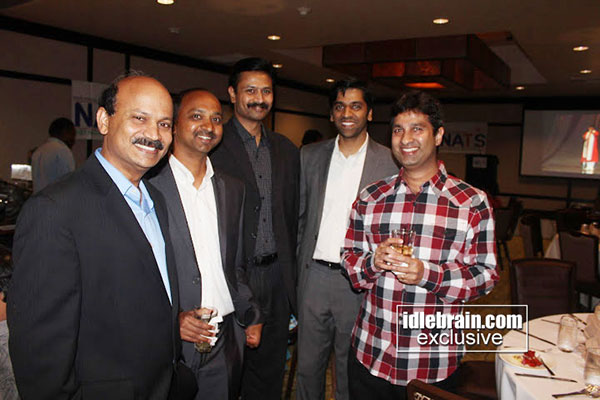 To feature your NRI communty news in idlebrain.com, please mail us at [email protected]
North America Telugu Society (NATS) organized a highly successful fundraising event in Los Angeles on Saturday, March 30, 2013 raising $144,000 to support America Telugu Sambaralu being held in Dallas, Texas this July from 4th to 6th.
Donations started pouring in right from the beginning of the event proving that the service activities taken up by NATS have wide support among the Telugu Community across United States.
As part of raising funds for America Telugu Sambaralu, fundraising events are being held by NATS in various cities across United States. This fundraising event was organized by NATS Los Angeles team under the leadership of Dr.Veeraiah Chundu and Dr. Ravi Alapati at Hilton Irvine that was attended by several NATS members, community leaders, doctors, business and IT professionals along with other supporters of the organization.
NATS President Ravi Madala addressed the guests thanking them for taking time to attend the event and for their support to NATS. He explained them about the goals of NATS and the direction it is taking to promote our language and culture along with addressing the changing needs of the community. While he explained about the helpline supported by NATS, the guests responded with a huge applause. NATS helpline (1888-4-Telugu) has been one of the most popular service activities taken up by NATS with over 3000 people getting help in the last several years addressing issues ranging from immigration help to domestic violence. He requested the guests to be generous in helping the NATS to organize America Telugu Sambaralu to be held during July 4th-6th at Irving Convention Center in Dallas, Texas.
NATS Sambaralu-2013 Convener Srinivas Koneru described the various activities that are being held as part of Sambaralu and invited the guests to attend the event and enjoy the hospitality of NATS Dallas team. He iterated that Los Angeles has been one of the biggest supporter of NATS with a huge volunteer base.
Fundraising Committee Chair Venkat Kolli requested the guests to contribute donations to make Sambaralu a successful event. He described the various forums that are being organized at Sambaralu and urged the guests to take advantage of the opportunity to meet several prominent businessmen, scholars and experts to socialize, discuss and share information that could help them with their career or business.
NATS Joint Treasurer Prasad Papudesi described the various activities taken up by NATS in Los Angeles and thanked the dedicated volunteers who had been supporting NATS all along. He also promised to bring a lot more events to Los Angeles in the days to come. Chandu Nangineni spoke at the event and requested the guests to become members of NATS and volunteer some of their time so NATS can take up a lot more activities. He also iterated that NATS would support various organizations with their activities that would benefit the community.
Donations were received from several prominent people of Los Angeles community including Dr. Prem Reddy, Rao Yalamanchili, Dr. Veeraiah Chundu, Kishore Kantamaneni, Kumar Koneru, Dr. Krishna Prasad Surapaneni, Prasad Papudesi and others. Several supporters of NATS like Srinivas Killada, Sridhar Addanki, Suresh Ayinampudi, Lakshmi Chimata, Sreekanth Kacharlakota, Praveen Yalamanchi spoke at the event and expressed their support to NATS.
Krishna Gorripati shared with the guests on how he was attracted by the programs taken up by NATS and pledged his support to be a part of all future activities along with his generous donation.
This event was attended by Giri Kalluri, Anne Rao, Benerjee Sunkavalli, Srihari Konka, Srinivas Bheemineni, Lakshmi Chundu, Vijaybhaskar Nekkanti, Madhu Bodapati, Kishore Garikapati, Ram Yalamanchili, Nandan Potluri, Suresh Chilukuri, Hari Madala, Tilak Kadiyala, Narendra Kavarthapu, Srinivasa Suri, Shyam Gumdala, Pandu Chimata, Chinna Ponnuganti, Srihari Atluri, Varma Dantuluri, Krishna Medasan, Gautham Katari, Krishna Samanthula, Suresh Dommeti and others.
The event was followed by delicious dinner from Dosa Place and melodious songs from Srinivas Killada and group.