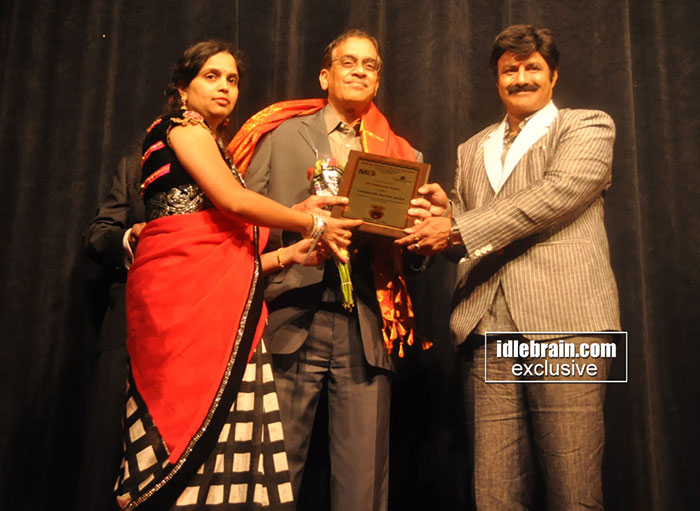 To feature your NRI communty news in idlebrain.com, please mail us at [email protected]
06 July 2013
Hyderabad
Dallas, TX: 2013 NATS Sambaralu officially ended after a magnificent 3 day event. 7000 attendees attended this mega event which is now touted as one of the most successful conventions. Both the days were graced bu Shri Ganapathi Sachidananda Swamji and Sri Paripoorananda Swamiji. NATS Sambaralu set a trend in convention quality and excellence with focus on local talent. There was absolute brilliance in the program variety, delivery and style. Day 3 started with a big bang as SPB took on the stage to conduct ETV US Paadutha Teeyaga grand finale. It was very well appreciated by audience and singers alike. Cultural teams continued to display unique, fun filled programs such as Mana Padugalu, Bonalu and many more folks dances orchestrated by local kids and adults. The highlight of Day 3 was Swara vedam, a fusion of Classical and Western ragas blended with multiple instruments. If Nadamruthavarshini showed the power of instruments, Swara Vedam showcased the power of singing. Literary also continued to enthrall audience with their programs such as Nava avadhanam, Mee Banni maa vaani, Idee Sangati and many more. What made the programs successful is the lively interaction from audience on every item. Women's forum conducted a game show - Neti Mahila, hosted by Suma, popular anchor. The crowd overfilled trying to get a glimpse of the program. Business seminars also were highly attended by various attendees. NT Chowdary's seminar on Infrastructure was a highlight for the day. The day also marked recognition of sports, agriculture, medical and key sponsors who helped the event become successful.
Mimicry by Jeetendra and Siva delighted the audience. Dances by actress Sanjana, Bhavana, Siya Gautam, Comedian Ali's performance were well received. Celebrities like Chief Guest Balakrishna, Kajal Agrawal, Nisha Agrawal, Sudhir Babu graced public with Meet & Greet. The grand finale of the event with Sangeetha Mastreo, Keervani and MAA TV Super singers (Revanth, Geetha Madhuri, Sahiti and may more). The music group enthralled the crowds with melodious as well as peppy songs. Madhu Korrapati provided the vote of thanks. The crowd took to stage front and danced their hearts out as the event came to a conclusion.
"NATS Sambaralu ambaraani antayi" said Srinivas Koneru, Sambaralu Convenor . Vijay Velamuri, Co-convenor thanked everyone for a successful samabarlu and the support from the community. "AnNi pranteeya jaateeya Telugu Sanghaala partinidhulu ee samabaralalo pratinidhyam vahinchaaru" said Bapu Nuthi, Joint Secretary of Sambaralu.
NATS Chairman Ranakumar Nadella declared 2015 Sambaralu in LA, California and 2017 in Atlanta, GA. Looking forward to seeing everyone there!