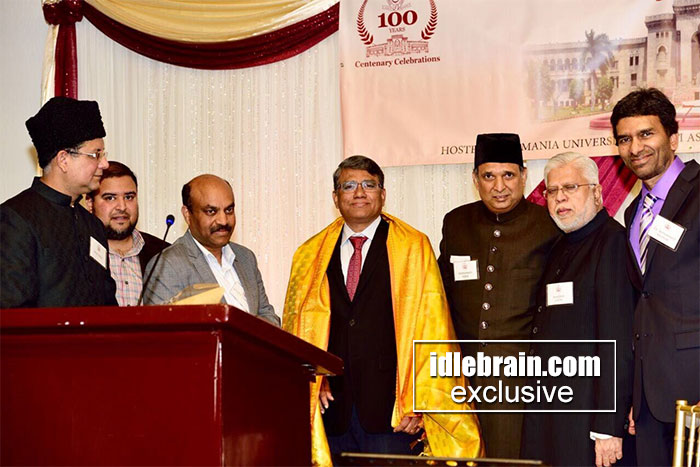 To feature your NRI communty news in idlebrain.com, please mail us at [email protected]
25 May 2017
USA

Osmania University Centenary Celebrations were very grandly celebrated in San Francisco Bay Area by Osmania University Alumni Association - North America Bay Area Chapter members with association with many other Bay Area Organizations. Hundreds of Osmania University Alumni gathered in Newark, CA on Sunday May 21st 2017 afternoon for the celebrations. Osmania University Vice Chancellor Prof S. Ramachandram was the chief guest and graced the celebrations. Other dignitaries who attended included Prof SV Satyanarayana (VC Telugu University, Ex Principal OU Arts college), Prof V Sathi Reddy ( Registrar Telugu University), Dr Yarlagadda Lakshmi Prasad (Central Hindi Committee Govt of India)
The keynote address was given by OU Alumnus and Adobe Systems CEO, Shantanu Narayan, who shared his fond memories of how Osmania University shaped his perspective on Life and given him great ability to think large and achieve more.
The event started with playing of a video recording of Indian President Shri Pranab Mukherji addressing the tremendous gathering at OU Centenary Celebrations in Hyderabad recently, along with the video showing the great heritage of OU right from its inception by a fir-maan (Royal Order) by the 7th Nizam of Hyderabad, Mir Osman Ali Khan, who with a great vision & reverence to education launched this university, on 26th April, 1917.
Another distinguished OU alumni and Cavium Networks founder and CEO, Syed Basharat Ali, shared his heartfelt wishes with all attendees through a video message
The OU VC S Ramchandram shared inspiring words with the OU alumni and inspired them to keep making OU proud and give back to OU and Indian community through their works, achievements and commitments
Prof SV Satyanarayana (VC Telugu University) shared that OU has inspired and provided great strength and power to all its students and they can achieve great things in Life like great infernos. He shared that he got the abundant blessings of both Telugu and Urdu languages at OU and attributed the credit for his success in life to OU and the greatness of its education system.
Speaking at this occasion on behalf of Consulate General of India office, Consul Venkata Ramana admired OU for producing so many brilliant individuals. Further he mentioned that with large jurisdiction, OU has been overseeing and educating many thousands of students each year.
Telangana Cultural Association's Founder and OUAA NA exec team member Vijay Chavva shared that OU alumni is beyond 1 crore in the world now and OU has nurtured and inspired generation after generation to achieve great things in life. He said osmania has transformed many lives and created a new foundation for the world through supply of talented skill including PM of India Sri PV N Rao. He shared beuatifull memories his life in campus
Ahsan Syed (Board of Trustee , SIAM) shared the details of how he was from one of the first batches of OU when they switched from Urdu as medium of education to English in College of Engineering. He also gracefully mentioned that he has learnt 5 languages at OU that included Arabic, Farsi, Hindi, Telugu and English and shared snippets from all 5 languages and attributed the credit to the excellent education at OU. He also shared how the various great knowledge works in the world were translated into Urdu, which was the primary language of education, so that there was no barrier or need for the students to learn any foreign languages to excel. He also mentioned that the syllabus and curriculum for OU was modelled after MIT and thus very high standards were imbibed in furthering the knowledge to its students. He also shared a very beautiful song for OU that he wrote in Urdu, as a tribute song for the University he loves.
Special Award of Professional excellence was given to Dr. Om Nalamasu, Senior Vice President and Chief Technology Officer, has been elected to the U.S. National Academy of Engineering (NAE), one of the highest professional honors for engineers.
Dr. M Nadeem was the master of ceremonies (MC) for this event and has made everyone feel at home and in-fact as if they were in OU campus itself, while making sure everyone felt the connection to OU throughout the event. Mohammed Iqbal (TATA Minority chair and VP of Silicon Andhra) and Ahsan Khan ( President SIAM) took turns to assist Dr M Nadeem through the program
Ahsan Khan, President SIAM also welcomed everyone to the event and said that this is the first time that Osmanians have come together for an Alumni event here in Bay area, who not only belong to different organizations but included all individuals form diverse backgrounds. He said today's event is the true reflection of our Deccani Ganga Jumna tehzeeb.
Everyone felt great honor to have very senior OU alumni among them, including from 1945 batch. Audience were honored to have Mr Waheed Siddiqui, who was the oldest Alumni and the ONLY beneficiary of Nizam in the bay area . He was given the prestigious Professional Achievement Award
University of Silicon Andhra founders who are also OU Alumni, Dilip Kondiparty (vice chairman ) & Deenababu (CFO) joined in the celebrations
Solix Technologies Founder and CEO, Sai Gundavelli shared how the time he spent at OU was just wonderful and shared couple of lighter moments that they enjoyed at OU and made everyone at the event reminiscence the good old college days
Mohammed Aqeel helped with registration desk along with Farah.
Many distinguished OU Alumni in Bay Area were recognized and felicitated with awards including Prof S Ramchandram ( VC Osmania University), Shantanu Narayan ( CEO Adobe Systems), Prof SV Satyanarayana (VC Telugu University), Prof V Sathi Reddy ( Registrar Telugu University), Vijay Chavva (VP Bramasol), Srinivas Gujju (Director VMWare), JP Vejendla (CEO, Forsys Inc.), Venu Chari (Google), Ramesh Konda (BATA Presient), Dilip Kondiparty (Vice Chairman Univ. of Silicon Andhra) & Deenababu (CFO Univ. Of Silicon Andhra), Dayakar Domala ( SAP books author and prof.), Nagesh Konduru (Foundation Services head at Apple), Shankar Goli (Retd Dy. Chief Engineer), Miryala Rao Nagubandi ( OU 3rd ranker LLB), Bhaskar Maddi ( Former TCA president), Shravan Goli ( President at DHI group and gold medalist), Appireddy Annapureddy (CEO Micro Info, TATA Regional VP), Ramesh Tangallapally (Director Harris corp and TATA), Mahesghwar Geereddy ( Sr Director at Palo Alto Networks), Rama Devi ( Gold Medalist Commerce), Somayaji Bulusu ( Health Care company CTO), Raj Goli (Sr Manager Apple)
Other attendees including Humayon Sohail ( Questivity), Shaista Ali (We Are One), Manohar ( Dir. IPG), Abdul Quddus were recognized for their wonderful contributions to community and for their support.
An excellently decorated banquet hall and a great lunch were provided by Chandini restaurant, Newark, CA
A great flute live performance by Anis Chandani provided a very cordial atmosphere for the alumni when they interacted and socialized with their old friends and batch mates. A wonderful ghazal performance transformed the alumni back to the OU campus and the streets of Hyderabad and rich and unique Telangana heritage.
Grand Sponsors for this event were Adobe Systems and Bramasol Inc.
This event was supported by Telangana Cultural Association, SIAM (Society of Indian American Muslims), IMRC (Indian Muslim Relief & Charities), Bay Area Telugu Association, Silicon Andhra, Questivity Incorporated, Telangana American Telugu Association, Telangana Development Forum, Dr. Yaminali M. Javid M.D., CalSmile Dental and Solix Technologies.
Some of the dedicated volunteers who helped for the event to run smoothly were Vijay Chavva, G. Mohammed Iqbal, Dhanunjay Boda, Bhaskar Maddi, Srinivas Gujju, Ahsan Khan, Mahipal Annam, Zafar Haq, Biksham Palabindala, Manzoor Ghori, Rafia Syed, Saber Hussain, Dr. M Nadeem, Srinivas Chukka, Ramesh Konda, Sagar Kotha, Farah, Buchanna Gajula and Vinoy Mereddy and many others.
Thanks for the media partners Virijallu ( Radio partners) and many Indian News and TV Channels who supported and promoted the event.