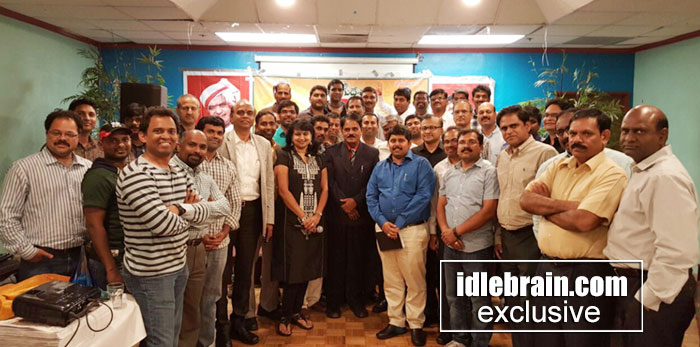 To feature your NRI communty news in idlebrain.com, please mail us at [email protected]
08 July 2015
Hyderabad
Andhra Pradesh IT Minister Sri. Palle Raghunath Reddy meet and greet program
NRI-TDP organized a meet and greet program with Andhra Pradesh Minister for IT, NRI Affairs, Language & Culture Sri. Palle Raghunath Reddy at Swagat restaurant Milpitas.
The program started with Vijaya Aasuri (BATA Advisor) welcoming all the guests and she invited Raghunath Reddy & Jayaram Komati on to the stage. Jayaram Komati Welcomed the Minister and requested everyone to take active role in rebuilding Andhra Pradesh.
Speaking on the occasion Sri Raghunath Reddy briefed audience about the welfare implemented by Sri Nara Chandra Babu, in spite of deficit budget. He stressed Entrepreneurs in Silicon Valley to give importance to set up new companies and support our motherland. He also assured that the, CM will leave no stones unturned in building a world class capital for A.P.
He showed praise on NRI's who are excelling in culture and making Telugu's proud.
He also briefed about the IT Policy 2014 and Electronic policy 2014.
Here are some of the highlights:
IT Policy 2014 – To attract 20,000 crore investments and generate 5 lakh jobs.
Electronic Policy 2014 – To attract 30,000 crore investments and generate 4 lakh jobs.
Single window policy to give clearance within 24 days to set up a new companies.
Various incentive schemes for Entrepreneurs.
NRI-TDP members & BATA committee members felicitated Sri. Raghunath with shawl and plaque.
Venkat Koganti, JP Vejendla, Yaswanth Kudaravalli, Sumanth Pusuluri, Satish Vemuri, Krishna Mohan, Veeru Vuppala, Vijaya Aasuri, Prasad Mangina, Karun Veligeti, Srikar Boddu, Bhaskar Vallabaneni, Uma Upplapati, Srikanth Koneru, Vinay Paruchuri , Satish Ambati, Srikant Doddapaneni, RajniKanth Kakarla, Hanu Kothapalli, Gokul, Veera babu, Reddiah, Jetti Venkaiah, Gandhi Papineni, Srinath Konanki and many others attended the event.