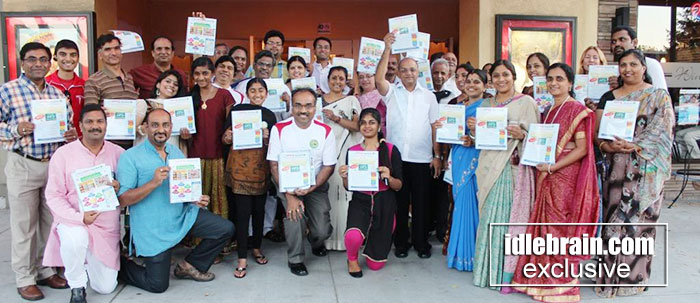 To feature your NRI communty news in idlebrain.com, please mail us at [email protected]
11 July 2014
Hyderabad
San Jose: SiliconAndhra Manabadi provided a robust platform for 3000 children in the current academic year. SiliconAndhra ManaBadi aims to reach out to 5000 children to learn Telugu in the upcoming academic year 2014-15. Manabadi launched a campaign in the name of 'ManaBadi Prabhanjanam - Mission 5000'. Several hundred volunteers across USA are putting their hearts to reach out to thousands of Telugu families in person to enlighten them the importance of Telugu learning by their children.
ManaBadi created a 30 second promo to take this message across different media. First time ever to promote Telugu language, this promo is shot at 15000 feet high up in the sky. Anand Kuchibhotla, the SiliconAndhra Founder & Chairman took part in this.
The ManaBadi Prabhanjanam campaign and the promo were launched by the renowned lyricist Sri Sirivennela Sitarama Sastry in San Jose, California in the Towne 3 Theaters. On this occasion he said ' ManaBadi with hundreds of volunteer teachers and thousands of students is the single largest volunteer initiative on this planet earth. Manabadi is an excellent system to learn Telugu by children'. ManaBadi Dean Raju Chamarthi said ' ManaBadi classes start on September 6, 2014 and parents can register their children online at www.siliconandhra.org '. Anand Kuchibhotla, Dilip Kondiparti, Deenababu Kondubhatla, Sriram Kotni, Ratnamala Vanka, Sridevi Ganti and several others attended and emphasized the importance of learning Telugu. Please watch the ManaBadi promo by clicking the following youtube link.