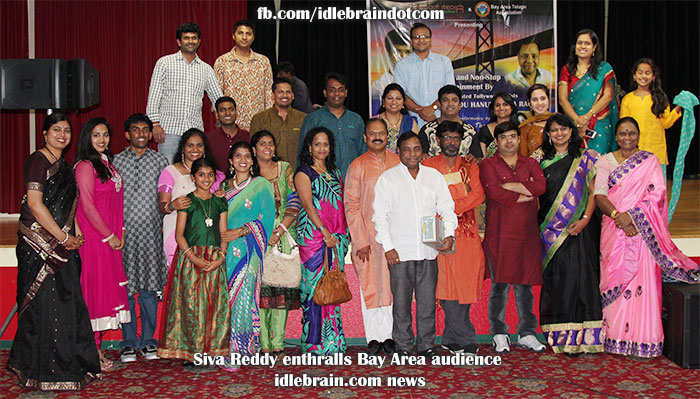 To feature your NRI communty news in idlebrain.com, please mail us at [email protected]
11 September 2013
Hyderabad
Bay Area Telugu Association (BATA) & People Media sponsored  the Mimicry and Non-stop entertainment program by popular tollywood artists Siva Reddy and Gundu Hanumantha Rao. They enthralled Bay Audience on the auspicious day of Vinayaka Chavithi at the Sunnyvale Hindu Temple Auditorium.
It was an evening filled with fun, mazaa & masti and the audience thoroughly enjoyed it.  BATA advisor Vijaya Aasuri welcomed the audience and promised it will an entertaining evening.
The program started right on time at 6:00 pm with local talented Bay Area singers from BATA Karaoke team presented their songs to entertain the attendees. Prasad Mangina coordinated this segment and he briefed about the Telugu karaoke nights BATA organizes on a monthly basis.
Next to follow was the performance from young and talented Arjun and Manisha, they both were the finalists of the recently concluded "Paadutha Teeyaga", which was conducted by  PadmaBhushan Sri. S.P.BalaSubrahmanyam .  Both Arjun and Manisha presented  melodious and fast beat numbers to the audience delight.
The moment everyone eagerly waited has arrived, with Siva Reddy coming on to the stage amid thunderous response from the audience. Siva Reddy greeted every one and started off with his trade mark mimicry and comedy bits. He enacted various popular actors like NTR, ANR, Chiranjeevi, Krishna, Sobhan babu, Krishnam Raju, Mohan Babu, Prakash Raj, Raja Sekhar  & politicians like  Chandra Babu Naidu, Y.S. RajaSekhar Reddy,  V. Hanumantha Rao, & M.Satyanarayana are just to name a few. The audience couldn't stop their laughter and thoroughly enjoyed the program.  Shiva Reddy also preformed songs, dances & Ventriloquism.  Popular actor and comedian Gundu Hanumantha Rao presented  comedy bits and he along with Siva Reddy performed a skit. Tollywood movie /TV actress  Kalpana also joined them.
Flute Naga Raju was another special attraction for the program, he presented couple of songs like Siva Shankari, Naa Cheli Rojave etc and the audience gave him a standing ovation and they were totally mesmerized by his performance.  He was also the music director for the recent Telugu movie Jagadhguru Sri Adi Shankara .
Sri. J.K Bharavi (Director of Sri Adi Shankara movie) was the chief guest for the evening. He thanked the audience for making the movie a grand success and also mentioned it is nominated as an entry to Oscars. He congratulated the artists & organizers for presenting a wonderful show.
Speaking on the occasion BATA President Kamesh Malla thanked the audience for attending in large numbers even though it was a festival day. Kamesh also thanked all the artists for putting together a fabulous show.
Kamesh then introduced BATA executive committee consisting  of Kalyan Kattamuri (Vice President), Sirisha Battula (Secretary), Yaswant Kudaravalli (Treasurer), Sumanth Pusuluri (Joint Secretary), Vijaya Aasuri, Veeru Vuppala, Sridevi Pasupuleti, Srilu Veligeti, Kiran Vinnakota & Taraka Deepti.
Kamesh also thanked BATA members Ravi Thiruveedula, Prasad Mangina, Karun Veligeti, Ramesh Konda  Hari Chikoti, Srikar, Jhansi,Swathi, Kalyani and many others for their help in making the program a grand success.
BATA committee presents momentos / plaques to all the artists and thanked them for a wonderful night of fun filled program. Vishwa Prasad, Vijay Chavva, Kubumba Rao & Tirumala Rao from people media were recognized for their support.
Bata committee thanked the sponsors and media partners Desi 1170 am & Virijallu.