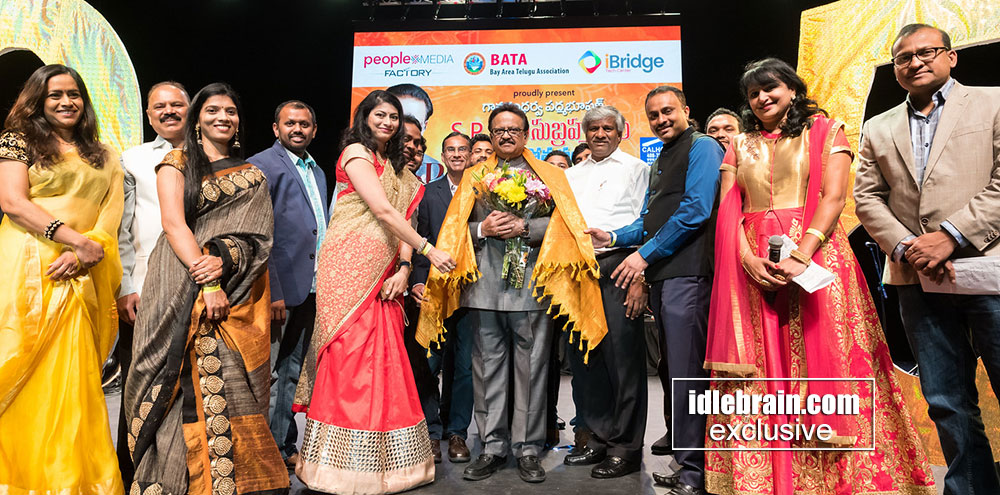 To feature your NRI communty news in idlebrain.com, please mail us at [email protected]
24 March 2017
USA

Padma Bhushan Sri. SP BalaSubrahmanyam has completed 50 years in the film industry. On this occasion, "SPB 50 Musical World Tour" was planned. In Bay Area this event was organized by Bay Area Telugu Association (BATA), People Media Factory, and IBridge Inc, in San Jose, California.
Grand sponsor for the event was CalHomes – Ramana Reddy, event was Powered by Googain and Ravi Tax Services. Other sponsors include Shalimar Indian Cuisine (Food Sponsor), Trinethra Indian Market (Gold Sponsor), ChimataMusic.com. Media Partners were Virijallu, KLOK 1170 AM, Bolly 92.3 FM, Telugu Times, and U'N'ME Entertainments.
The Organizers have taken much care in stage presentation and throughout the show Balu's nostalgic pictures were displayed on the backdrop screen. The concert started off with the introduction of all 10 musicians, Chinna and Praveen on Key Board; Ravi Sankar on Flute; Swamy on Rhythm pads; Caleb on Bass Guitar; Venu on Tabla), Arun on Drums; Suresh on Tabla; Naveen on Key Board; Mangal Raj on Lead Guitar.
Singers: Sri. S.P. BalaSubrahmanyam, Chinna Kuyal K.S. Chitra, S.P. Sailaja & S.P. Charan along with the upcoming young singers such as Sai Charan, SP Abhishek, Swagatha and Latha.
SP Charan explained the concept of the "SPB 50" & thanked all the S.P Fan's worldwide in making it a grand success and memorable one. Tickets for the musical extravaganza were almost soldout well in advance and the auditorium was fully packed with music lovers.
Vijaya Aasuri (BATA Advisor) welcomed S.P. Balasubrahmanyam (SPB) onto the stage thanking him for giving BATA an opportunity to host this memorable concert. Audience have welcomed SPB onto the stage with thunderous applauses and standing ovation. In his introductory speech, SPB thanked BATA, People Media Factory, and IBridge for hosting his team and he always enjoys coming to the Bay Area because of audience's love and encouragement that they have been receiving. During the program, BATA team has felicitated S.P. Balu. During the felicitation, all audiences have sung "Ide Paata Prati Chota Ilage Paadukuntaanu.." as a respect to SPB. SPB was pleasantly surprised with this gesture and thanked all the audience for their love.
Balu thanked his mentor S.P. Kodanda pani and also the audience for showering affection on him for the last 50 years. He then sang pallavi's of few chart busters songs such as O ChinnaDaana (Nenante Nene), E Divilo virisina Parijathamo (Kanne Vayyasu), Charana kinkiNulu (chelleli kaapuram) and he explained how he got recognition with two mile stones in his singing career E divilO virisina (Music by Sathyam) and SankarAbharaNam (Music by Mama KVM)

The below songs were presented by SPB team. For every song, the artists received a big applause from the audience.
1. Aakasam nee hadduraa (SP Charan) from sommokaDidi-sOkokaDidi
2. O Bangaru rangula chilakaaby Sai and Swagatha from Thota Raamudu.
3. OmkAra nAdAnu sandhAmou gAnamE (Balu and Sailja) from SankarAbharaNam
4. Jai Jai Ganesha (S.P. Balu) from Jai Chiranjeeva
5. MaaMa.. Chandamamaa (SP Abhishek) from sambarAla rAmbAbu
SP Charan introduced K.S. Chitra gaaru and thanked her for joining the "SPB 50 World Tour".
6. Indira mandira sundarakArA (SP Charan and Chitra) from gOvindO.. gOvindA
7. AvakAya mana andaridi (Balu and Sailaja) from mithunam
8. virinchinai virachinchitini (Balu and Sailaja) from sirivennela
The audience gave a thundering applause to this song.
9. Ee pETaku nEnE mEstiri (Balu and Chorus) from muThA mEstri
Balu wondered how he would do a concert without singing this song!! The auditorium reverberated with claps from the audience though out the song!!
10. Lipi lEni kanTi Basha (Charan, Sailaja) from Sreevariki Premalekha.
Balu said that there is always a boon behind a bane (prati Sapam venaka oka varam vuntundi). Otherwise how he could present all these wonderful gems by great music directors like Ramesh Naidu, MSV, Mama "KVM", Sathyam & Chakravarti and others in his shows.
11. Priya Raagale (Sai Charan and Chitra) from Hello Brother
12. Swapna Venuvedho (Balu and Chitra) from Raavoi Chandamama
13. Anjali.. anjalee.. pushpAnjalee (Balu and Chitra) from Duet
Both Balu and Chitra got thundering applause for their wonderful presentation.. Balu thanked A.R. Rehman for composing such a song!!
14. Jhummandi Naadam (Charan and Sailaja) from sirisiri muvva
15. Nayanaalu kalisE tolisAri (Balu and Chitra) from Chairman Chalamayya music by Salil Choudary.
16. Adharam Adola from Goutamee Putra Saatakarni
17. Ravi varma Ke andanee (Balu and Swagatha) from Raavanudey Raamudaithe?
18. Nenu Saitam prapanchAniki (Balu) from Tagore
19. Ala mandi padake (Sailaja) from Jackie
20. UuppongelE gOdAvari (SP Abhishek)
21. Abhinava Taaravo (Balu) from Sivaranjani
22. NilavadE.. Madi nilavadE (Balu) from Sathamaanam Bhavathi
23. Idi sarigamalerugani rAgam (Balu and Sailaja) from Hai Hai nAyakA
Balu said that all good things had to come to an end, but he would keep coming again and again!!
24. The grand finale song was Punya Bhumi Naa Desam (SP Balu and Chorus) from Major Chandrakanth.
On this occasion a special singing contest on S.P Balu was organized.
The results are:
| | |
| --- | --- |
| Sub Juniors | Result |
| Adhvik Sekkappan | Winner |
| Haasini Battiprolu | Runner |
| Juniors |   |
| Sanjana Thodupunoori | Winner |
| Amruta Turlapati | Runner |
| Medha Ananthuni | Runner |
| Teens |   |
| Manasa Gadepalli | Winner |
| Madhav Danturthi | Runner |
| Srichandana Anumolu | Runner |
| Adults |   |
| Padmaja Swetha Bhamidipati | Winner |
| Anvesh Komuravelli | Runner |
BATA executive committee consists of: Sireesha Battula (BATA President), Yaswanth Kudaravalli (Vice President), Sumanth Pusuluri (Secretary), Harinath Chikoti (Treasurer), Srikar Boddu (Jt Secretary)
Cultural Committee – Sridevi Pasupuleti, Srilu Veligeti & Deepthi Satti
Logistics Committee – Kondal Komaragiri, Arun Reddy, Prashant Chinta & Naresh Gajula
Steering Committee – Ravi Thiruveedula, Kamesh Malla & Kalyan Kattamuri,
Advisory Board - Jayaram Komati, Vijaya Aasuri, Veeru Vuppala, Prasad Mangina, Ramesh Konda & Karun Veligeti thanked all the audience for gracing the occasion and making it a grand success and all the sponsors for their continued support.
Viswa Prasad (People Media) thanked Bay Area audience for all their support.