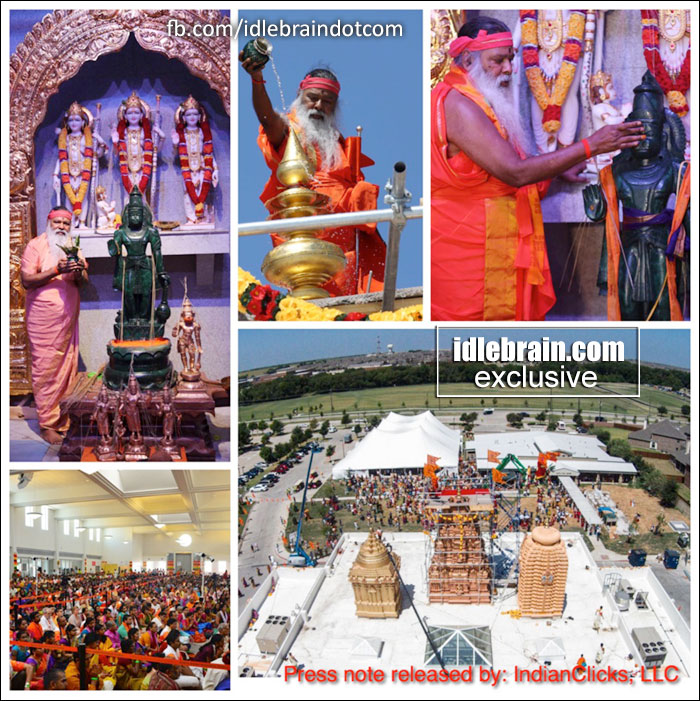 To feature your NRI communty news in idlebrain.com, please mail us at [email protected]
25 July 2015
Hyderabad
"Swamiji inaugurates one of the largest worship places in Frisco, Texas, USA"
OR
"Grand Opening of Karya Siddhi Hanuman Temple in Frisco, Texas, USA"

His Holiness Sri Ganapathy Sachchidananda Swamiji inaugurates one of the largest worship places in the United States - Grand Opening of the Karya Siddhi Hanuman Temple in Frisco, Texas, USA.
Datta Yoga Center established by His Holiness Dr. Sri Ganapathy Sachchidananda Swamiji is pleased to announce the grand opening and Maha Kumbhabhisheka (Consecration) of the Marakata Karya Siddhi Hanuman Temple in Frisco, Texas, USA.
The grand opening ceremonies, took place over 6 days starting from Saturday, July 18, 2015 to Thursday, July 23, 2015. Following the grand consecration, religious ceremonies and cultural programs will continue until 30th August 2015 to commemorate the milestone event concluding the 40-day celebrations.
Elaborate arrangements including lunch and dinner, prepared by volunteers and various local restaurants are being provided by the temple to all attendees during these extended celebrations.
This 34,000 square feet new facility, part of a larger complex, is dedicated to public for worship on the 23rd July 2015. This has a prayer hall that houses the sanctum sanctorum for the main deity – Lord Hanuman, made in Green Emerald – which is very unique. This shrine is surrounded by 4 more temples and additional space for community service viz., fire sacrifice, Sunday school, place for cultural performances, free community health fair, bookstall and more.
The inauguration was conducted in an authentic Vedic tradition and included the installation of deities and energizing them in preparation for worship. The exterior architecture of the temple has exquisitely carved three unique towers modeled after very exclusive spiritual symbols passing divine energy to the worshippers.
Today's morning event was estimated to have been attended by over 5,300 people who witnessed the temple tower worship, consecration and energizing processes. The huge prayer hall filled with devotees to its brims appeared very tiny for the devout gathering.
Based in Mysore, Sri Swamiji has established many ashrams to spread the message of peace and universal brotherhood around the world including the Jesus Datta Retreat Center in West Sunbury, PA, a Trinity temple in Baton Rouge LA.
Sri Swamiji supports a multitude of social projects to help the downtrodden, including hospitals and schools across the world to help the poor and needy, and homes for the aged. People around the world have received immense benefit from physical healing to spiritual guidance through His music therapy sessions.
Recently, Guinness World Records recognized Sri Swamiji's unique spiritual and healing efforts offering two world records one in the category of largest chanting with nearly 129,000 people and another for the largest music therapy lesson performed in the Sydney Opera House, Australia.
Acknowledging Sri Swamiji's international stature, the US government has granted special O-visa status to Him to travel and perform throughout the USA. Sri Swamiji's work often appears in newspapers and periodicals around the globe.