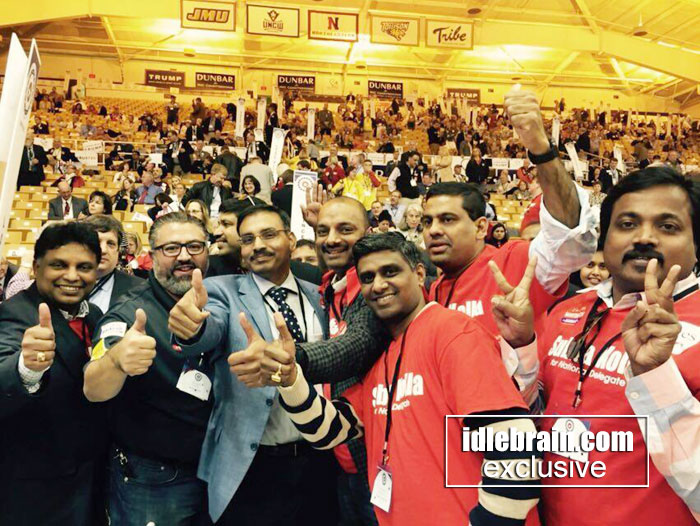 To feature your NRI communty news in idlebrain.com, please mail us at [email protected]
3 May 2016
Hyderabad

Subba Rao Kolla was elected as a Republican Party National Delegate to represent the commonwealth of Virginia state at the Republican National Convention (RNC) in Cleveland, Ohio this summer to choose Presidential nominee from the party to contest against Democratic Party nominee. He is the first Indian American to represent RNC from Virginia. Total 80 candidates contested for 13 National delegates to choose at the Republican Party of Virginia convention held on April 30th. The other elected National delegates include former Attorney General Ken Cuccinelli, and Virginia Thomas, wife of Supreme Court Justice Clarence Thomas. Subba's role will be crucial if no candidate wins more than 50% of delegates before National convention.
Subba Kolla brings a wealth of public service to the Indian American community and the Virginia Republican party. For the past 12 years he served in various positions in national and local Indian non profit organizations. Last time he served as a President for Hope for Humanity, which provides free education to around 400 poor kids in Vijayawada, AP. Currently he serves on the board of Equalization in Loudoun County, hears about complaints on Property taxes across the county. Also he received an award from the past Virginia Governor McDonald for the community service.
Subba Kolla hails from Prakasam district, Andhra Pradesh state. Being a son of uneducated former, he studied Masters in I.I.T., Kharagpur and practiced teaching profession for six years before moving into United States of America in 1997. Currently he is practicing Real estate in Virginia and Maryland states. He is very active in American politics for the past 5 years.
Subba Kolla attributes his victory to the trust and affection shown by each and every one of the Virginia Republican Party and most importantly his fellow Indian American community. He states that he accepts this responsibility on behalf of his entire Indian American community with great pride and humility and promises that he will do what is best for our great nation, common wealth of Virginia, and our grand old party. He states that he takes this responsibility seriously and will do his best to fulfill this role to the best of his abilities.
Subba stated, "Indian Americans have arrived in politics too. We are here to stay, make a positive contribution & big impact. And, I'm here to serve."