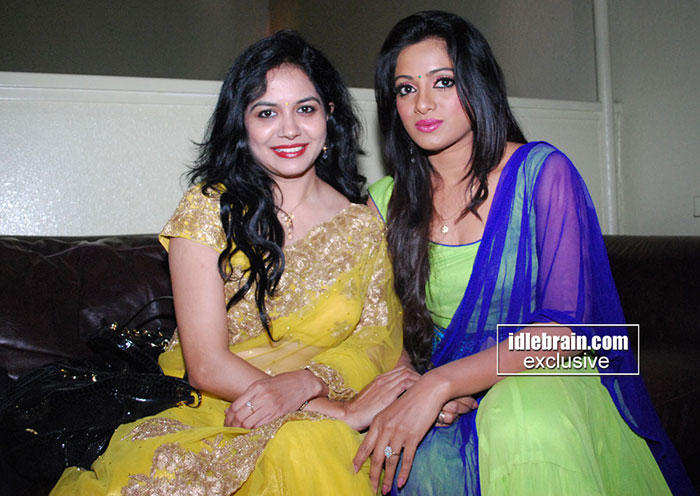 To feature your NRI communty news in idlebrain.com, please mail us at [email protected]
11 November 2013
Hyderabad
Bay Area Telugu Association (BATA) Celebrated Deepavali program at Sunnyvale Hindu Temple auditorium . Ravi Tax Services was the grand sponsor for the event. The main attraction was non-stop entertainment program by tollywood singers Sunitha, Sri Krishna & team.   Actress and popular TV anchor Udaya Bhanu was the surprise guest for the event. They enthralled Bay Audience with  melodious songs, upbeat foot tapping numbers, comedy skits etc. for over 4 hours.
It was an evening filled with entertainment, entertainment & entertainment and the audience thoroughly enjoyed it.  BATA advisor Vijaya Aasuri welcomed the audience and wished everyone a very happy & auspicious Deepavali on behalf of the BATA committee.
The program started right on time at 5:30 pm with programs by  local Bay Area talented kids and youth. First performance was "Natya" by UC Berkeley students, this was co-ordinated by Manisha Eerabathini. Next to follow were dances by kids (age group 3 – 13 years) and BATA youngsters. They performed dances from popular movies songs like Eega Eega, Ammo Bapu Bommo, Kirraku, Gabber Singh Gabber Singh , Run Run, Jabilli Nuvve Cheppamma, Badshah etc. These dances were choreographed by Vijaya Aasuri, Sridevi Pasupuleti, Kiran Vinnakota, Rathna Pandian, Taraka Deepthi , Jyotsna Bendapudi & Siddarth Vinnakota.
BATA in association with Telugu Times recently started telugu language school  "Paatasala" in Bay Area. It received a very good response, speaking on this occasion Dr. Ramesh Konda ( Director Paatasala Bay Area),  Subba Rao Chennuri (Telugu Times) , thanked all the teachers and volunteers.  Paatasala is running successfully in Sunnyvale, Fremont, San Ramon, Dublin, San Jose & Foster City.
The program also received great support from sponsors,  Prasad Mangina (former BATA President) invited all the sponsors on to the stage. Ravi Tax Services was the Grand sponsor and others included Swagat Indian Cuisine, Peacock restaurants, Scopus Consulting, ITU, Shree Jewelers, You Smile Dental, Vibha Collections, India Fresh Super Market.  Prasad thanked all the sponsors for their continued support and also introduced other members of the marketing team Kalyan Kattamuri and Ramesh Konda  who were instrumental with sponsorships. There were trade booths (clothing, Jewellery, food etc) and they sponsored many exciting raffle prizes including Nexus 7 (Scopus), Gold & Silver Coins (Macs Coins), Designer Sarees (CBazaar) and  many other gifts.
The prime time program stared with Singer Sunitha coming on to the stage amid thunderous response from the audience. Sunitha greeted every one and started the program with a devotional song .  Sri Krishna joined Sunitha and they both sang super hit songs one after the other like "Chengavi Rangu Cheera", Aaresuko boye" "Gopi Lola", "Andam Gaa Lena", "Aadinchu Asta Chemma", " Gannu Lanti Kannu Lunna",  "Medley of super duper hit songs"  and finale was "Vedam Anuvanuna Naadam ".
Young talented singers Sai Shilpa and Sai Charan performed exceptionally well and ably supported the program. The comedy duo from popular TV show "Zabardast" Rakesh and Trinadh performed comedy skits and the audience could not stop their laughter and thoroughly enjoyed the program.
The moment everyone eagerly waited arrived, when popular actress, Livewire and TV anchor Udaya Bhanu entered on the stage. She greeted every one and started with her trade mark witty comments. Udaya Bhanu involved the audience with various games both for kids and adults. Every one thoroughly enjoyed the program and it was very well received.
Speaking on the occasion BATA President Kamesh Malla thanked the audience for attending in large numbers and making the program a grand success. Kamesh also thanked all the artists for putting together a fabulous show.
Kamesh then introduced BATA executive committee consisting  of Kalyan Kattamuri (Vice President), Sirisha Battula (Secretary), Yaswant Kudaravalli (Treasurer), Sumanth Pusuluri (Joint Secretary).
A new  "Steering Committee" consisting of former BATA presidents was announced, the team members include Prasad Mangina , Ravi Thiruveedula & Ramesh Konda.
The Cultural team members include Sridevi Pasupuleti, Kiran Vinnakota, Hari Chikoti, Taraka Deepti & Rathna.
BATA advisory board Jayaram Komati, Vijaya Aasuri & Veeru Vauppla congratulated the team for making the program a grand success.
Kamesh also thanked BATA volunteers Srikar (photo & video) , Jhansi, Anantha, Kalyani, Sateesh pola, Naresh, Vikas, Sai, Himaja, Sravanthi and many others for their help in making the program a grand success.
BATA committee presents momentos / plaques to all the artists and thanked them for a wonderful night of fun filled program and making it a resounding success.
Bata committee also thanked the sponsors and media partners Desi 1170 am,  Virijallu, Telugu Times & TV9. Swagat Restaurant served tasty & delicious dinner to the crowd.