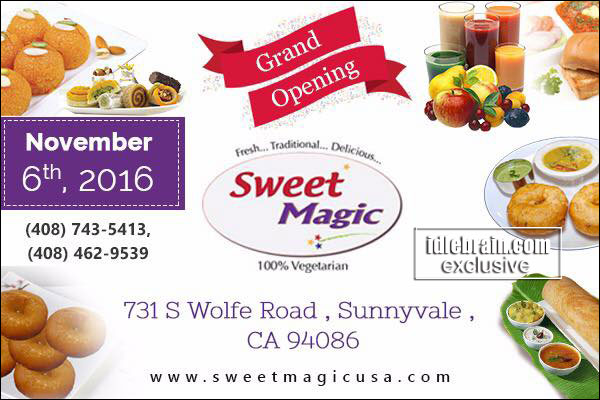 To feature your NRI communty news in idlebrain.com, please mail us at [email protected]
5 November 2016
USA
We are excited to announce Grand Opening of Sweet Magic - Bay Area Sunnyvale Location tomorrow November 6th 2016.
Sweet Magic is a 100% vegetarian restaurant.We offer wide variety of Sweets,Snacks,Tiffins,Thalis,Chats,Fresh fruit juices,Cakes,Karampodis,Pickles.
We are at Sweet Magic have brought a taste of home to the heart of local bay area neighborhoods. We have been completely dedicated to consistently delivering savory, flavorful, and kosher vegetarian dishes to the growing vegetarian community of the Bay Area. Food is prepared out of love and passion.Our intentions, "Our Magic" begins in the kitchen, where Grand Ma's recipes and techniques are used to ensure amazing and mouth watering flavors. Our food is strictly vegetarian, no meat, no eggs, still yummy and delicious. We use only the freshest ingredients and most tantalizing seasonings and love.
Please like our Facebook page @ https://www.facebook.com/sweetmagicsunnyvale/
Please visit us @ 731 South Wolfe Road ,Sunnyvale,CA 94086 for the Grand Opening (November 6th 2016)
Feel free to ring us @ 408-743-5413
www.sweetmagicusa.com