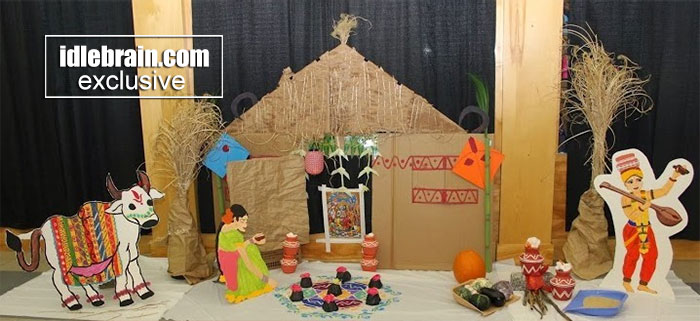 To feature your NRI communty news in idlebrain.com, please mail us at [email protected]
24 January 2014
Hyderabad
The annual Sankranthi celebration hosted by the Telugu Association of Greater Boston (TAGB) on January 18th in Littleton, MA turned out to be a truly one-of-a-kind event this year.  Even the stormy weather could not diminish attendance, with at least 1000 people packing inside Littleton High School for fun, festivities, and performances.
The venue was beautifully decorated with an authentic Sankranthi look. Guests were welcomed by a colorful muggu of colored rice and flour. A unique display of gangireddulu. bommalakoluvu, haridaasu, and gobbemmalu in front of a hut was reminiscent of a front yard in an Andhra village in the midst of the Sankranthi festival. It was a mela atmosphere with people indulging in delicious snacks and wandering among vendors showing off their wares of traditional clothing and jewelry.
For the first time ever, the event kicked off with a science fair featuring various hands-on experiments and demonstrations by middle and high school students. The students had devised and implemented their experiments from start to finish, which ranged in topics from biology and chemistry to optics, robotics, and environmental science. The most knowledgeable and enthusiastic presenter was awarded "scientist of the day". In the Rangoli competition, several ladies and kids tried their hand at creating their own colorful designs.
Every year, TAGB's cultural programs provide a platform for the young and old to showcase talent with a colorful mix of patriotic, devotional, filmy, classical and modern music and dance items. This evening's program started with bhogipallu, with of candies, cranberries, flower petals, and akshitas being showered on the kids to ward off the evil eye. The Cultural Secretary, Smt. Manimala Chalupadi, welcomed the guests and expressed gratitude at their enthusiasm and attendance in spite of the inclement weather.
Performances of classical dance by the students of several local dance schools enthralled the viewers with footwork and sculpturesque poses.  These classical pieces were complemented by upbeat film medleys as well. Other notable performances of the evening included those by Mr. Madhu Chary and Mrs. Valli Bhamidipati, who brought the audience back to 60's and 70s with old melodies, and traditional Sankranthi songs by Navya Peddireddy and Meghana Tallam.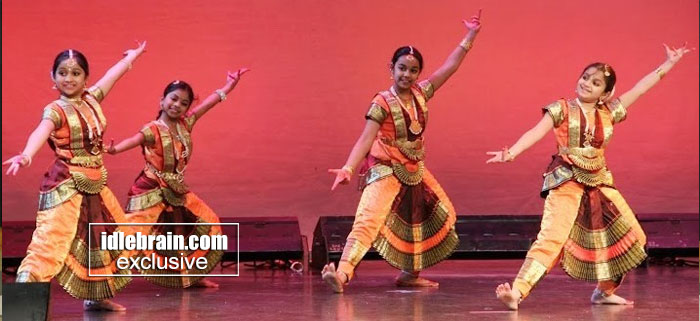 The program was emceed by Madhavi Kamma and Deepthi Gora, who facilitated the evening and provided bits of humor and entertainment between acts.
Accomplished singers Sandeep Kurapati (ETV Padutha Theeyaga fame) and Harini Darbha (Maa TV Paadalani Undi fame) provided a mini-musical concert, delighting the audience with solos and duets from old and new Telugu films. These were complemented by Mounika and Harika Talluri, Bhargav and Bharadwaj Parakala, Bhavana Chalupadi, and Sowmya Varada who gave dance performances to Sandeep and Harini's live songs. The lively and energetic display of song and dance talent was received by the audience with thunderous applause and cheers.
The outgoing President Mr. Ramesh Tallam proudly presented his entire committee and appreciated their sincere efforts in the launching of new initiatives and events during the past year, including a meet-and - greets membership drive, sports tournaments, educational programs, and music programs. The election committee introduced the newly elected governing body, the Board of Trustees, the President-elect Mr. Shankar Magapu, and the incoming president Mr. Ram Gubbala.
The evening culminated in a final performance 'Dhim Thanaka', in which the TAGB committee members and their spouses treated a cheering audience to highly entertaining dance sequences from Telugu hit movie songs from the 60s to present.
The six hour cultural program ended with vote of thanks by the new President-elect, Mr. Sankar Magapu, who thanked the participants, sponsors, volunteers, group coordinators, and choreographers. The TAGB committee received a lot of encouraging and affirmative feedback from the attendees about the variety and quality of the programs and the importance of these events in keeping our tradition and culture alive for next generations.
Snacks and dinner for the evening were catered by Minerva Indian Cuisine.
A special note of congratulations to the outgoing president, Mr. Ramesh Tallam and the cultural secretary, Ms. Manimala Chalupadi for ending their term with an outstanding Sankranthi blast.