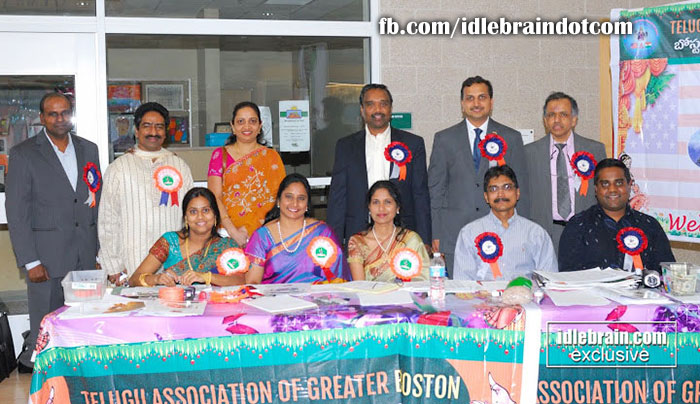 To feature your NRI communty news in idlebrain.com, please mail us at [email protected]
24 April 2013
Hyderabad
The Telugu Association of Greater Boston (TAGB) kicked off the New Year "Sri Vijayanma UGADI - UTSAVALU 2013" with a grand celebration on April 20th (Saturday) at Canton High School in Canton, MA. Each year the Ugadi is a very high-energy event with local talent, attracting large crowds in the Greater Boston area. This year was no different; with more than 1100 members attended the occasion.
The guests were cordially welcomed by the new Executive committee (EC) with traditional 'Ugadi pachadi'. The cultural team made every effort to make event location like a real function hall. The red carpet welcome and special decoration added on either side of the path way was very impressive. The décor of the auditorium, stage and traditional outfits of attendees coupled with the excitement of the audience reflected a festive atmosphere. Proficient performances by more than 220 participants in 44 programs provided seven hours of nonstop entertainment. After the day of confusion and terror, the pleasant Saturday evening program started with a welcome speech by Cultural Secretary, Smt. Manimala Chalupadi. The program was started traditionally with a Devotional song 'Gajananam' by 4 year old Anshika Araveti followed by a variety of programs such as songs, instrumental music, skits, classical, folk, and film dances. The insightful Panchanga Sravanam by Sri PVR Narasimha Rao was motivational and inspirational. During these programs, Smt Manimala felicitated the experienced artists with memento.
A tribute in the form of film dance mela by family and friends to young Kaushik Korrapati who passed away last year. Saradaga Kasepu" was a feast to the eyes, a show dedicated to the "Mothers". It was laced with Peppy music, Fashion shows and Folk dance with a sentimental touch. It was different and one of a kind program ever performed at TAGB platform. TAGB hosted "Dhim Tana" competitions as part of Ugadi cultural program. The winning teams received trophies from sri Mohan Nannapaneni, Executive Vice President of TANA.
In the early afternoon, many enthusiastic TAGB young members participated in Math Bee competition conducted with the help of 'The Smartkids Learning Center, Shrewsbury, MA. Right after inception of the office, new executive committee conducted one day shuttle badminton tournament on March 31st and in which about 80 players of all ages of both men and women took part.
Delicious snacks and subsidized dinner by Minerva Indian Cuisine and several other stalls set up by various vendors added to the festive fervor. At one point of time, the area appeared more like a small shopping mall with crowded counters.
In his presidential address, Sri Ramesh Tallam introduced his team includes Sri Janakiram Gubbala (President Elect), Sri Shankar Magapu (Secretary), Sri Srinivas Batchu (Treasurer), Smt Manimala Chalupadi (Cultural Secretary), Sri Raja Chilakamarri (Joint Secretary), Smt Padmaja Surapaneni (Joint Treasurer), Board of Trust (BOT) member team includes Sri Babu Rao Polavarapu (BOT Chair), Sri MallaReddy Karra (BOT Vice Chair), Dr. Haribabu Muddana, Sri Janardhan Sonthi, Sri Koteswarrao Kandukuri, Sri Siva Dogiparthi and Sri Srinivas Kollipara. He reassured that the management team is focused in bringing novel and enhanced quality events to the community. He recognized the efforts of smt. Manimala and her cultural team for spending several weeks in creating 6 hours of rainbow color program. He also thanked BOT team for their guidance and the sponsors for endorsing the organization over the years and volunteers for their selfless efforts for TAGB event success.
Sri Ramesh mentioned about his team latest initiatives of launching new website and creating a Telugu calendar based on New York timings and distributed to all TAGB members for free. This was accomplished with able coordination with sponsors and technical team by Sri Srinivas Batchu and smt. Padmaja Surapaneni. The high light of the event was inauguration of new TAGB web site by sri Sasikanth Vallipalli. Sri Ram Gubbala led this project team in completing the web site in record time. He proudly shared the new technical addition to the program is live telecasting of the event with the help of sri Surender Madadi who provided continuously ICNRI LIVE - VIDEO web streaming of the 6 hours program.
Earlier in the program all observed moment of silence for the victims of Boston Marathon. The evening surely turned out to be an excellent socializing and networking event. The community has once again come together to display its strength and solidarity by making this event a grand extravaganza. The 10 hours of event ended with simply beautiful "Thank you" note from Secretary Sri Sankar Magapu , who acknowledged the efforts of participants, various committees, supporters, volunteers and TV9 team in making function as another memorable event. With an Indian National anthem the event had come to an end.