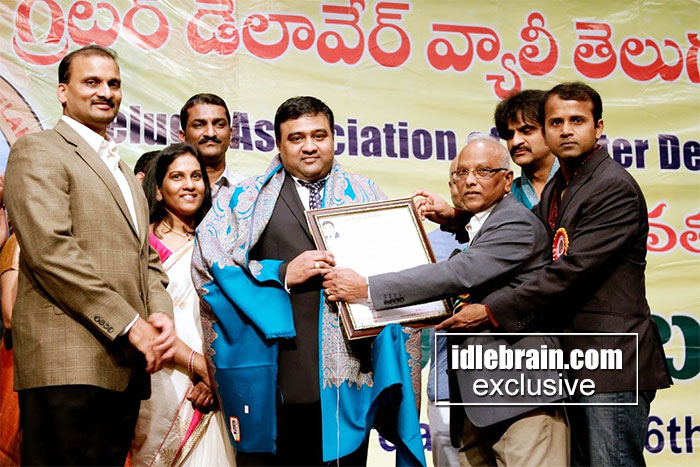 To feature your NRI communty news in idlebrain.com, please mail us at [email protected]
6 May 2014
Hyderabad
Telugu Association of Greater Delaware Valley (TAGDV) successfully conducted the 21st North America cultural competitions and celebrated Ugadi on Saturday April 26th 2014 at the Upper Merion High School, King of Prussia, PA, USA. Heroine "Colors" Swathi, Hero Nikhil and Singer Suneetha attended as guests for this program. Telugu Association of North America (TANA) grand sponsored the event and TANA President Mr. Mohan Nannapaneni attended as chief guest.
This thirteen hour event started at 10:00 AM with a welcome speech by Ravi Potluri, President of TAGDV followed by USA National Anthem. More than 110 participants enrolled and participated in cultural competitions and all the participants gave an amazing performance. Special thanks to the Cultural Committee- Ravi Potluri, Kiran Kothapalli, Anu Donthineni, Suresh Reddy , Mallik Budhavarapu and Bobby Yerra for their perfect execution. The program started by cultural committee by inviting chief guests and introducing MC's of the program. President Ravi Potluri distributed prizes to the winners and recognized all the EC members. President Ravi Potluri delivered his message explaining the history and contributions of the elders over the past forty one years highlighting the services and contributions of TAGDV to the community. He thanked the current Executive Committee, previous Executive Committees, donors and volunteers for their contributions and tireless efforts to strengthen the Telugu Community in the region.
The presence of guest of honor Singer Sunitha was the highlight, her continuous three (3) hours non-stop performance along with singers Rajeev Nedunuri, Srikanth Sandugu & Sreenivas Josyula was well received by audience. Heroine Swathi entertained the audience with her lovely dialogues and enthusiasm involving the audience during the show.Hero Nikhil and Heroine Swathi gets good response for the small skit which involved several others from the audience. Telugu Vani, a special Ugadi Souvenir released by Heroine Swathi and designed by Mr. Srinivas Sagaram. Mr. Sreedhar Gudala worked hard to bring the souvenir. MC Sri Lakshmi did wonderful job. TAGDV executive committee members felicitated the guests.
Mr. Mohan Nannapaneni – TANA President, attended as chief guest and gave motivational speech which inspired all the audience. TAGDV felicitated Mr. Mohan Nannapaneni and other TANA team members. TAGDV President – Ravi Potluri felicitated Mrs. Lakshmi Devieni who sponsored the event and recognized other donors Madhav Mosarla (ATA), Mahender Musuku (NATA), Radhakrishna Alla (RK Technical Services), Venkat Madipadaga, Satish Tummala, Best Brains (Exton, PA), Vidya Garapati and Ruchi Indian Cuisine (Exton, PA).
The registration committee - Sambaiah Kotapati, Vijayabhaskar Polamreddy, Vijayasri Parchuri, Saritha Anumula worked hard to make this event grand success. It was an excellent team effort under the leadership of President Ravi Potluri. The participants and guests were treated with traditional Andhra vindhu bojanam and dinner arrangements coordinated by Harinath Bungatavula and Rammohan Talluri. Decorations handled by Bobby Yerra & Mohan Santosh Malla and Audio support provided by Murthy Nuthanapati. TAGDV felicitated Mr. Damu Gedala, Mrs. Manju Bhargava, Mr. Sateesh Rachamadugu, Mr. Sreedhar Appasani (NATS), Mr. Satish Tummala, Mr. Sambasiva Rao Kotapati, Mr. Rao Yalamanchili, Mr. Ravi Mayreddy and Mr. Mahender Musuku for their services to the community.
TAGDV Election committee Chairman Mr. Sudhakar Pavuluri and members Mr. Naidu Motupalli and Mr. Saradhi Kosaraju introduced the New Executive Committee.
The following are the Executive committee members (2014 - 2016), President - Mallikarjun Budhavarapu, Vice President -Harinath Bungatavula, Secretary - Sambaiah Kotapati, Joint Secretary - Suresh Reddy Venkannagari, Treasurer - Kiran Kothapalli, Joint Treasurer - Vijay Bhaskar Polamreddy and Members At Large - Anupama Donthineni, Madhusudana Reddy Gonipati, Sreedhar Gudala, Subash Reddy Karra, Nagaraju Nalajula, Vijayasri Parchuri, Tulasi Ramamohan Rao Talluri, Gopala Krishna Vagvala, Vijay Veeramachaneni.
TAGDV Executive Committee thanked Election Committee for their commitment and dedication.
TAGDV richly felicitated outgoing president Mr. Ravi Potluri for his services to the community & TAGDV. The audience gave him a truly rousing standing ovation. Program ended with a vote of thanks from Secretary Harinath Bungatavula followed by India National Anthem.