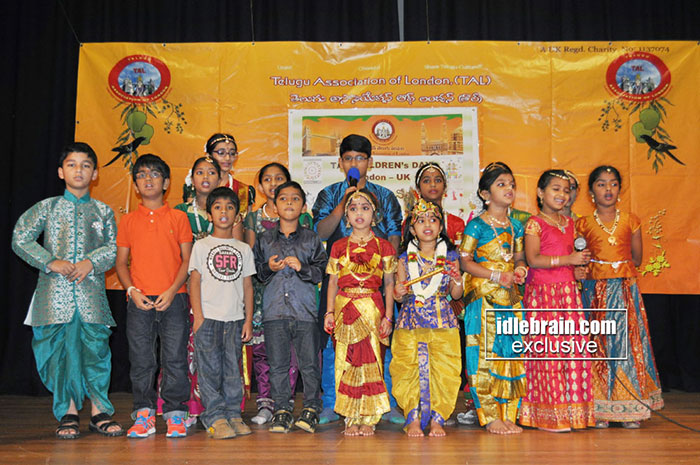 To feature your NRI communty news in idlebrain.com, please mail us at [email protected]
19 November 2014
Hyderabad
Telugu Association of London (TAL) has celebrated "7th Annual Children's Day remembering India's 1st Prime Minister Jawaharlal Nehru's Birthday and 5th TAL cultural centers (TCC) annual day, TCCs are run by TAL in London to teach Telugu Language, Music, Classical Dance and Carnatic music.
As this was 125th Birth Anniversary of Chacha Nehru, Children from various parts of London came together and celebrated the event. Highlight of this event is; it was planned, organised and presented by Children while adults took the helping/audience role.
More than 150 children of all ages from 4 years have performed their art such as Bharatnatyam, Kuchipudi, Comedy Act, Tollywood Dance, playing instruments and showcasing their singing talent too. A number of children also have taken part in a fun fancy dress show dressed as Bapu, Chacha Nehru Indira etc... 4 hours of Fun filled program came to an end by tiring games. Miss Nitya Kondate and Miss Srikeerthi Gandham have put in lot of efforts to present programme start till the end which was greatly applauded by all audience.
Most of the children were presented with gifts. Certificates were given to children, who have performed. On this occasion, Founding President has appreciated efforts by newly elected team and volunteers wished all the best for future events. It was emphasised by all trustees and members on the importance of preserving our culture in the next generation and also teaching our sweet language Telugu, which is currently being done by TCC.
Along with TAL Chairperson Mrs Dharmavati Nistala, Vice Chairman Mr Satyendra Kumar Pagadala TAL founding members Dr. Ramulu Dasoju, Mr Sreedhar Vanam and Mr Sanjay Bhiraju and TAL life members were present in the event.