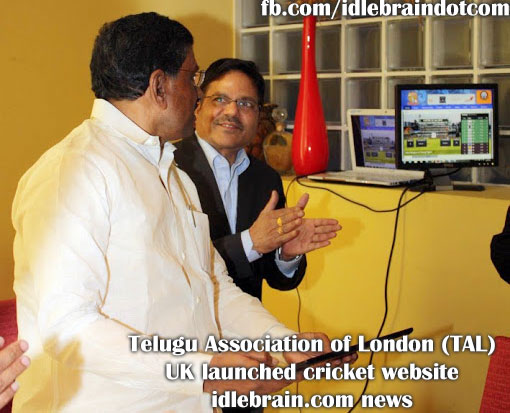 To feature your NRI communty news in idlebrain.com, please mail us at [email protected]
01 June 2013
Hyderabad
TAL MTCL 2013 20-20 Cricket Tournament
Telugu Association of London (TAL) in the UK has br ought the most awaited event of the year 'TAL MTCL 2013', 20-20 Cricket Tournament similar to the IPL style tournament involving '12 Teams' in the presen ce of the Health Minister, Govt. of Andhra Pradesh Dr DL Ravindra Reddy as a Chief Guest, Founder president Dr Ramulu Dasoju, Cricket Teams franchise owners with team captains and TAL family members.
Highlights of the TAL Cricket tournament are: 12 teams, 15 Saturdays, six matches every Saturday, 240 players, 74 matches, all matches played in London. Final is scheduled to play on Sunday the 25 Aug 2013.
The Health Minister, Govt. of Andhra Pradesh Dr DL Ravindra Reddy has launched TAL Cricket Website www.tal20-20.org, dedicated to the tournament.
Minister has also presented mementos to all franchise owners with team captains and wished them all the best. TAL felicitated Health the Minister and his wife.
On this occasion TAL Chairman Sanjay Bhiraju requested Hon.Minister on behalf of Government of AP to support TAL:
1) To achieve Telugu Bhavanam for Telugu People in Lon don.
2) Support for TAL Sports Foundation.
3) TAL Cultural Schools.
Minster promised as a response to TAL Chairman's re quests, he will support as much as he can in his capacity and will request AP Government to support TAL.
Dr Reddy also appreciated all the good work being done by TAL family over the last decade including the adoption and restoration of CP Brown's grave.The best players out of all teams participating in TAL Cricket tournament will be selected for "TAL Cricket Club" which is proposed to enter into the Middlesex County Cricket League.
TAL Vice Chairman Mr. Raj Reddy Myakala, IT, PR and Communication Secretary Mr. S Vamsee Mohan Singaluri, Sports Secretary Mr. Ravi Kiran Sabba and Fundraising Secretary Mr. Shankar Devarashetty were also present in the event.