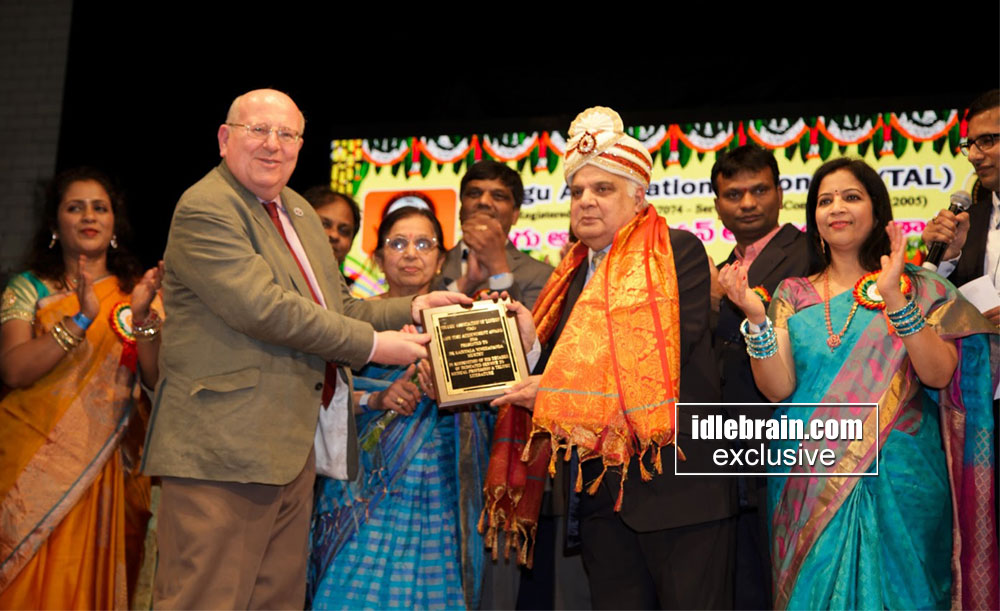 To feature your NRI communty news in idlebrain.com, please mail us at [email protected]
11 April 2016
Hyderabad
Telugu Association of London TAL has celebrated its 12th Ugadi Celebrations in Redbridge Town Hall, Ilford, London on the 9th of April 2016 along with hundreds of Telugu families living in and around London.
TAL Ugadi 2016 convenor Anitha Nomula inaugurated the event. Chairman Sri Satyendra Pagadala, Vice Chairman, Sri Balaji Callur, trustees: Sriidhar Medichetty, Mallesh Kota, Nirmala Dhavala, Bharathi Kandukuri, Sridhar Somisetty and Kiran Kappeta have organised the event under direction of the convenor.
The celebrations that started with a presentation by Tal Culture Centre (TCC) music students have continued with a variety of dances and songs. The "fusion" dance sequence mixing eastern and western style of traditional dance sequence has mesmerised the audience. The venue, was filled with festive celebrations with different acts, traditional and cine music and dance. Everyone attending the event have been treated with traditional Ugadi Pachadi and delicious food.
The prestigious "Life Time Achievement" award that is presented yearly has been presented to renowned Doctor, playwright and actor Dr. Kadiyala Vivekananda Murthy for his contribution to the Telugu language in Britain. Dr. Ramulu Dasoju praised his work towards Telugu language as unforgettable.
Singers from Telugu film industry Anudeep and Lipsika have entertained the audience with a variety of songs. The Chief Guest and cinema actor Varun Sandesh has also joined in to sing a few lines with the singers and got a "Once More" request from audience. He expressed his happiness with the amount of kids talking in Telugu in London. He praised the parents who were continuing to teach Telugu to the next generation of kids.
Among the VIPs were Mike Gapes, MP for Ilford South, Sri A.S.Rajan, Coordination Minister from the Indian High Commission who also praised TAL's contribution towards Telugu language. They have unveiled "Maa Telugu" magazine with Hema Macherla, the editor of the Magazine. They have also inaugurally kicked off Tal Premier League 2016 cricket championships that will begin in the coming months.
Vice Chairman Sri Balaji Callur has thanked the audience, organising committee, artists and volunteers that has contributed to the grand success of the event.