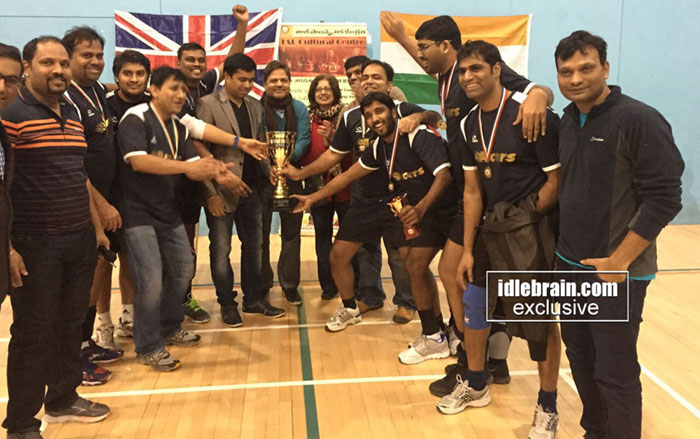 To feature your NRI communty news in idlebrain.com, please mail us at [email protected]
02 February 2015
Hyderabad
Telugu Association of London (TAL) has conducted the 3rd annual Volleyball Championship in Osterley Sports & Athletics Centre, Hounslow, London on 31st January 2015 in celebrations of 66th Indian Republic Day - A salute to the Mother India.
130 Telugu players from 13 teams have played in this Championship with lots of supporters. TAL conducts annual volleyball tournament for Telugu people in every January in celebrations of Indian Republic day.
TAL chairman Mrs Dharmavati Nistala has congratulated Championship winning team "ACER", Runner-up team "RHINOS" and 2nd Runner-up team "VOLLEYBALL RIDERS". Mrs Dharmavati Nistala praised all the players for their sportsman spirit and commitment towards the sport. Prize distribution was done by guests Mr Shankar Devarashetty and Mr Majunath Karma.
Mr Ravi Kiran Sabba, TAL Trustee - Sports and Youth, has specially thanked organising committee Mr Sudhir Chandrapathi, Mr Shiva Reddy Chintam, Mr Sunil Nagandla and Mr Praveen Madula.
Mrs Dharmavati has invited all Telugu families living in London and Britain to join the forth coming TAL 10th anniversary Ugadi celebrations.
TAL Trustees, Advisors, Founder members and other life members were present in these celebrations.