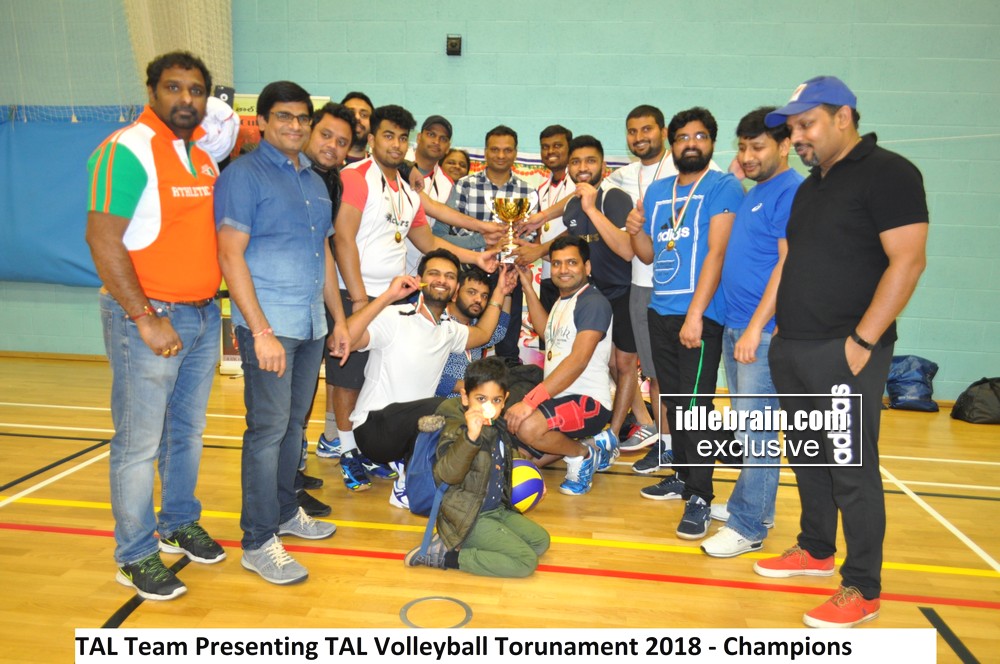 To feature your NRI communty news in idlebrain.com, please mail us at [email protected]
29 January 2018
USA

Telugu Association of London (TAL) has conducted the 6th Annual Volleyball Tournament in University of East London, Sports Dock in London on 27th January2018.
TAL has started another sporting year 2018 with the Volleyball Tournament and many more sporting events such as badminton and the prestigious TAL Premier League to follow, for Telugu people in and around London.
TAL Chairman, Sridhar Medichetty, Treasurer Sridhar Somisetty, Sports trustee Murali Thadiparthi, Trustees Mallesh Kota & Giridhar Putlur and Ex-Chairman Sridhar Vanam congratulated the winning team the Acers who excelled in their game.
The Eagles team have claimed the runners up position while Cool Cruisers stood as the 2nd runners-up team in the tournament in which more than 40 games have been played in this Championship. The tournament was played by more than 100 Telugu players in 9 teams.
TAL Sports Trustee Murali Thadiparthi has praised all players for their sportsman spirit and commitment towards the sport. He invited all players to continue their support to sport and to the community. He requested everyone to encourage kids to participate in sport and be active and healthy. Murali specially thanked the event coordinators Sunil Nagandla, Rajesh Veeramachaneni and Ravi Sabba and the volunteering team who played a key role in successfully organising the event.
On this occasion, Chairman Sridhar Medichetty invited all Telugu families living in London and Britain to join the upcoming 13th TAL Ugadi Celebrations in April. TAL Vice Chairman Sridhar Somisetty, Trustees Giridhar and Mallesh along with advisors, life members and several Telugu families have attended the tournament.
About Telugu Association of London (TAL):

Telugu Association of London (TAL) is a not-for-profit organisation first ever widely known Telugu charity in the UK (registered charity no. 1137074). TAL was formed in April 2005 with a motto of Unite, Cherish and Share Telugu Culture.

TAL organises various events throughout the year to promote the Telugu Culture:
• TAL Culture Centre (runs weekly) to provide Telugu language classes, Bharatanatyam (Indian classical dance), Carnatic Vocal (Indian classical vocal), Bollywood Dance.
• TCC Children's day
• TyagarajaAaradhanotsavalu (commemorating sage poet)
• Kuchipudi Workshops
• Literary activities

As part of sports initiatives, TAL organises:
• Badminton
• Chess
• Volleyball tournament
• TAL Premier League (a 20-20 format Cricket championship)

TAL is part of Diwali in London (DIL) committee which organises Diwali Celebrations on the Trafalgar Square in London in association with the Mayor of London.
TAL has restored the memorial of Charles Philip Brown (a British born Telugu Scholar) in the Kensal Green Cemetery London, in due respect to his services and contribution to Telugu language in the 19th Century. TAL had an honour to felicitate Charles Cotton, a great grandson of Sri. Arthur Thomas Cotton. Sir Cotton was a British general in the 18th century and an engineer who devoted his life for irrigation projects that helped millions of Telugu farmers.
TAL recognises achievements of various artists, performers and exponents and brings their works to thousands of new audiences in our annual Ugadi celebrations in London.
TAL brings out a cultural souvenir "Maa Telugu" every year with works from various artists, authors, writers, scientists, professionals, students, business community etc. TAL appreciates cultural artists for their excellent work and felicitates with "Cultural Excellence Award". TAL recognises an individual's lifetime dedication to the community and contribution to the humanity and society in Britain and felicitates with TAL Life Time Achievement (LTA) award.
TAL is the biggest Telugu community organisation in the Europe in terms of organising a number of events spanning 40 weeks in a calendar year. TAL is a non-partisan, non-political community organisation that connects all Telugu speaking people in and around London.