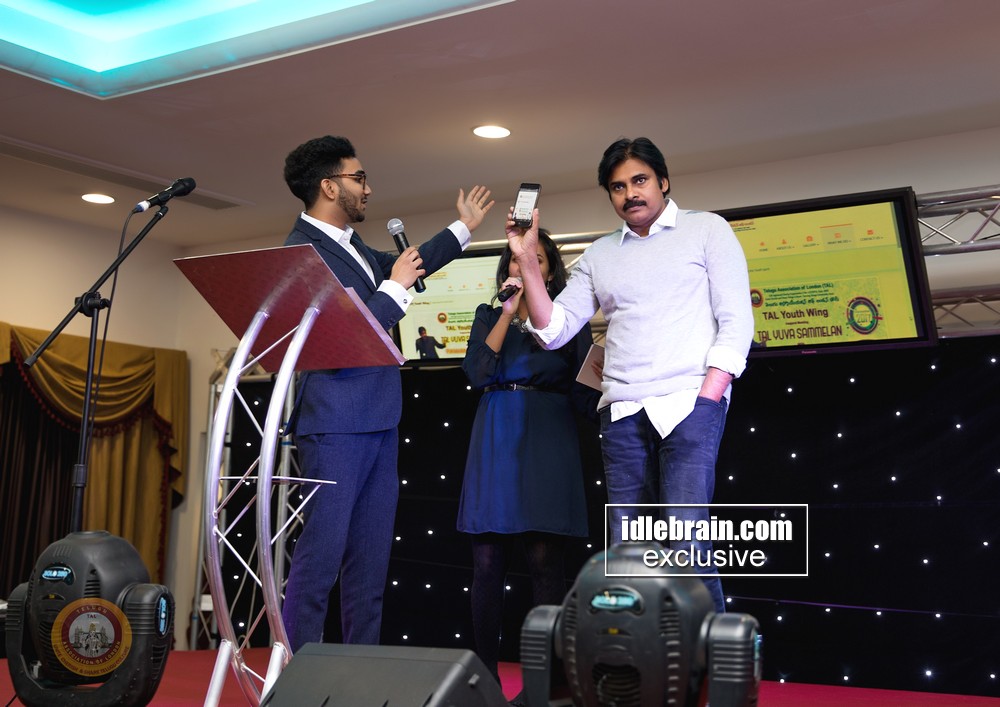 To feature your NRI communty news in idlebrain.com, please mail us at [email protected]
21 November 2017
Hyderabad
Telugu Association of London (TAL)'s new wing "TAL Youth" has been officially launched by Power Star Pawan Kalyan on 18 November. This historic event "TAL Yuva Sammelan" was held at The Willows, East London giving young Telugu people of the UK an opportunity to interact with renowned actor and politician Pawan Kalyan.
Around 200 Telugu youth across the UK from various prestigious universities including Oxford, Cambridge, UCL, LSB, KCL and others attended along with Telugu families.
The event kicked off with breakfast and networking. Pawan Kalyan officially launched TAL Youth wing website, aimed at encouraging networking between young people in diverse fields including technology, medicine, business, politics etc.
Pawan Kalyan has answered questions posed by the young people who attended the event covering topics around youth empowerment, gender equality, current affairs, his political agenda and his works in the film industry. He was also encountered with questions about the social causes he is fighting for including the Chronic Kidney Disease (CKD) issue in Uddanam area.
Finishing this interactive Q&A session, where he was stood up for more than 2 and half hours patiently answering every question asked, Pawan Kalyan said he thoroughly enjoyed the time he spent with the young people and thanked TAL, Europe's largest and most popular Telugu Association, for this wonderful event.
On behalf of TAL, Sreedhar Vanam, ex-chairman said that TAL is extremely privileged and honoured for Pawan Kalyan to have launched the Youth Wing on this occasion. Sreedhar said that this event marks a major milestone in TAL's history and thanked Pawan for taking the time and inspiring the Telugu youth in the UK with his charm on screen and his service to the people off screen.
On this occasion, TAL Board of Trustees felicitated Pawan Kalyan with a shawl and was presented with a memento. He was also blessed by priests from multiple faiths.
TAL Children's day event followed soon after lunch. A total of 50 children from TAL Cultural Centers (TCCs) demonstrated the Carnatic music taught by Veena Pani Kona. Performances including classical dances by M. C. Sujendra Babu and cinema songs by famous Tollywood background singer Anudeep Devarakonda mesmerised the audience. Around 1000 people of all ages from across the UK have enjoyed the event that was anchored by Soumya Varanasi and Kalyani Gedela.
TAL Chairman Sridhar Medichetty thanked Yuva Sammelan convener Giribabu Dhavala, TAL Children's & Family day conveners Sreedhar Vanam & Satyendra Pagadala along with their teams' hard work who had organised such a grand scale memorable event in less than 3 weeks.
TAL Advisors - Dr. Ramulu Dasoju, Ramanaidu Boyalla, Satyendra Pagadala, Sanjay Bhiraju, Dr. Venu Kavarthapu and TAL Board of Trustees - Sridhar Medisetty (Chairman), Sridhar Somisetty (Vice-Chairman and Treasurer), Bharathi Kandukuri (Cultural), Nirmala Dhavala (Membership, General Secretary & TCC), Mallesh Kota (IT & PR), Giridhar Putlur (Communications), Murali Thadiparthi (Sports), Rajesh Toleti (Literary & Youth Affairs), Srinivas Reddy Konreddy (Fundraising), Surya Kandukuri (ex-Treasurer), Vamsee Mohan Singaluri (ex-Trustee), Balaji Callur (ex-Vice Chairman), Ravi Mocherla (ex-Trustee) were present on the occasion.