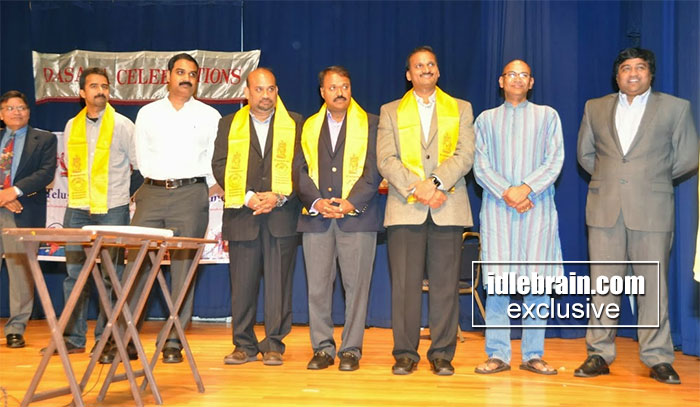 To feature your NRI communty news in idlebrain.com, please mail us at [email protected]
24 October 2013
Hyderabad
Hindu Temple of Delaware in Association with TANA (Telugu Association of North America) celebrated the Dasara function on Sunday Oct 20th Delaware Hindu Temple, Hockessin, DE. This event was coordinated by Mr. Ravi Potluri (TANA Mid-Atlantic Regional Representative) and Mr. Harish Koya (TANA Foundation Trustee).
Super Singers Anjana Sowmya, Deepu and "Rela Rela" Ravi performed as part of the celebrations which was attended by more than 400 people, historically very big turnout for any Telugu community event in the Delaware State. The program was started by Sharma Saripalli & Mrudula followed by a prayer song which followed by Tollywood Super hit songs by singers received thunderous applaud from the crowd. Dasara Celebrations turned into a Dance Party by the singers who gave energetic performance on-stage and in the middle of audience. The young and old all were dancing to the tunes of the singers.
TANA Foundation video screened and Chief Guest of the event & TANA President Mr. Mohan Nannapaneni gave the captivating speech explaining the activities of TANA and explaining the necessity of taking the membership in TANA which was well received by the audience. Temple Management invited TANA team on to the stage and recognized them. Other TANA Leadership attended the event are - Satish Vemana (Secretary), Naren Kodali (Chairman – Board of Directors), Vasudeva Reddy (TANA Foundation Trustee) and other TANA committee chairs – Laxmi Devineni, Raghu Yeddulapally, Vasantha Gadamsetty, Nagaraju Nalajula, Sateesh Chundru, Sateesh Tummala, Sambaiah Kotapati (TAGDV – Treasurer), Suresh Reddy (TAGDV – Jt. Secretary), Executive Committee members Kiran Kothapalli & Bobby Yerra etc.
Temple Foundation Trustee and President Mr. Sarma Patibanda appreciated TANA for supporting the community by organizing the event. Shreyobhilashi Team (Uday, Sreedhar, Prashanth etc) who coordinated and sponsored Singer Ravi to the event called on to dais and their efforts were appreciated by the temple management and attendees. Delicious snacks and Dinner served at Temple Cafeteria. Temple's Operations Trustee Mr. Balreddy conveyed vote of thanks to all the attendees, sponsors, and volunteers. Organizers thanked TV9 Management & Eeswar Banda and volunteers for their support and hard work. Audience appreciated TANA's efforts for bringing the program to execution and for the contributions to the community.