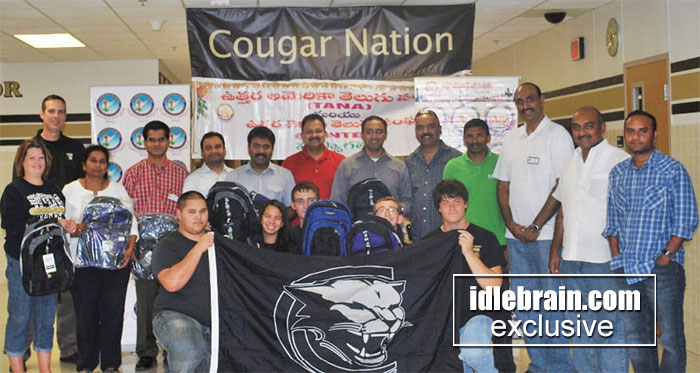 To feature your NRI communty news in idlebrain.com, please mail us at [email protected]
6 September 2013
Hyderabad
Every year before the schools re-open in USA, Telugu Association of North America (TANA) conducts backpack donation programs in various cities across the country. This program has been initiated by TANA several years ago to give back to the community where we live in. Following the tradition, this year in the month of August, TANA Dallas team with the support of Telugu Association of North Texas (TANTEX) organized successful backpack programs in various schools in the Southwest region.
400 backpacks have been donated to needy children in the Hope Medrano Elementary School in Dallas, HED Independent School District in Euless and The Colony High School in The Colony. In one of the schools (Hope Medrano elementary School in Dallas ISD), the local Kroger store provided free school supplies to go along with the backpacks provided. The students and faculty at these schools appreciated the generosity of Telugu community.
Speaking at the final donation program at Hope Medrano Elementary School on August 31st, Dr. Rajesh Adusumilli, TANA Regional Representative, thanked all the donors and volunteers who donated their money, time and energy to make this program successful. Thotakura Prasad, Immediate Past-President of TANA explained the importance of being a part of the community we are living in. Dr. Gorrepati Navaneethakrishna, Past-President of TANA and initiator of the backpack program and Suresh Manduva, TANTEX President also spoke on this occasion.
Dallas Council Member, Adam Medrano who attended as a guest for this occasion appreciated TANA and TANTEX for this gesture of support and kindness which will provide the much needed initiative and good start for the needy families with children getting back to school.