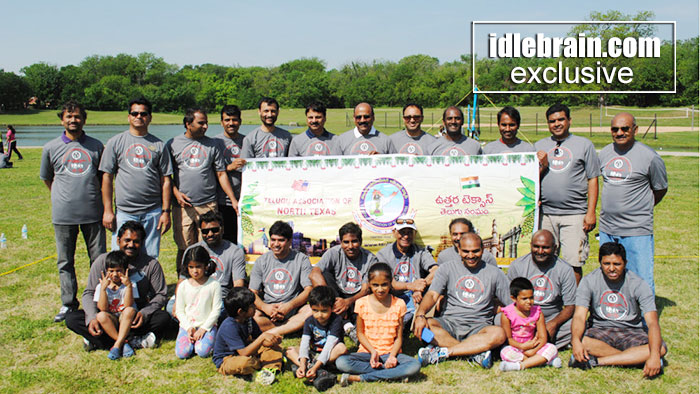 To feature your NRI communty news in idlebrain.com, please mail us at [email protected]
6 May 2014
Hyderabad
A rare event, but Telugu Association of North Texas (TANTEX) and Telugu Association of North America (TANA) made it possible in Dallas. TANTEX and TANA organized Kabaddi, Tennikoit, and Throwball tournaments, first of its kind in the Dallas-FortWorth Metroplex in many years. Many Telugu families have actively participated with utmost zeal and enthusiasm. The tournament kicked off at Andrew Brown Park in Coppell which has lush greens and beautiful lakes providing the signature grounds needed for this outdoor tournament. TANTEX Sports team led by Venkat Danda and TANA Sports team led by Sai Linga executed the tournament successfully. President of TANTEX Vijaymohan Kakarla welcomed the players to this native sporting tournament, and expressed his happiness over huge participation of children and ladies. He mentioned sports have always been a special focus to the Telugu community in Dallas and he requested players to show the true spirit of the game. TANA Regional Coordinator Rajesh Adusumilli said that TANA will be in the forefront to support the Telugu community, and is excited to be part of this tournament.
The games progressed with full of exhilaration and brought back school days and childhood memories. In men's Kabaddi, TANTEX cup won by 'Bhimasena' team while TANA cup won by 'Ashtadiggajalu' team. In ladies Throwball, TANTEX cup won by 'Coppell Kiladis' and TANA cup won by 'Coppell Cowgirls'. In ladies Tennikoit, TANTEX cup won by Madhavi Divi and Nitheesha Karnati whereas TANA cup won by Jhansi Chamkura and Shanthi Gunna. TANTEX and TANA organizing committee members congratulated the winners.
The organizers thanked the volunteers for successfully organizing the event. Special thanks to media partners DesiPlaza, TV9, TV5, 6TV for promoting the event and Sarigama Café for providing delicious breakfast to the participants.