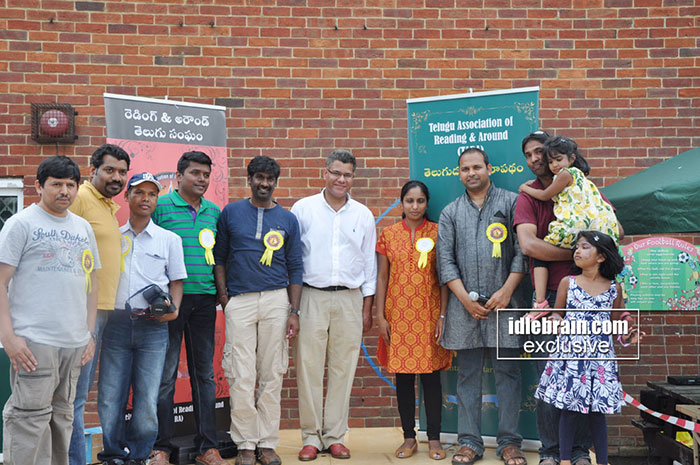 To feature your NRI communty news in idlebrain.com, please mail us at [email protected]
22 July 2014
Hyderabad
Telugu Association of Reading & Around (TARA) organised a Summer Festival on 12th July 2014 in Southcote Primary School, Reading, UK. TARA has been organising summer event every year and the main objective of the event was to raise funds for charity causes.
This year summer festival witnessed about 200 people despite of many events going on in & around Reading on the same day and especially when the temperate was very hot. It is much appreciated to see so many people managed to attend the event to contribute their part to the noble cause – thanks to all those who participated!
The event started at 11:00am and people were seen enjoying playing games till 6:30pm even though the scheduled time was till 5:00pm only. Volunteers had a much early start on the day (9:00am) to set-up the premises ready for the event. In two hours, about 15 gazebos stalls, Tennicoit courts, Carrom boards, Live cooking counters with gas cylinders, Commercial stalls and the rest of the platform was set-up ready for visitors – kudos & thanks to all the volunteers who helped before, during and after the event!
Kids and adults were all engaged in games conducted. Not all the games that were planned were organised due to hot weather condition. Running race for kids, face-painting, tattoos, free twisted balloons kept all kids busy. Specially organised comedy-cum-magic show not only left kids to cheer and laugh but also surprised adults present. Kids & adults all participated in the Treasure hunt game and it was fun to watch the group running all over the field for finding clues. Adults too enjoyed the games conducted and participated with good zeal & energy. Tug-of-War, Running race, a good-old-days game, 7-stones ("yedu penkula aata"), One-minute games were among the highlights besides Cricket and other games that kept the adults engaged – it was sure that all those participated in these games have burned down some calories and had bit of sun tan!
Food was the major part of the event – many volunteers came forward to cook delicious food to raise funds and there was wide range of yummy food to choose – Panipuri, Chaat, Bhel Puri, Veg Puff Pastry, Cup Cakes, Veg & Non-Veg Biryani, Variety Rice, Dosa, Pesarattu, Chilli Bajji, Fruit Chaat, Tea/Coffee, Milkshakes, Lemon Soda, Mango Lassi, Sweets were few among the big list of offering. A lot of hard work went on to procure ingredients, prepare food for such a large number and serve in the food stalls – big thank you and kudos to all the food volunteers who made the day a remarkable!
There were several commercial stalls set-up, who not only showcased their business products to all those who attended the event but also directly supported TARA in raising funds for the cause. Exclusive deals/offers/gifts were offered to TARA members, which were like bonus for TARA members. To name a few, Pratna Jewellers offered a 10% discount and also offered a free gift to winner from lucky draw. CineFunTv.com, who offer wide range of Indian channels through web/apps also offered an exclusive one month free subscription (worth £5.99) to all TARA members and UAE Exchange offered best exchange rates to remit funds to India. – a special thanks CineFunTV and UAE Exchange for being our proud event sponsor & thanks to all other business entities who had set-up their stalls and supported the event!
Mr.Alok Sharma, Member of Parliament, Reading West, was the chief guest for the event. Mr.Ravikanth Vakada, TARA Secretary, welcomed and invited Mr.Alok and Mrs.Lakshmi Maturu, TARA President onto the stage and gave brief introduction to what TARA, as a charity organisation, want to do for people in need in India and in UK and reiterated the importance of this event as fund-raising to help the kids in need. Mr.Alok expressed his happiness that TARA is striving to keep the Telugu community close in Berkshire while also supporting those in need in UK and in India and appreciated all the efforts. As every year, this year also TARA supported Manavata, a charity organisation whose mission is to create a Healthy, Happy and Harmonious (3H) world. Mr.Alok was requested to handover cheque of £120 to Manavata representatives, who are also TARA members, Mrs.Uma Lade and Mrs.Jayanthi Botchu. The amount would be used for a child's education for one year. Mrs.Uma briefed the members present about Manavata and the activities undertaken to help the needy and also appreciated efforts of TARA in supporting Manavata. Mr.Ravikanth also announced that some more funds are allocated and will be donated soon to a girl identified by one of our volunteers for her education and a Thalasemmia affected poor child to cover the blood transfusion costs in India. Mrs.Lakshmi and Mr.Ravikanth thanked all those who supported the event directly and indirectly.
Recently TARA organised Badminton Championship and over 80 contestants played for the title and the winners & runners were invited to this event of which Padmini Podipireddy (Winner), Deepthi M Rao & Vinod Sai Kumar (Runners) were present who received trophies from Mr.Alok – A special thanks to Mr.Alok for considering our invitation and taking time out of the busy schedule and making it to TARA event. TARA memento was presented to Mr.Alok as a token of love and appreciation.
It is one of those rare opportunities to entertain ourselves and have fun while contributing to a noble cause and this TARA Summer Festival event was one such!