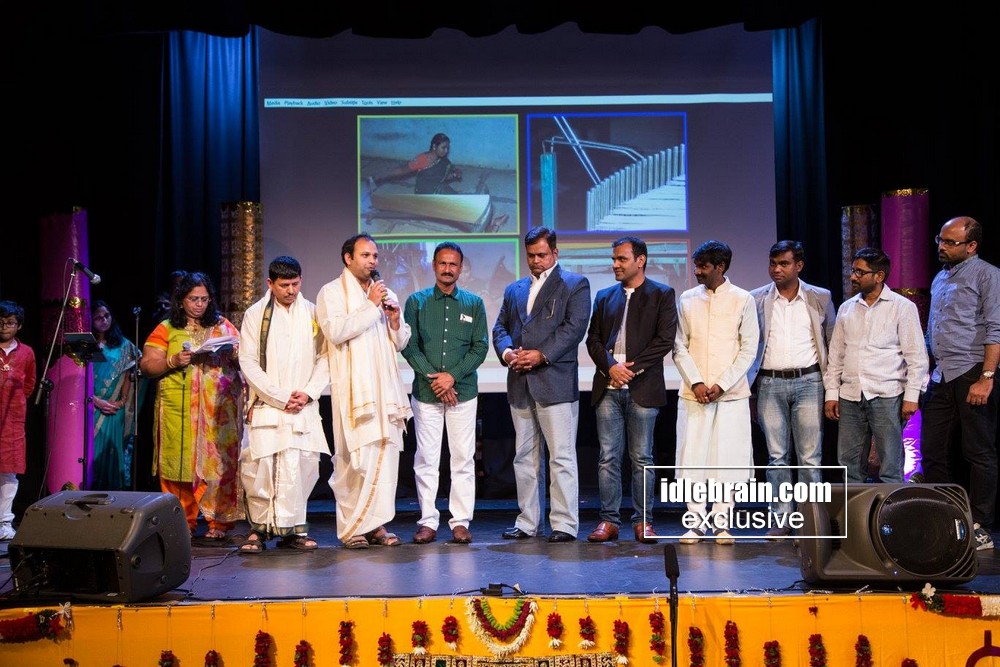 To feature your NRI communty news in idlebrain.com, please mail us at [email protected]
4 April 2017
UK
One of the largest Telugu Associations in UK, TARA (Telugu Association of Reading & Around) has honoured and felicitated Handloom Weaving ASU Machine Inventor, 'Padma Shri' Chinthakindi Mallesham in United Kingdom during 'TARA' Ugadi Celebrations.
1st April 2017 will forever remain in the annals of history as one of the proudest & glorious moments for TARA (Telugu Association of Reading & Around), UK. TARA celebrated the festival of Ugadi (Hevilambi Nama Samvatsaram) with great zeal which was attended by over 600 hundred who joined from different parts of United Kingdom.
TARA had the honour of inviting as a special guest, Padma Shri awardee Mallesham Chinthakindi, inventor of Lakshmi ASU machine which is used to automate winding of yarn (http://nif.org.in/innovation/laxmi_asu/9). He is an inspiring personality and role model for many youngsters. TARA, UK is the first association to invite & honour Padma Shri Mallesham in a mega event organised outside India.
TARA President Mr.Surya Prakash Bhallamudi welcomed Padma Shri Mallesham on stage. Mr.Santhosh Batchu, General Secretary introduced Padma Shri Mallesham and expressed respect for his hard work, sincerity and strong determination in achieving his ambition and requested members to support handloom weavers by wearing handloom clothes as much as possible. Mr.Ravikanth Vakada, Treasurer expressed that Padma Shri Mallesham life journey is an example that proves that no matter whatever is the work when one works with complete determination and focus they can reach new heights. He also mentioned, that there can be no limits when you have a strong determination to do something good and referred Padma Shri Mallesham as a real-life example, who pushed his own limits to achieve determined ambition.
Padma Shri Mallesham explained how the trauma of his mother, Chinthakindi Laxmi, who suffered unbearable pain in her shoulders and hands for working long hours on the manual ASU process acted as the trigger for Padma Shri Mallesham to build his machine to automate manual ASU process. Padma Shri Mallesham was respected with Shawl, bouquet and memento and Padma Shri Mallesham unveiled first TARA Telugu Calendar, later distributed among members present. Padma Shri Mallesham expressed his happiness to be part of Ugadi celebrations and appreciated TARA initiatives, programmes and ways of working and requested all members to support handloom weavers by buying and using more handloom clothes wherever, whenever possible. Padma Shri Mallesham expressed his dreams for his two daughters: Swetha, who is studying textile engineering in Salem, and Rupa, who he hopes will study fashion designing and said "With education, my daughters should be able to do much more for the handloom sector than me and in lesser time." Padma Shri Mallesham received a standing ovation by all members present. TeNF (Telangana NRI Forum), UK team attended the event to meet Padma Shri Mallesham and appreciated TARA initiative to bring awareness to the people about using handloom products and also thanked Padma Shri for giving inspiration.
Multi-talented energetic movie playback singer & music director Mr.Hemachandra Vedala & Young, talented 'Bahubhali' film fame singer Ms.Damini Bhatla enthralled the audience with their rocking performance.
Several performances were presented by TARA members including kids & adults. Performances included Classical/devotional songs, Traditional dances, Drama/Skits, Bollywood style dances. Cheering, claps echoed the hall, whistles were all over and certainly participants enjoyed the performances.
TARA Ugadi Organising team were present on the stage who acknowledged the fact that together the team can serve 'Our Community, Our Kids and The Needy' better and do many more such programmes that can bring close the Telugu community living across UK, and in parallel strive to protect our rich Indian heritage, culture and tradition and pass on to next generation kids brought up in UK.